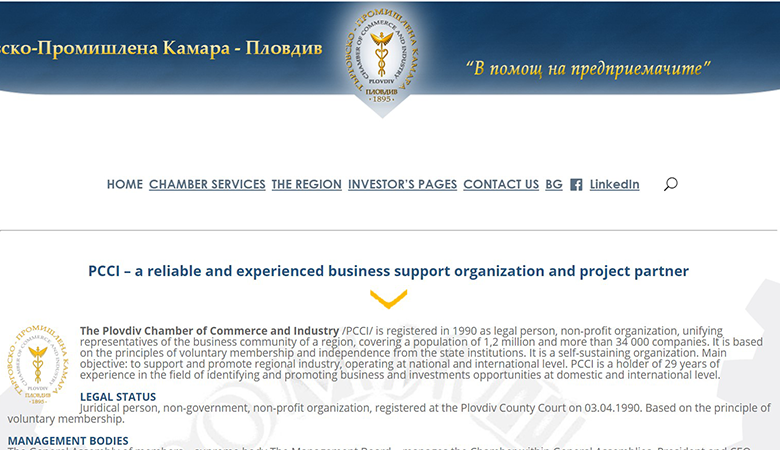 Plovdiv Chamber of Commerce and Industry is a chamber of commerce located in the city of Plovdiv in the country of Bulgaria.
Services offered
For information on specific services offered by the Plovdiv Chamber of Commerce and Industry, please contact the chamber directly by telephone (359-32-968 880/962 645), email pcci@plovdiv-chamber.org or visit the official website of the chamber.
About
This website provides general information about the Plovdiv Chamber of Commerce and Industry in Plovdiv – Bulgaria. This website has no affiliation with the mentioned chamber or the commercial department of the Plovdiv Chamber of Commerce and Industry. The Plovdiv Chamber of Commerce and Industry is a local organization of businesses and companies in Plovdiv with the intention to develop and further the interests of local companies and businesses in Bulgaria. Many businesses are international operating companies with offices in Bulgaria. Members of a Chamber of Commerce are usually international and local operating companies, such as lawyers, property developers, tourism companies, airlines, manufacturing companies, import and export businesses, banks, finance companies, legal advisors, IT and electronics manufacturers etc.
Chambers of Commerce's main activities are, among others, safeguarding business interests and sharing business experiences and business interests, contact with governments, civil society, local media, and the press and organizing trade shows and events.
PCCI – a reliable and experienced business support organization and project partner
The Plovdiv Chamber of Commerce and Industry /PCCI/ is registered in 1990 as a legal person, a non-profit organization, unifying representatives of the business community of a region, covering a population of 1,2 million and more than 34 000 companies. It is based on the principles of voluntary membership and independence from the state institutions. It is a self-sustaining organization. Main objective: to support and promote the regional industry, operating at the national and international levels. PCCI is a holder of 29 years of experience in the field of identifying and promoting business and investment opportunities at the domestic and international levels.
LEGAL STATUS
Juridical person, a non-government, non-profit organization, registered at the Plovdiv County Court on 03.04.1990. Based on the principle of voluntary membership.
MANAGEMENT BODIES
The General Assembly of members – supreme body. The Management Board – manages the Chamber within General Assemblies, President and CEO – operative management, representative, and administrative functions.
The MAIN OBJECTIVE according to Chamber Statutes "to support and promote the initiatives and activities of companies and organizations engaged in business, to represent and protect members' interests and to co-operate to further their development in foreign trade relations and partnerships."
FINANCING
Self-financing organization. PCCI does not receive subsidies from the state. It relies on its own methods of income generation such as membership fees, services, EU programs, etc.
SCOPE OF ACTIVITIES
District of Plovdiv and the Southern-Central Region of Bulgaria, operates within the Bulgarian Chambers of Commerce system(28), the World Chamber Network, the Enterprise Europe Network Network(600), provides business-oriented services for approximately 300 members and 5000 clients per year.
Being a non-profit association, the Chamber works on the basis of a wide range of business services and is recognized to be a representative of the biggest national employers' organization.
Main services/activities: Business cooperation, Consultancy, International Projects, Awareness-raising, Events, Seminars, Company missions and B2B meetings, Vocational training, etc.
Networking: PCCI collaborates actively with the respective public authorities, branch organizations, environmental service providers, academic and research bodies, etc.
Centers: The Chamber hosts a number of specific centers:
Enterprise Europe Network -Plovdiv – an EEN center that is part of the largest network in Europe supporting SME's competitiveness and innovation; a gateway to a wealth of information on doing business, finding collaborative partners, and increasing your competitiveness in Europe.
Vocational Training Center acknowledged for its excellence and efficiency. It organizes vocational training in environmental regulations, business administration, various specialized courses for qualification and training in safety at work, catering, accounting, language courses, etc.
Specific expertise: consultancy in foreign trade, business cooperation, access to finance, start-ups, enhancing management capacities, vocational training, EU project management, female entrepreneurship, agro-food sector, tourism, and cultural heritage, etc.
Certification services
Trade representation offices of foreign persons – see more
Entering companies in the Trade Register of the BCCI
Preparation and attestation of invitations for business visits of foreigners in Bulgaria
Attestation of certificates of origin and invoices
Attestation of signatures on international contracts, invoices, and other documents
Certificates for the free sale of goods
Verification of signatures on documents
Other certificates and reference letters
Business Services
Services for foreign investors – real estate, engineering, construction
Access to sources of business data
Information for funding programs
Protection of industrial property: trademarks, patents, etc
Foreign trade consultations
How to write a business plan
How to write a project proposal
Rent of seminar rooms
B2B events, fairs, exhibitions
Translations and legalization
Advertising in the Chamber media
Other activities
Publications – Economic Yearbook of Plovdiv Region
Partnering with local institutions
Bulletin "Business Parallel "
Enterprise Europe Network
Consultation for foreign investors
Organization of courses, seminars, and business –meetings
Language courses
Domestic and international business missions
Name ( International ):

Plovdiv Chamber of Commerce and Industry

Address:

Plovdiv Chamber of Commerce and Industry
7, Samara str.,

4003 – Plovdiv –
Bulgaria

Telephone:

359-32-968 880/962 645

Fax:

359-32-96-26-47

Email:

pcci@plovdiv-chamber.org

Website: