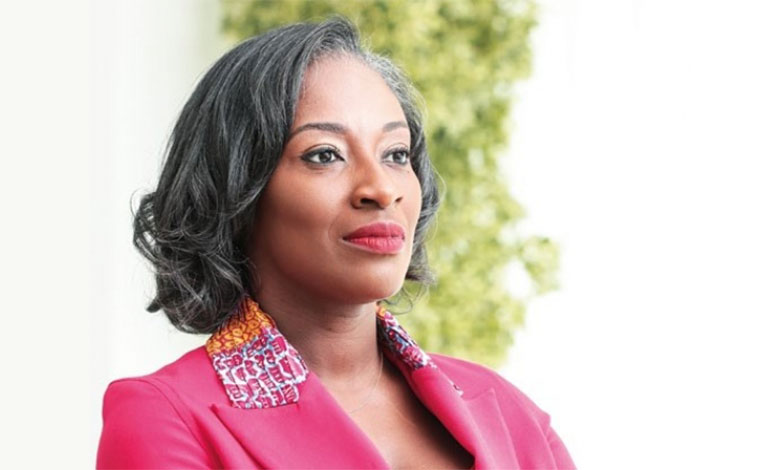 Dear Ms. Aphing-Kouassi, could you tell our readers more about yourself and your professional background?
I am Lynda Aphing-Kouassi, mother of girls, of Ivorian origin. I am the Managing Director of KAIZENE International, one of the leading training firms in Africa based in London Pall Mall Piccadilly and Abidjan Zone 4.
A graduate of the Stanford Graduate School of Business, I started working in banking at Santander, Société Générale, Vaultex (a subsidiary of HSBC Group) as a team leader; investment manager and then investment banker in London, member of the Board of Directors of the Organization for Talents Within (a non-governmental organization in Atlanta) the UK chamber of commerce; the Africalink network of SME and member of the Institute of Directors in London (I. O.D. I am an advocate for an innovative Africa that can take control of its destiny
through good governance, excellence, entrepreneurship and women's empowerment.
What are your goals for the next 3 years?
You will never walk alone" Marsden. this quote defines us and allows us to be creative and place the human capital at the forefront of our activities. The team spirit, the human capital and the sense of belonging are very important as they define quickly the performances and well being of an individual. we have tailor-made trainings which are created for board of Directors; Business leaders and staff.
Over the next 3 years, we intend to increase the notoriety of the firm by developing other training modules according to the needs of companies and individuals, increase our customer portfolio through the quality of our services and agility, put in place a policy of customer loyalty program, in order to be the best firm of capacity building, training, coaching and business support in Côte d'Ivoire and in the sub-region. But mainly we will open an academy to push for company performances continuous trainings and career development. We are also heavily focused on women empowerment through agriculture therefore within the next few years we will also aim to have over 1000 women fully trained and managing their own piece of land by using innovative tools but mainly able to enjoy the reward of their work.
In your opinion, what makes someone a successful leader? What qualities should he/she demonstrate?
The qualities a successful leader can demonstrate are:
– Vision
The ability to see the big picture of where the organization or team they are working within is headed, what it's capable of, and what it will take to get there.
– Patience & Tenacity
A good leader knows how to take the long view, whether it's of a strategy, a situation, or a goal.Being able to take on any bumps in the road and persist on without getting frustrated or defeated is key.
– Inspiration
Equally as important as having a vision is the ability to convey that vision to others, and get them excited about it. This means maintaining a positive yet realistic presence within the organization helping team members stay motivated and engaged, and remember what it is that they are working for.
– Strategic & Critical Thinking
A good leader will be able to think critically about the organization or team they work within, and develop a clear understanding of its strengths, weaknesses, opportunities, and threats (and how they as an individual can work to support or overcome these).
– Open-Mindness & Creativity
Being a good leader means being open to new ideas, possibilities, and perspectives, and understanding that there's no "right" way to do things.
– HUMILITY

In your opinion, what are the main challenges for female entrepreneurs nowadays?
The main challenges for female entrepreneurs nowadays are:
Social expectations:
In a society when women are stereotyped as the ones who are meant to stay at home and put all their attention on their family, it is often looked down upon for them to venture out and establish a career for themselves. Society should aim to take women business more seriously
Reduced Investments
Unfortunately, in this day and age even after women have proved themselves time and again that they are more than capable, people find it hard to believe and hesitate to invest in a business venture which is established by women entrepreneurs. It is also disappointing to see that banks do not consider women as credit-worthy as they believe that they can give-up their business at any time.
Lack of business networks
According to a survey, women were not a part of business networks which would help them build a network to grow their business, find customers, partners, suppliers, build connections, and more which come very naturally to male entrepreneurs but women do not belong to these networks
Building market access
This is the challenge of every entrepreneur, more so women entrepreneurs as their networks are usually smaller and therefore they do not have much access to the market when they start.
Lack of confidence
A lot of women struggle with confidence and they need help with understanding their skills, their value on what they bring to businesses and organizations. Personal and professional life balance
There is this unsaid rule that women all over the world are expected to take care of their home as well as manage a successful business. Finding the right balance between them is essential but unfortunately, in our society, a woman is required to give more importance to her family rather than her career.
How will women entrepreneurship evolve in the next few years?
Africa is ahead of the rest of the world in terms of the number of women entrepreneurs. In fact, women are more likely than men to become entrepreneurs on the continent: they represent 58% of those who are self-employed in Africa. However, the recent World Bank report, The Benefits of Gender, shows that in sub-Saharan Africa, women entrepreneurs continue to earn on average 34% less than men.
Women's entrepreneurship is the present and the future, it is growing. It will grow even more we must believe in our aptitudes and go for our wins
– Breaking stereotypes
Gender stereotypes continue to have an impact on the choice of professions. Many professions remain linked to the male image and their feminization is almost non-existent. Entrepreneurship itself also remains associated with men in the collective unconscious.
– Teaching skills adapted to women entrepreneurs
Most countries, especially in Africa, have achieved gender parity in access to primary education, but a gap persists in the levels of education and skills attained by female and male entrepreneurs. Therefore starting from educating young girls is key in to having later on successful female entrepreneurs and female leaders.
– Strengthen support
Facilitating the process and encouraging exchanges are important issues in the promotion of women's entrepreneurship. Today, there are collaborative platforms and several networks Women are key to the society development we must stop feeling like we do not belong and are not worthy of our positions or our evolution; teaching and training women are the equivalent of training an entire country therefore women must be placed at the center of decision making because they bring the firm and rigorous decisions but also the empathy when needed. Women are not only the future but the NOW and the stable solution to our economic and social development.