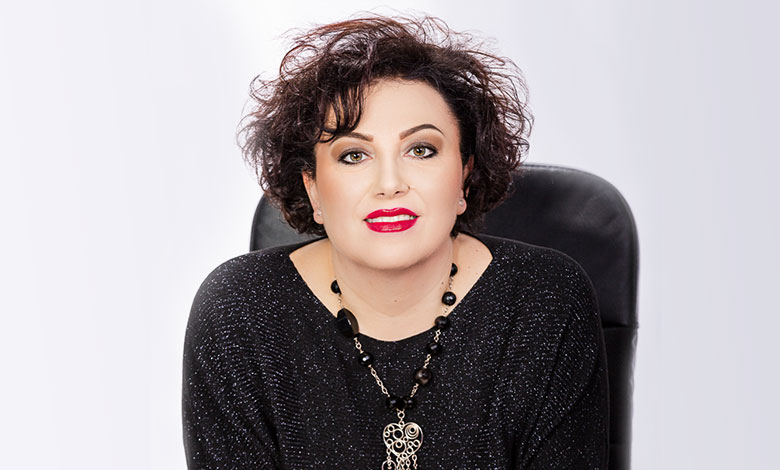 Dear Ms. Neagu, please, introduce yourself in a few sentences.
I think I am born under a very lucky star. I have been endowed with many talents that I still discover and I want to give back as much as I can to the world.
📍I have become an #entrepreneur in Human Resources and #Leadership Consulting in 2014.
📍I have founded Dare (www.dare.com.ro) in 2016 as I always dared to dream, to want, to create, to share more and more, to do good.
📍I have trained, mentored and career coached thousands of people starting 2010 including teenagers, students, employees in many organizations.
📍I have started to deliver trainings in Asia (Singapore, Dubai, Kuala Lumpur, Manila, Qatar, Bangkok) in 2015.
📍 In 2015 I have also become an #HR and #Management professor at the #Business Academy in Bucharest.
📍In 2020 I have founded Sweets & Spices (www.sweetsandspices.ro) as I am passionate about healthy food and nicely wrapped gifts.
📍I am a mentor in the Professional Women's Network, HR School and She is Mom and I am a volunteer in many organizations.
👉 I am passionate about everything I do and my mission is to change the world, step by step, through education.
❤️ I have a very beautiful and supportive family which gives me the daily dose of motivation and energy.
🙏 My motto is: "Be kind whenever possible. It is always possible." – Dalai Lama
Can you describe a time you successfully resolved differences between an employee and upper-level management?
I remember I have done this several times during my career and I do it frequently as a consultant/mediator. There is no secret – the most important thing in all relationships is the communication, they way we listen to each other, understand what the others say without judging and without having as main purpose to be right. As many conversations are not about you, but about the people in front of you that you need to pay attention to.
I cannot say I have solved the differences, but I have tried to create the proper space for each participant to say what needs to be said and to share their feelings. And it worked every time. This makes me think that people actually need to talk, to share their emotions, to be listened to, to be understood, to be treated with empathy.
What are your tips on how to create a high-performance workplace?
There are no tips, there is only common sense: listen to your people, pay attention to their needs, be present in the conversation, do the right thing even if it is not the most popular thing to be done, show respect and appreciation, practice what you preach, discover and encourage potential, reward creativity, innovation, performance, teach, coach and mentor your employees, admit when you do mistakes, give and receive feedback. These are just a few of my recommendations in order to give people a chance to become high performers as you cannot create the culture or the environment by yourself, you need the others to help you.
In your opinion, how can HR professionals improvise, adapt and innovate in an ever-changing world?
If HR professionals want to work efficiently, they'll need to keep up with the latest innovations and adapt to an ever-evolving landscape.
To ensure the health and safety of their employees, companies have switched to a remote work model at a rate and scale they've never expected. As face-to-face collaboration is replaced with more Slack conversations, Zoom calls, and countless emails, HR managers have to manage difficult work under very different circumstances.
While productivity numbers have remained high during the pandemic, HR leaders must learn how to efficiently transition to a fully remote workforce for the foreseeable future. This transition includes learning how to recruit and onboard new employees remotely, ensuring communication and collaboration is not lost within team members — all while avoiding micromanaging — and offering flexibility to employees that was not offered before.
HR professionals are also under the strain of addressing the mental health and wellness of their entire staff in addition to worrying about the safety of employees still physically going to work, processing piles of paperwork, and providing solace to countless workers who have been laid off, furloughed, or had hours reduced. During these uncertain times, an HR leader also needs to ensure their company is protecting its employer brand by encouraging leaders to provide as much transparency and empathy as possible in times of massive layoffs. For employees still on the job, HR managers are trying to keep their workers productive, motivated, engaged, and connected—all of which are moving parts in this new normal. (source – Debora Roland, Vice President of HR, CareerArc)
In your opinion, what is the best tool to motivate employees?
I do not believe in external motivation or motivators. Motivation is not a pill you give somebody and expect that person to act as a puppet. I truly believe in offering employees the proper tools to work with, the support they need, the right training, a nice working environment, learning and growing opportunities, rewards and recognition, respect, a transparent communication and feedback. I also think that being so different, we have different motivations, therefore as employers we need to understand what are the main motivators for our employees in order to match our expectations with theirs so that we could deliver the business results accordingly.
What advice will you give to all the people who are just starting to work in the HR field?
First to make sure they understand what HR is. It may seem trendy, fancy and cool, but there is a lot of work, there are ups and downs and working with people, especially during these complex times, seems harder than never. Then to experience all the roles in HR through job rotations, internships, support given to their colleagues in HR, volunteer work etc. so that they could understand what is behind every role. You may want to become generalists or you may want to specialize, at the end of the day it is your choice and I recommend you to take a decision after you practice a little bit to see what you like and what you are good at. Learning is a continuous process and in order to keep up to date regarding all trends in the market, all best practices, all technologies used you need to read, to be in contact with your peers, to be involved in communities, to exchange ideas etc. And last, but not least, to love HR, to be passionate about working with people, to keep your enthusiasm and at the end of the day to be happy and satisfied with who you are and what you do despite the difficulties encountered. Good luck!