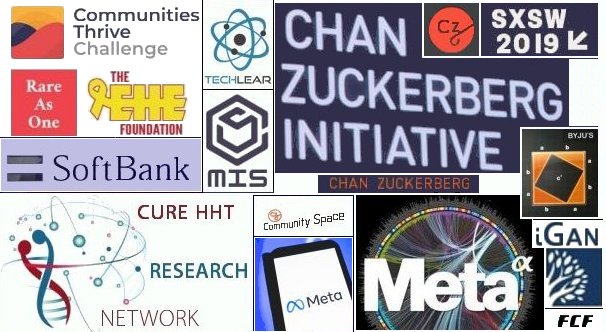 Technology can formulate solutions that have the ability to affect social change. Mark Zuckerberg (American internet entrepreneur) is the founder, chairman and Chief Executive Officer (CEO) of Facebook, the social networking website and Fortune 500 Company. Dr. Priscilla Chan is the founder and CEO of The Primary School in East Palo Alto, California, pediatrician at the University of California, San Francisco Medical Centre, and former teacher. Zuckerberg and Chan are co-founders and co-CEOs of the Chan Zuckerberg Initiative and the Chan Zuckerberg Biohub.
Mark Zuckerberg and Dr. Priscilla Chan are one of the wealthiest couples in the world. After donating millions to Harvard University and investing in education startups, the husband and wife team registered a biomedical research startup as a for-profit philanthropic limited liability company in December 2015. CZI is not a charitable trust or a private foundation, but a limited liability company; a LLC has fewer requirements than a charitable trust. It is important to know that a LLC is not exempt from tax, that it can make political donations, and that it does not have to reveal the remunerations of its top five executives. Being a LLC, CZI can fund non-profit organisations, make private investments, and participate in policy debates to create a positive impact in disadvantaged areas. Unlike a traditional charitable foundation, CZI can invest in businesses and recover profits from those investments. Chan and Zuckerberg have complete control over the company (an example of philanthrocapitalism). The LLC structure allows them to engage in political sponsorships and invest in non-profit as well as for-profit companies. Examples of other non-traditional philanthropic companies are firstly, the Omidyar Network which was established in 2004 by Pierre and Pam Omidyar as a non-profit structure as well as a LLC. It is a philanthropic investment firm dedicated to build more inclusive and equitable societies by creating opportunities for people to improve their lives. The Omidyar Network has either donated to or invested in non-profit organisations and innovative for-profit companies to catalyse economic and social change. Secondly, Laurene Powell Jobs, the widow of Steve Jobs (the former CEO of Apple), is the founder of the Emerson Collective corporation (registered as a for-profit LLC). Emerson Collective focuses on projects such as education, health, media and journalism, equity and justice, the environment, and immigration reform.
Without elaborating on the broad vision of CZI, a short summary would be that the philanthropic company focuses on a new infusion of scientific funding, innovative systems to advance biomedical technology and scientific research, preventing, curing or managing all diseases, equal opportunities for all children (every child should enter adulthood able to recognise and realise their full potential), building a fair and healthy future for everybody; addressing the needs of local communities through community-driven solutions, as well as collaborations to advance education, science, engineering, and America's criminal justice system. To reach the scope of this vision during the first five years of the startup, CZI has supplied grants to the value of more or less USD890 million to science, USD650 million to education, and USD600 million to community solutions. CZI is eager to help educators improve existing school-based practices for learning and human development by assisting with grants to 'help validate and measure teaching practices that foster student well-being and belonging' across the country, one- and two-year grants to schools, organisations, and researchers, annual contributions for 'whole-child' personalised learning, as well as yearly investments in products that will assist teachers to engage students. COSEBOC (Coalition of Schools Educating Boys of Colour) in Cambridge, Massachusetts, is one of eight recipients of a major grant 'to advance inclusive education research.' A grant to AISES Education (the American Indian Science and Engineering Society) supports community driven efforts in racial equity, diversity, and inclusion.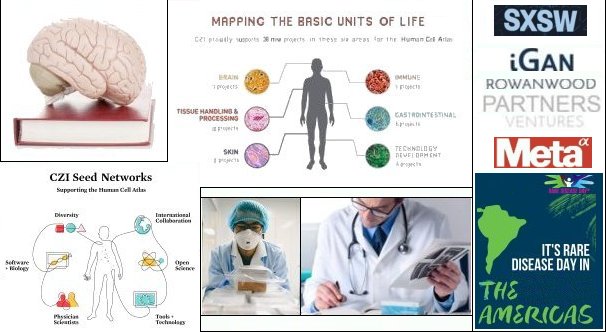 Meta is an artificial intelligence biomedical research software tool to analyse and connect millions of scientific outputs that represent an inclusive view of science to help scientists read, analyse, understand, and prioritise insights from a huge data-set of scientific papers. During January 2017, Meta was CZI's initial major investment in artificial intelligence to cure the world's diseases. Byju is an Indian multinational educational technology company with its headquarters in Bangalore, Kamataka, India. It was founded in 2011 by Byju Raveendran (India's leading application developer) and went global as the education technology market became attractive to venture capital firms. Funding Byju was CZI's first investment in Asia. CZI established the research facility CZ Biohub (a non-profit, independent, medical research institute with the goal of funding scientific projects. CZ Biohub must not to be confused with CZI; it is the Bay Area research collaboration between Stanford University, UC Berkeley and UC San Francisco. CZI invests in organisations and companies conducting medical research to advance human health; all investments go towards CZ Biohub. Five years into its existence, CZI's science program continues to support CZ Biohub's research center and the CZ Biohub Network. To expand upon a program that has been in existence for thirty years at the University of Maryland, Baltimore County (UMBC), CZI partnered with the University of California (UC) Berkeley and UC San Diego to recruit underrepresented students in science, technology, engineering, and mathematics (STEM). A collaboration between CZI and the California Institute for Regenerative Medicine (CIRM) concentrated on scientific efforts to respond to the COVID-19 pandemic. To better understand the SARS-CoV-2 virus and to assist with the development of treatments and cures, scientists focused on disseminating single-cell research. Funding helped with a research collaboration (in two studies) to understand the scope and spread of the corona-virus in the San Francisco Bay Area; the collaboration included the CZ Biohub, Stanford University, and UC San Francisco.
Technology helps non-profits advance research opportunities for rare diseases. Komodo Health is a technical company that partners with pharma and biotech companies, patient organisations, and academia to gather information for rare disease treatments. Komodo combines clinical expertise with innovative algorithms to build a Healthcare Map (a reliable analysis of the US Healthcare system). Komodo Health partnered with CZI's Rare as One Network which assists non-profit organisations in their research of rare diseases by offering funds, support, tools, and training. The partnership with Komodo Health gives members of the Rare as One Network access to next-generation analytics. Duke University received a major grant to advance its expertise in Cryo-EM microscopy. Cryogenic electron microscopy is a cryomicroscopy technique applied to samples that are cooled to cryogenic temperatures.  According to Alberto Bartesaghi (an associate professor of computer science at DU) Cryo-EM is a powerful way to visualise the shapes and configurations of individual proteins. Martin C. Fischer (Associate Research Professor in chemistry and physics at the Trinity College of Arts and Sciences) at DU received an Imaging Scientist Award for his optical spectroscopy and microscopy techniques in Advanced Light Imaging and Spectroscopy (ALIS). The newly established ALIS facility at Duke University will develop state-of-the-art, customisable microscopes and make them available to the wider research community.
Three researchers involved with HCA projects at the Blavatnik Institute, Harvard Medical School, Boston, Massachusetts, were supported with grants. This global research effort is known as the Human Cell Atlas (HCA) project. Using single cell RNA-sequencing to create a cell atlas of the human eye (from birth to old age) as part of HCA, a grant as well as a Seed Network award was received for this division of the HCA project. Dr. Ayellet Segrè was part of a team of investigators who gifted the award for the Cell Atlas of the Human Eye. Professor Hao Yuan Kueh (assistant at the Bioengineering Department, University of Washington, Seattle) is co-recipient of a grant to advance knowledge of how physiological systems function together. Scientists are obliged to share their data online and with the larger association of researchers engaged in studies of the HCA. Scientists at the Zuckerman Institute, Columbia University, Broadway, New York received a grant from CZI DAF (the donor advised fund of the Silicon Valley Community Foundation) to construct an atlas of gene activity of all cells in the human spinal cord. Upon completion, the atlas will provide a reference map for researchers to investigate injuries or diseases of the spinal cord. CZI DAF also provided one-year grants to unite professionals such as biologists, clinicians, computational scientists, and engineers to participate in a pilot project to map and characterise every cell in the human body.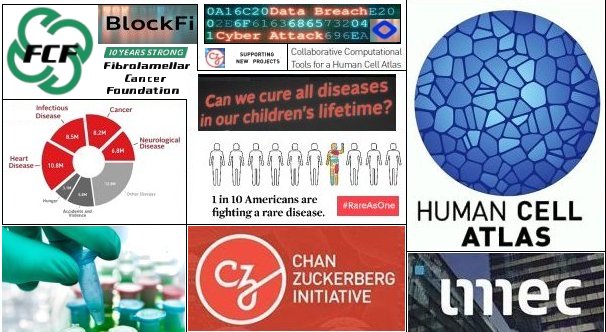 Microscopy innovator Abhishek Kumar, Ph.D., received a national award to join the staff of the Marine Biological Laboratory (MBL) as a principle collaborator in the MBL's Imaging Initiative. MBL is an international institution devoted to training in biological and environmental science, scientific research, and discovery in biological imaging and analysis. Located in Falmouth, Massachusetts, the MBL is affiliated to the University of Chicago.
A group of University of Toronto, Ontario, Canada, researchers (part of an international team of nineteen researchers) received an award to advance the understanding of the human liver throughout the different life stages and genetic backgrounds. Science Diversity Leadership awards were issued to reward the leadership and scientific accomplishments of outstanding early- to mid-career researchers at United States medical schools, universities, or non-profit research institutes who (through their leadership, mentoring, outreach, and teaching) have a record of promoting diversity, equity, and inclusion. Anna Gilbert, Herman H. Goldstine Collegiate Professor of Mathematics at the College of Literature, Science and the Arts (University of Michigan) received a fund for her project 'identifying genetic markers – dimension reduction and feature selection for sparse data.' Upon joining CZI Seed Networks for the Human Cell Atlas, researchers receive funds (over three years) to develop sophisticated techniques and computational tools to produce a data resource (or reference guide) for the spine. The focus is to support collaborative teams of researchers to supply data of tissue samples from various ancestral donors to the HCA project; funds were also made available to Ancestry Networks for this project. Financial support were given to Global Bio-Imaging (GBI) an international network of imaging technologies and research infrastructures to advance life sciences, funds to two research groups (led by Washington University in St. Louis) for the first phase of research on the depth of penetration of imaging techniques on the brain, as well as funding to the Bartesaghi Lab at the Department of Biochemistry (Duke University School of Medicine) in Durham, North Carolina, USA. The Bartesaghi Lab has interests in Biomedical Imaging, Computational and Structural Biology, Cryo-Electron Tomography, High-Resolution Electron Microscopy, Single-Particle Analysis, Image Analysis, Computer Vision, Machine Learning, and Applied Mathematics.
The following three grants went to thirty pairs of scientists to study the molecular origins of neuro-degenerative diseases; designed to foster collaborations between early-stage researchers and more established colleagues to study the biology of diseases such as ALS, Alzheimer's, and Parkinson's, BioImaging North America (BINA); the imaging expertise network that brings together the bioimaging community in Canada, the United States, and Mexico, and the International Pemphigus and Pemphigoid Foundation (IPPF) to support research in finding treatments and cures for pemphigus and pemphigoid (autoimmune bullous skin diseases). Cure HHT received a two-year grant from CZI's Rare as One Project for awareness and education projects and to develop a research network to save lives and find a cure for an inherited disease known as HHT (Hereditary Hemorrhagic Telangiectasia) or Osler-Weber-Rendu Syndrome. HHT is a chronic disease that leads to malformed blood vessels in several organs of the body; it has been described with reference to autoimmune diseases.
The Housing Lab, founded in 2019, is a partnership program between CZI and the Terner Centre for Housing Innovation. The program supports early-phase ventures to help solve the nation's housing challenge and offers innovative solutions to make housing affordable.
Founded in 2016, Apollo Agriculture is a technology startup based in Nairobi, Kenya. Apollo's mission is to help farmers access high-quality farm inputs by introducing products that deliver more value per acre of land. The company offers a mobile-based package that includes working capital, data analysis for higher crop yields, and options to purchase major inputs and equipment. Apollo's digital approach uses agronomic machine learning, remote sensing (to provide a diagnostic tool for the farmer to intervene before problems impact crop productivity), and mobile technology. To assist farmers with financing opportunities, Apollo uses satellite imagery data of farms and artificial intelligence to rate the credit score of farmers. CZI and Apollo raised a substantial amount in Softbank funding to improve its technology. Softbank Group Corporation is a Japanese multinational company with its headquarters in Minato, Tokyo. The Group invests in and manages companies that operate in energy, technology, and the financial sectors (investors include sovereign wealth funds from countries in the Middle East). Softbank also manages the Vision Fund; the world's biggest fund. The CZI Open Science vision is to increase the understanding of human health and disease through universal open sharing of all scientific knowledge, processes, and outputs. The program was funded to involve members of historically excluded groups to benefit from and become leaders in engineering, research, and science communities. This was followed by a grant to seventy five organisations across San Mateo County, California to support under-served communities. The Institute for Carbon Management (founded in 2018) at the University of California, Los Angeles received a donation that will enable the institute to develop new carbon removal technologies. A new research project by a team of researchers at the Samueli School of Engineering (that operates from the Institute for Carbon Management) resulted in single-step carbon sequestration and storage (sCS2) which focuses on removing carbon dioxide from the ocean instead of the air. The objective was to find a global solution to fight climate change. This led to the first-ever climate grants for carbon dioxide removal and decarbonisation. The Kempner Institute for the Study of Natural and Artificial Intelligence at Harvard University was a financial gift to Harvard to establish an institute with a dedicated space in the Science and Engineering Complex in Allston. The objective was to provide students and researchers with an interdisciplinary approach to advance the study of intelligence.
For-profit limited liability companies seem to gain preference among the nation's elite philanthropists. With the one hand they sacrifice tax benefits, but with the other hand they are refunded with control, flexibility, and privacy. Excellent results from the first five years of the Chan Zuckerman Initiative startup's philanthropic output prove that the company has been a charitable supporter of transformation in scientific research, education, and community-driven solutions.