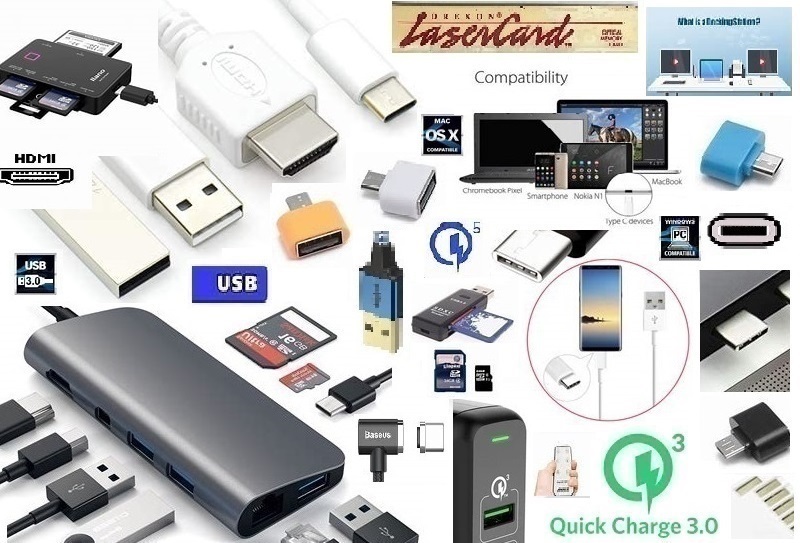 Universal Serial Bus (USB) is an industry standard that creates specifications for cables, communication and power supply between computers, peripherals and other computers, as well as connectors and protocols for connection; standards improve as technology needs increase. USB has continually been referred to as a host bus, which implies that one device on the bus is always the regulating device while all other devices respond to the controlling device. Micro USB is a miniature version of the USB interface that connects devices such as digital cameras, MP3 players, photo printers, smartphones, and tablets. Endorsed by Microsoft Windows, USB supports plug-and-play functionality to external peripheral devices and automatically configures new devices the moment they are installed. Examples of USB peripherals are joysticks, keyboards, monitors, mouse devices, printers, and scanners. USB 3.2 (released in September 2017) replaced the USB 3.1 standard. The USB Type-C connector is a recent industry-standard technology. It is an upgrade which has been fitted into modern laptops and the latest smartphones. USB-C is the port of the future that will replace all other USB ports!
The USB Implementers Forum (USB-IF) is a group of global recognised technological companies, a structure that encourages and supports the convenience and implementation of Universal Serial Bus. They release specifications for USB devices and USB cabling. The USB Type-C™ specification 1.0 was finalised in August 2014 (about the same time as the USB 3.1 specification). The updated USB Type-C 2.0 connector (released in 2019) supports super-fast data transfer rates equal to 20 Gbps, 100W of power flow, and provide high-bandwidth video via a single connection. An even newer specification update (USB Type-C 2.1) has several similarities to the 2019 version. Amazon prohibits any USB-C cable or adapter product that is not in compliance with standard specifications released by USB-IF.
USB-C is the universal 24-pin connector for smartphones and laptops that links computers with devices such as monitors, keyboards, and hard drives. USB-C offers faster charging and data transfers, stronger power transmission, higher performance upgrades, as well as audio, video, and display output to and from computer devices, making it one of the best multi-purpose ports on a single cable.  The latest USB-C connector is the first evolution of USB technology. It is supported by modern devices such as Android phones, computers with Windows operating systems, PlayStation 5, iPad Pro (from 3rd generation), and Xbox Series X (the most powerful console designed with an internal SSD for console design). This allows gameplay for thousands of titles from four generations of Xbox consoles (with backward compatibility). Adding a storage Expansion Card will increase the external memory with one terabyte without affecting the performance of the console's SSD. A solid-state drive (SSD) is a new generation of storage device in computers to store data and uses circuits as memory (like a flash drive); however, it is more advanced and sophisticated than a USB memory stick. Although SSDs have no moving parts and are not subject to mechanical failure, they have different falter modes than traditional magnetic hard drives. Examples of possible malfunctions are such as partial writes due to sudden power failure and loss of all data during a chip malfunction. Since SSD drives are significantly smaller than traditional hard drives, uses less power, and is the fastest drives, it is the most reliable data storage devices available.
In the past, phones charged and transferred files through a Micro-USB port and cable. With multiple USB 3.0 ports, devices can be plugged directly into a monitor. USB Type-C is backwards-compatible with older versions of USB, but an adapter is needed that has a Type-C connector on one end and an older-style USB port on the other. A USB-C and USB connector such as a Type-C to USB cable is designed to charge and transfer data between devices. Nowadays, the other end of a USB cable that plugs into a peripheral device will have a USB-C connector. A docking station connects to a computer's USB-C port. Docks are unstandardised and designed for a specific device such as a mobile phone or a wireless mouse's receptor); therefore, they have different connectors, power signalling, and uses. It is a simple way to plug-in a mobile device to other peripherals; no installation or external power supply is needed. A hub usually has four new ports. Plug the hub into the computer, then plug the devices (or other hubs) into the hub's ports. A multiport hub is the perfect all-in-one solution to connect a USB-C laptop to multiple devices such as monitors, projectors, SD cards, and thumb drives (USB flash drives). A flash drive is a rewritable data storage device with flash memory and a USB interface. Kingston's DataTraveler70 is a lightweight USB-C flash drive that is designed to be used with USB-C devices such as laptops, notebooks, phones, and tablets.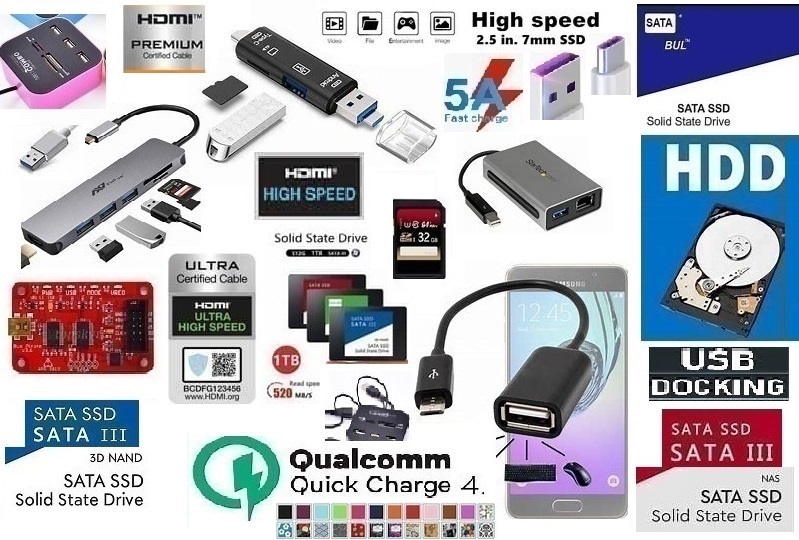 A card reader is a data input device that reads data from a card-shaped storage medium. Modern card readers are electronic devices that can read plastic cards imbedded with either a computer chip, barcode, magnetic strip, or another storage format. An excellent USB Type-C hub is a USB-C Card Reader with numerous ports such as a USB-C port, two USB-A ports, and a HDMI (High-Definition Multimedia Interface) port. HDMI is a standard for simultaneous transmission of uncompressed digital audio and video between electronic devices. The HDMI interface allows a port to transmit high-resolution digital video, theatre-quality sound, and device commands through an HDMI connector into an HDMI cable. To take advantage of HDMI Alternate Mode, a USB-C port that supports USB Power Delivery is required; it is the Power Delivery that establishes the Alternate Mode connection. A second requirement is a cable with a USB-C connector on one end and a HDMI connector on the other. Different types of HDMI cables are Standard, High Speed, Premium High Speed, and Ultra High Speed. HDMI connectors are available in standard, mini, and micro. Initially developed by a group of electronic manufacturers, most televisions and computer monitors are now designed with the interface.
Wireless technology has come a long way, but cables are still required to charge devices and to assist with communication between devices. As USB technology upgrades, users constantly need to purchase new cables and devices. Standardising the USB-C charging interface will allow the same chargers and cables to be used between devices. Various types of USB chargers offer different speeds. For example, USB Type-C chargers are faster than USB PD 3.0 and USB PD 3.0 is faster than USB PD 2.0. This is where USB-C PD was a decisive factor in the EU ruling. The USB-C port is a standardised USB connector which supports multiple power delivery levels and has transformed cable connectivity, facilitating all modes of data transfer (including video). European Union officials ruled that any mobile electronic device sold within the European Union must be supplied with a USB-C charging port after mid-2024. The world's first 100W USB-C charger with Gallium Nitride technology (better suited for high-power and high-frequency devices) can simultaneously quick charge two USB-C and two USB-A devices. The Nekteck 100W USB-C charger is a reliable charger compatible with PD 3.0 (GaN technology included). GaN technology works at least three times faster than old silicon-based chargers. For highest power and frequency devices, Gallium Nitride technology delivers the highest density and excellent temperature stability.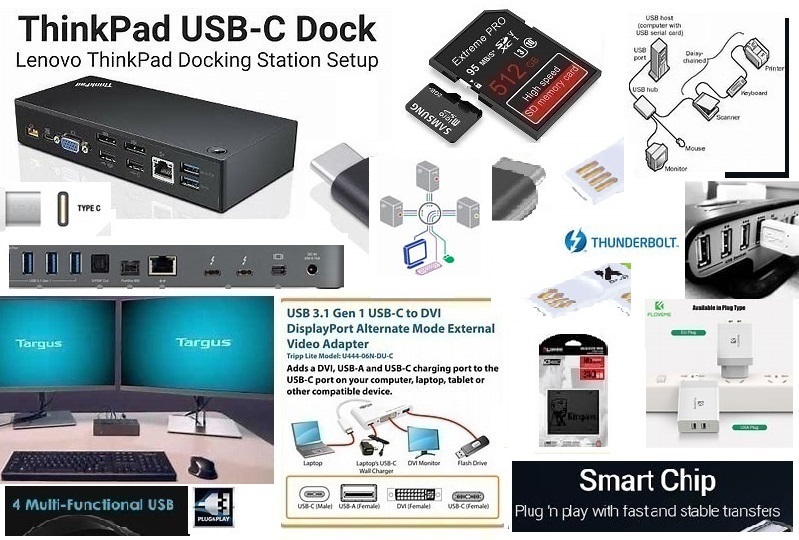 USB technology can be adapted to serve newer computing platforms and devices. Thunderbolt 3 uses the USB-C connector, but not all host cables, connections, and devices with a USB-C connector support Thunderbolt 3. This means that a USB-C device is compatible with a Thunderbolt 3 host connection, but a Thunderbolt 3 device is not compatible with a USB-C host connection. Standards might require using a different USB-C cable with the connector. The lasting objective of the USB Type-C universal cable addresses the needs for a wide range of charging, computing, and display applications and replaces previous versions of the USB cable while escalating the overall capabilities. To make full use of USB-C's benefits, the device's operating system makes a huge difference; the software must be coded to apply to the added features. The Type-C universal cable allows the connection of multiple devices with the female port. The high-quality connector warrants high-speed data transfer, safety of the connected device, and secure charging. A male to female USB-C extension cable lengthens the connection between USB-C devices.
The features, benefits, and other aspects of fast and super-fast charging. The term fast charging is used to promote chargers that can charge faster than the general charging standard. There is no industry-standard vocabulary for fast charging speeds, although several technologies make this possible. Most cell phones and other devices can maintain 5V/2.4A (amperage). Anything that elevates the voltage to 5V, 9V, 12V, or higher and raises the amperage to 3A or higher will raise the charging level. It is crucial to keep in mind that the amount of power the device can receive depends on the specifications of its electrical circuit. Fast Charge technology increases the battery from zero to fifty percent in approximately thirty minutes. The main benefit of this technology is that mobile devices become usable in a shorter time span. Since Super-Fast charging is built into the Power Delivery protocol, devices with SFC can be charged with Power Delivery chargers; a full charge would take up to about 70 minutes, instead of 90 minutes. Super-Fast charging is an improved version of fast charging that provides a wider range of benefits. It is important to choose a USB power outlet that is universal in several technologies. Launched in January 2020, Thunderbolt 4 technology supports SuperSpeed and is the most complete version of USB-C technology. Quick Charge™ (QC) is a battery charging protocol developed by Qualcomm to manage power via USB; mostly to negotiate a voltage with the power supply. Qualcomm's Quick Charge 4 supports up to twenty percent faster charging and thirty percent higher efficiency than the previous generation QC 3. According to Qualcomm, QC 5.0 is the world's fastest commercial charging solution that will enable new battery technology, accessories, and safety features.
Alt Mode is a functional capability that is unique to the USB-C port. The port is also able to support other technical standards such as DisplayPort and Thunderbolt. Initially marketed under the name Light Peak, Thunderbolt (the brand name of a hardware interface technology developed by Intel, in collaboration with Apple) was to connect external peripherals to a computer. DisplayPort is a digital display interface developed by a group of computer and chip manufacturers and standardised by the Video Electronics Standards Association. Next to the ports of a Windows laptop are symbols which indicate the functions of the ports. Not all USB-C ports feature Thunderbolt 3 functionality and not all USB-C ports feature DisplayPort Alt Mode functionality. Thunderbolt 3 functionality is purposely designed into a device's USB-C port by the manufacturer to support Thunderbolt 3 connections. If a symbol of a lightning bolt (Thunderbolt 3) appears next to a USB-C port, the port supports DisplayPort Alt Mode and can be used to charge and to transfer a video signal; therefore, a monitor can be connected. The USB-C Thunderbolt port was approved for several reasons. Firstly, as laptops continue to become smaller, a multi-functional port saves space. Secondly, the significance of the USB-C port is that computer manufacturers do not have to alter the design of the laptops to include a specialised Thunderbolt port. After Thunderbolt™ 3 technology, Thunderbolt™ 4 is the next generation in the Thunderbolt™ protocol; it requires support for power, data, and video with constant 40 Gbps bandwidth. Both generations use the same USB-C connector type, but Thunderbolt™ 4 technology introduces higher minimum requirements and new capabilities for an advanced user experience. The USB promoter group has announced an imminent release of the USB4 Version 2.0 specification. This will be a major update, capable of delivering speeds up to 80 Gbps over the Type C cable.
USB-C makes USB universal by enabling the use of other technologies such as DisplayPort, ThunderBolt and endless other possibilities on the same connector. Amazon's new Kindle Paperwhite Generation Eleven is purpose-built for reading, charges faster with USB-C, the display reads like real paper (even in bright sunlight), has an adjustable warm light to alter the screen shade from white to amber, has Bluetooth for audiobooks, is designed to survive accidental water submersion, and stores thousands of books. While the latest Android phones have a USB-C port, Apple is forced to abandon the Lightning connector (a cable used exclusively with Apple's iPhones) and switch to USB Type-C components. USB Type-C technology unlocks a realm of challenges!