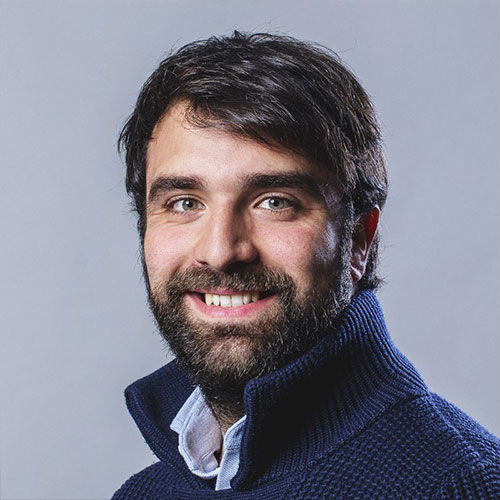 Hello Simone, please tell me something about you and your work.
Hi there, I'm Simone de Ruosi, General Manager at Zerogrey, an eCommerce agency with 20 years in the market and one of the more experienced European players in the industry. I have an Engineering and Business background with introductory knowledge of Productive System Management (with a particular focus on Lean Thinking) and Strategic Business Management. I started working at ZeroGrey in 2013 in the logistics department, becoming Head of Operations in 2016. Since October 2017 I have held the position of General Manager.
At ZeroGrey your slogan is "We take your e-shop to the next level". What is in there for the companies on the next level?
We believe there's always room for improvement, no matter how big a company is, they can always get better and stronger. For companies on the "next level", ZeroGrey is there to help them reach higher sales, take their products to a more international audience, improve their sales and business strategy and of course, keep them at the top positions with regard to their competitors. One great example of this is HP, the worldwide leading company in printer sales and the second in personal computer and laptop. About a month ago HP trusted
ZeroGrey's expertise in Cross Border eCommerce and hired us as consultants to help them find friction points and establish a stronger online sales strategy in order to achieve better results and keep on the top of mind of their customers worldwide.
You were also a speaker at this year's edition of European Digital Week with a session named "Cross Border eCommerce: How to internationalize an eShop". Why did you choose this topic?
Selling online to an international audience can be very exciting. However, it can also be very risky if companies do not take the necessary measurements and actions to be compliant and avoid extra costs. There are many legal and fiscal issues to take into account when selling abroad and as ecommerce experts we believed this discussion would be very relevant, specially at this point in history when online sales are at their peak due to different situations, including of course the Covid19 crisis.
As a General Manager at ZeroGrey, an eCommerce agency with 20 years in the market, what do you think are the steps to follow to internationalize an eShop?
According to ZeroGrey and Go Global, there are 5 main steps to internationalize eCommerce. First, you must manage the VAT positions in the countries where you are planning to sell, accurately calculating any import charges for an order. Second, it is necessary to understand that each country uses different payment methods.
Like culture in each country is different, so their payment methods are. Therefore companies who sell abroad must subscribe to global and local payment methods to be able to adjust to their markets. The third step is being compliant with the regulations of each country. Companies selling online abroad must make sure they comply with the fiscal and legal regulations of the different countries and states in terms of invoicing and payments. This way they will avoid fines and unnecessary problems that can damage the reputation of their business and lead
to economic constraints. The fourth step has to do with payments, refunds & administrative problems. Companies have to make it simple for shoppers worldwide to return unwanted items, get a fast refund,
and most importantly, get them back to shopping again!
The last but very important step to internationalize an eShop is to protect businesses against fraud and risk. The more we sell the higher the risk is for fraudulent transactions that can lead to huge losses and even bankruptcy is. This is why companies must take measures to prevent risks, ensuring the company will be safe and sound.
Finally, is there anything else you wanted to tell us that we have not asked about?
Yes. it is very important to acknowledge that eCommerce is now at its peak. Cross-border eCommerce makes up 21% of the total global online trade, which is very impressive. The global B2C cross-border eCommerce market will balloon in size to $1 trillion in 2020 from $230 billion in 2014, according to a report from global consulting firm Accenture and AliResearch, Alibaba Group's research arm. This is a very good time to start internationalizing businesses online!
Prepared by,
Chudomira Stamova
/Editor at DiTech Media/