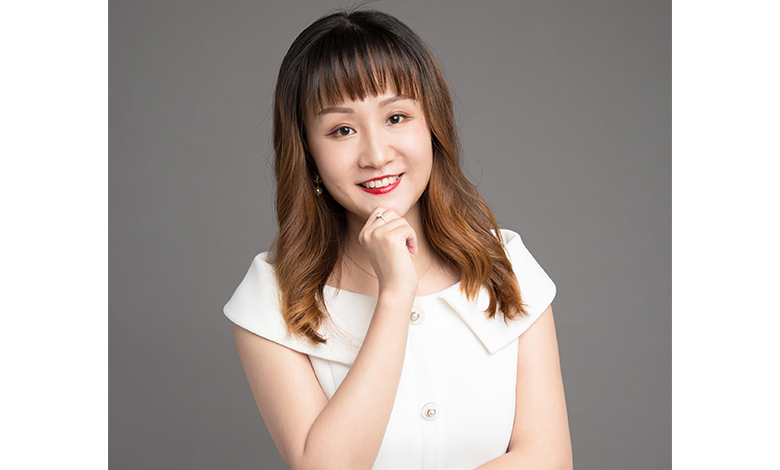 Can you tell me a bit about your background and your current role?
Sure, here my personal highlights as follow:
Business Focus. Fifteen years of HR Business Partner experience in MNC with various industries both in Fortune 500 and startups, strong business acumen and solid business player, with entrepreneurial mindset.
Big Achiever. Strong strategic thinking and business acumen and able to drive and implement change, led numerous change initiatives and projects with deliverables exceeding expectations.
Customer Focus. Excellent communication skill and fully bilingual, versed in coaching own team and line managers to elevate their career development, with strong sense of commitment.
Enable Others. 10 Years of people manager experience in matrix and flat organizations, convincing and transformational leader, empower and encourage team members, equip necessary resources with envisioning the company and HR strategy.
Self-dedication. Proactively and can-do attitude, very solid sense of responsibility and reliability. Self-motivated, result-oriented and keep up diligent, decent and dynamic image.
Three months job rotation as Corporate HRD in Silicon Valley, leading a very diverse HR team, finishing PMP (annual performance management) and other 4 HRIS rollout on time with high quality deliverables.
Primary project leader for several Organizational Design Projects, proficient in job mapping (Hay Points, Radford, Mercer IPE), talent auditing, salary structure optimization and review.
Setup whole HR management system, process, policy and regulations from the scratch, with full spectrum in the fully compliant and legal manner, qualified for rounds of due diligence.
Proficient in employee and labor relations, such as special case handling without any litigation and arbitration, terminated 300+ staff by person of 10 nationalities from desk level to C-suites.
Current role: Independent Consultant, Coach, SHRM-SCP and Instructor
Mainly due to the pandemic and oil price crash in the North America, my previous company- GlassPoint Solar was undergone the voluntary liquidation in this April already. In this transition period (still seeking for my in-house HR VP or HRD's role, but the employment market was severely impacted by COVID and the very tough relationship between US and China, so it takes much longer period of time than ever before), I am working as an independent consultant providing global HR consulting services, not only on facilitating the HR management related training (in English and Mandarin) but also handling the Executive Hiring, compensation and benefits, Organizational Development, People Analytics and other consulting services for clients, mainly for Chinese company with multi-national business.
Providing coaching service both with project-based or individual problem-servicing based program mainly to HR practitioners in various HR functions/ modules: Meantime, as the instructor of SHRM(Society of Human Resources Management, largest HR professionals association with 300,000+ members in 100+ countries) credentials study with good passing rate both in CP and Senior CP.
Which are the top 5 initiatives in post-COVID-19 for HR leading?
Top 1-5 (refer to the snapshot) Future of work, Critical skills and competency development, organizational design and change managment, employee experience, current and future leadership.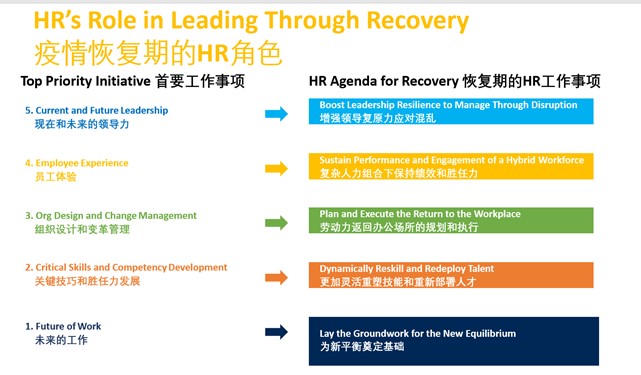 In your topic For European Digital Week 2020 you said there are Three dimensions of managing and measuring Employee Engagement – which are they?
Details per the snapshot, three dimensions are from Gartner's study, which are: Organizational Trust, Commitment to Coworkers and the Right Capabilities.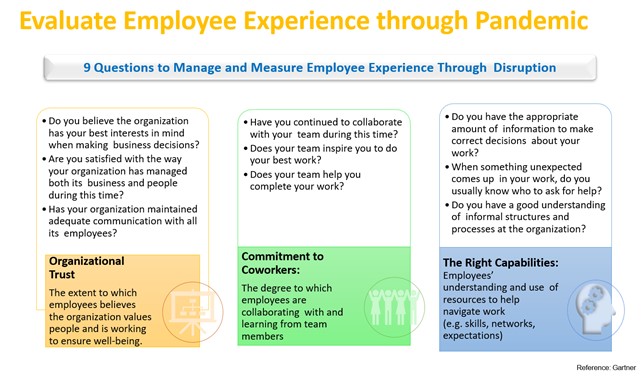 "Leading Flexibility"- can you explain a bit more about it?
I suggest you would call it" leading with flexibility" instead of "leading flexibility" it is one of the key leadership trait/characteristics for senior managers especially for executives, facing current unprecedented uncertainties or we call VUCA times. Since they will lead or encounter numerous change initiatives, possessing such characteristic will definitely beneficial to them and their teams' successful going through the changes to some extent.
 What is the single biggest challenge facing the HR department today?
This is a great question, but I suggest you could provide more context or adding a few background information. However, I would like to hold an opination after the post-pandemic period and everything back to new normal (and we should adapt to it in the near future) overall speaking the single biggest challenge facing the HR department is: Improve employee engagement and stimulate organizational vitality by proactively boosting employee experience, despite of excellent change management related skillsets such as resilience, growth mindset, positive mindset, emotional intelligence, risk taking, etc.
What trends will shape Human Resource departments over the next five years?
That's a fantastic question as well and I would like to make a bit of prediction for the following five years shaping HR professionals as follows:
HR Technology should permeate into almost every corner of HR's daily job and increase the organizational productivity and vitality, such as people analytics, personalization, upgraded digital transformation.
Employee Experience could be the new focus which is future-oriented employee engagement upgrade, especially the workplace is becoming more diverse with 5 generations with respective needs, and the employee experience will be applied to the full employee lifecycle from recruiting to exit from the organization.
E-learning or mobile learning would be replaced by the traditional classroom training to large extent due to lots of factors, and HR should be the champion of lifelong learning organization.
Genuine HR BP's role will be more complicated and diverse, incorporating coach, counselor, cultural ambassador into professional expert with better business acumen, service-oriented mindset, facing and leading with numerous change initiatives.
More and more SME or COE professionals specialized in organizational development and talent management will be more popular and with higher package, in align with the internal and external environment demand.