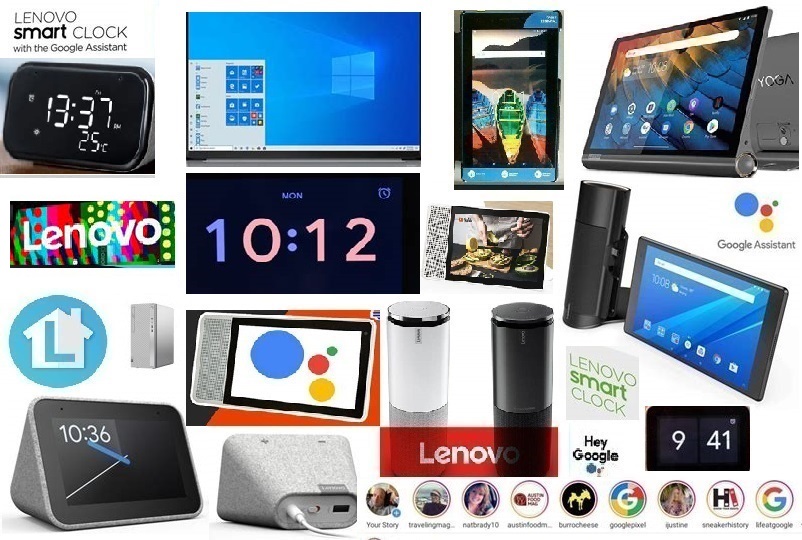 Technology is about positive change in people's lives. Technologies such as artificial intelligence, virtual reality, machine learning, and the internet of things (IoT) allows humans to interact with 'smart' devices in the real-world environment. During the pandemic, digital efforts intensified, and the momentum of digitalisation drastically increased. Educational and marketing methodologies transformed almost overnight. Digital schools and educational institutions reverted to online classes and the internet business model became the primary marketing tool.
Many entrepreneurs who rely on digital innovations are willing to embrace innovation, technology, and digitalisation. They focus on mindset coaching and performance, apply practical tools and strategies, and capture the virtual market in their personal and professional lives. According to Borneo Bulletin Online (a digital version of Brunei's independent newspaper in Brunei Darussalam, Sabah and Sarawak) senior government officials need to promote rapid technological development and encourage everyone to adapt to the new norm.
Europe is by far the leader of the new, digital world. Its citizens have the ambition, education, and skills to create influential technological companies that drive economic growth and employment. Located in Turin, Italy, the European Training Foundation (ETF) is a European Union agency (active since 1994) that helps developing countries support their human capital potential in accordance with the European Union's external relations policy by reforming their education, training, and labour market systems. Formerly known as the Consumer Electronics Association (1999), from 2015, the Consumer Technology Association (CTA) is a trade organisation that represents more than a thousand consumer technological companies in the United States. CTA's mission is to conduct market research, implement technical standards, influence public policy, and hold events such as the Consumer Electronics Show (CES) and CES Asia. Each year during January in Las Vegas, CES is a major CTA-sponsored technology trade show; the first CES show was in 1967 in New York City. CES Asia serves as platform for American and Chinese companies to launch new products into the Asian marketplace. These events are the most prominent technical events in the world; the demonstrative showcase for global innovators and revolutionary technologies.
China as well as most countries in the world, is facing the challenges of digital transformation, artificial intelligence, automation, big data, the internet of things, machine learning, and technological development in cloud computing. Shenzhen, China is a major international provider of enterprises, consumer technology solutions, and telecommunications. Since 2004, Oppo Electronics Corporation, the Chinese consumer electronics and mobile communications company, has invested in technological innovation (promoting design through modern technology) to become China's finest smartphone producer. Having extended its global footprint to more than forty countries, they are the fifth biggest in the world. OPPO's headquarters in Shenzhen consists of four interconnected towers with large street level civic spaces. Founded in 1985, ZTE Corporation is a Chinese partially state-owned technology company and a global leader in telecommunications, data telecommunications equipment, telecommunications software, optical transmission, wireless services, and mobile phones. ZTE is listed on the Hong Kong as well as the Shenzhen Stock Exchanges. Their commitment is to transform industrial digital competence and win the future together.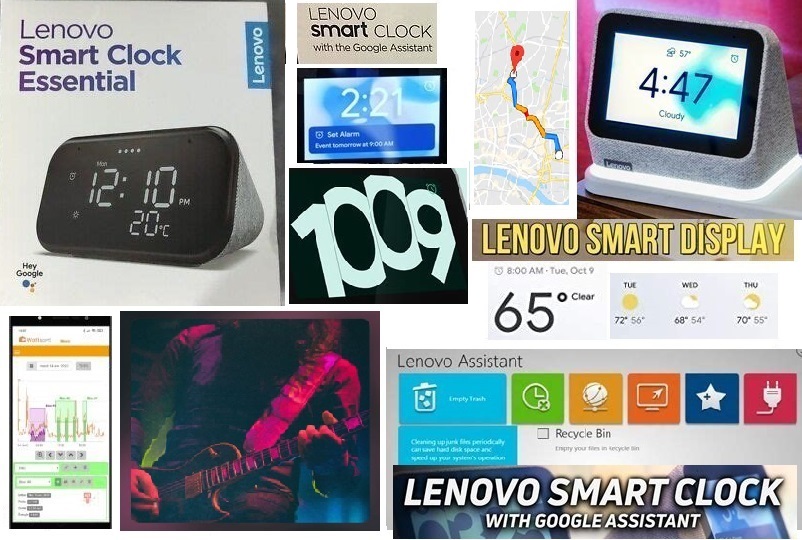 Founded in 1997, MediaTek Inc. is headquartered in Hsinchu, Taiwan and is a fabless semiconductor company that provides chips for wireless communications, high-definition television, handheld mobile devices such as smartphones and tablet computers, navigation systems, consumer multimedia products and digital subscriber line services, as well as optical disc drives. The semiconductor industry consists of three groups; an Integrated Device Manufacturer (IDM) that controls every process (from planning to manufacturing of the final product), a Foundry that only manages the manufacturing stage, and a Fabless that only designs the semiconductor. MediaTek drives innovation by introducing a stylish series of pioneering, inter-connected home devices designed to make life easier (from smartphones to smart homes such as Voice Assistant Devices, IoT devices, home audio, Wi-Fi routers, and Smart TVs). MediaTek's strong performance in counties such as China and India assisted the company to become a leading smartphone chipset vendor. Founded in 1999, headquartered in Texas, United States, and formerly known as the Wireless Ethernet Compatibility Alliance (WECA), the Wi-Fi Alliance (2002) is a non-profit organisation that owns the Wi-Fi trademark. The independent organisation tests and certifies products for Wi-Fi inter-operability whereafter manufacturers are allowed to use the trademark for branding purposes. During 2016, the Wi-Fi Alliance was the third major global fabless chip designer with a worldwide footprint of twenty-five offices. MediaTek's Wi-Fi 6 has passed the latest security certification issued by the Wi-Fi Alliance.
Founded in 1984, Lenovo Group Limited is a Chinese multinational technological company (the world's major personal computer retailer) with headquarters in three countries; the registered office in Hong Kong, China, the global headquarters in Beijing, China, and the operational headquarters in North Carolina, United States. Lenovo specialises in services such as business solutions, designing, manufacturing, and marketing of consumer electronics. Their product ranges are from software, storage devices, servers, peripherals, scanners, and printers to products in the categories of televisions, supercomputers, personal computers, and smartphones. At its annual global innovation Tech World 2022 event, the company shared its vision for an alliance between devices, users, and spaces to solve infinite possibilities in real-world applications. They revealed concepts of infusing 'smart' computing into screens of smaller devices such as laptop computers, tablets, and smartphones to provide connectivity, entertainment, and productivity on a dynamic level and demonstrated their theme 'Smarter Technology for All' with a range of new laptops, mobile devices, smarter home devices, and augmented reality (a collaborative experience between real world and computer-generated content which affects sensory modalities such as auditory, haptic, olfactory, somatosensory, and visual). The term 'smart' is used to indicate innovation that defeats boundaries. This will improve data-driven, smart city technologies, modify the quality of life for its citizens, and define the way people work.
Google is partnering with manufacturers to fabricate smart homes with Google Assistant. Due to the built-in Google Assistant User Interface (UI), Google Assistant is now available in small, connected screens. The Lenovo Smart Display requires an active Wi-Fi connection for the Google Assistant to be available. The Smart Display offers the same quality of voice control as a Google Home speaker. Many tasks can be done hands-free with Google Assistant such as managing errands, enjoying entertainment, keeping in touch, and controlling your home. To activate your 'personal assistant' say 'hey Google' to listen to music or watch videos. Go to 'Add device' in Lenovo Link to connect Lenovo Smart Home gadgets and give each device an exclusive name. Google built-in compatibility is a useful and effortless way to boost your driving experience. Use voice commands while focusing on the road, get directions, and adjust vehicle settings. With Google Assistant, Google Maps and Google Play, you can stay updated on incoming messages and calls, get live traffic updates, and answer calls without touching your phone. Stay organised by managing your calendar, set reminders and timers, browse recipes, and get step-by-step instructions. Pull up a live stream of your camera to see who's at the door. Play podcasts and radio from popular services like YouTube (Stream videos directly from YouTube). Watch helpful how-to video tutorials powered by YouTube and Google Search. Smart Display also works with Chromecast (stream your favourite shows, movies or music on your TV using voice command). Catch up on the news while making breakfast. Ask Google questions and get answers or give voice commands to control smart home devices such as turn up the thermostat, brighten the lights, or start the coffee maker. Ask Google for information about your commute, local businesses, and random fun facts. Ask Google to add something to your shopping list or make a purchase with Google Express. Make high-quality video calls to family and friends with Google Duo for video calling. Just say, "hey Google, call John.'
Lenovo is pushing the boundaries of smart home innovation. The company's newest, and smallest Android tablet is the Lenovo Smart Display 7. The popular Smart Display is the first Google Assistant device that has more functions than any other smart speaker. With the built-in Google Assistant, Lenovo Smart Display is designed to make life easier. The Lenovo Smart Display's speaker is on one side of the device while the Google Home Hub's speaker is mounted on top of the device. The Lenovo Smart Display features an 8- or 10-inch touchscreen Full High Definition (FHD) visual display (referring to the pixel resolution of the screen). This adds a visual dimension to a hands-free device that is activated only by questions and voice commands. Before Lenovo could release their 10-inch Smart Display with Google Assistant, the Google Home Hub was launched; however, Lenovo's product was the first smart display with GA. The Lenovo Smart Display has an 8-inch or 10-inch Full HD screen, a 5-watt speaker on the Smart Display 7, and 10 watts on the larger display. The smart speaker is available in two sizes. The 8-inch HD screen is (1280×800 video resolution) and the 10-inch full HD screen is (1920×1200 video resolution). The Smart Display is powered by the variant SDA624 on the Qualcomm Home Hub Platform. Devices with installed Android Things software can use Google cloud services such as Google Cast for audio and video streaming, Google Duo for video conferencing, and TensorFlow for machine learning applications. Google Maps provide the latest traffic updates. Smart Display can connect and synchronise easily with your smartphone by setting it up with the Google Home application and linking it to your Google Account so that Google Assistant can send information to your phone. The Smart Display 10 FHD touchscreen can flip horizontally or vertically for the best view. The device is a clever choice for those who want a hands-free Google Assistant device to help around the house.
Two new Lenovo Smart Clocks (both with Google Assistant and Google Smart Docks) are the Smart Clock Essential with Alexa Built-in and the 2nd Generation Smart Clock. Both Smart Clocks have four-inch Smart Display touchscreens (the Essential has a LED touchscreen and the 2nd Gen has an LCD touchscreen). There are two new smart docking options for the Smart Clock range. The Smart Clock (2nd Gen) uses a Wireless Charging Dock which is compatible with Qi devices. Most phone manufacturers use the Qi wireless charging standard to eliminate the need for separate chargers, cables, and adapters. All devices with the Qi logo are compatible with Qi chargers. The Lenovo Smart Clock Essential is designed to make everyday life easier. The bold time display provides instant screen information such as the weather, humidity, and temperature. It allows you to sleep better at night, wake up naturally, manage smart devices and schedules, listen to music, and stream videos. Say 'hey Google' to browse your calendar, get step-by-step recipe instructions, and to check your morning commute.  It controls smart home devices from the screen, produces sharp and clear images for entertainment and web browsing, and has a selection of clock faces when the screen is not in use. Download the Alexa application on your smartphone. After setup, the application will allow you to change alarm sounds, create a routine, customise the screen contents, and manually adjust the screen brightness. The Clock works hands-free with a multitude of smart home products. Customise settings to give Alexa access to these devices. Released during September 2021, The Lenovo Smart Clock is the second Generation of Lenovo's Smart Clock line-up. A wireless charging dock was issued with its launch to charge a smartphone, a smart alarm clock, and a wearable. The 4-inch LCD touchscreen displays family photos, the time, and weather. The Smart Clock 2nd Gen allows you to hear, see, and interact with information. Customise settings, set up morning and night routines, and choose between various clockfaces from the digital photo album (or make a clockface with Google Photos). The MediaTek chipset supports Google Assistant, and a touch panel allows access to home smart devices. With multi-room audio, the Smart Clock 2nd Gen can be added to a speaker group to play media across several devices and rooms.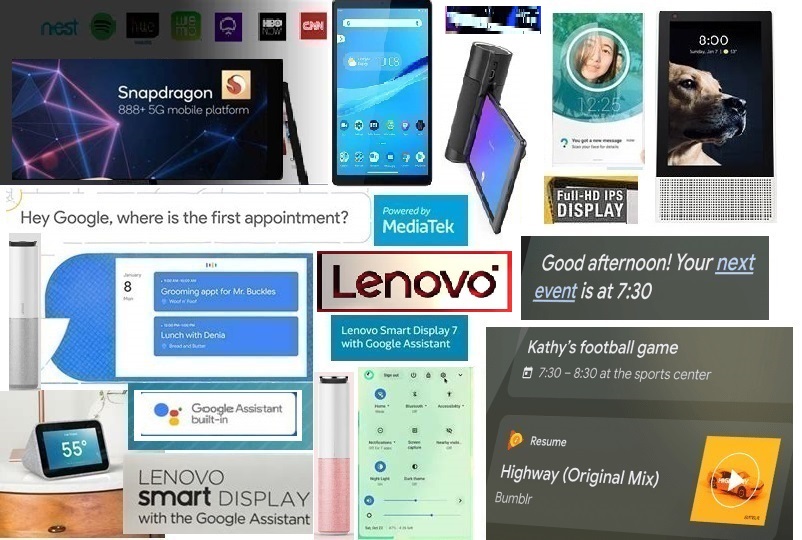 The latest two Lenovo smart tablets (both with Google Assistant and Google Smart Dock) transform multi-purpose tablets into smart home hubs. The Lenovo Smart Tab M8 is an 8-inch Android tablet with Smart Display. It has 32GB storage and a Quad-Core Processor with a HD (1280 x 800) resolution touchscreen display. Engineered for the whole family, Google Assistant can be activated with the command 'hey Google.'
The powerful performance and multi-user functionality shine through in its other specifications such as dual microphones, 2.4GHz/5GHz Wi-Fi Dual Bands, one TB MicroSD card slot, web browsing (18 hours max), and Video playback (12 hours max), two side speakers, 2MP Fixed-Focus Front camera and 5MP Auto-Focus Rear camera, and Dolby Atmos audio. The other tablet is the 10.1-inch Yoga Smart Tab with a FHD (1920 x 1200) resolution touchscreen display for ultimate entertainment. This smart home hub has 64GB storage and is powered by a 2 GHz Snapdragon Octa-Core Processor. The clear and rich audio is the result of Dolby Atmos software, powerful dual Hi-Fi speakers, and a smart amplifier. It is designed with a built-in stand to hang, hold, or tilt the tablet. Lenovo's latest smart home products are in high demand.