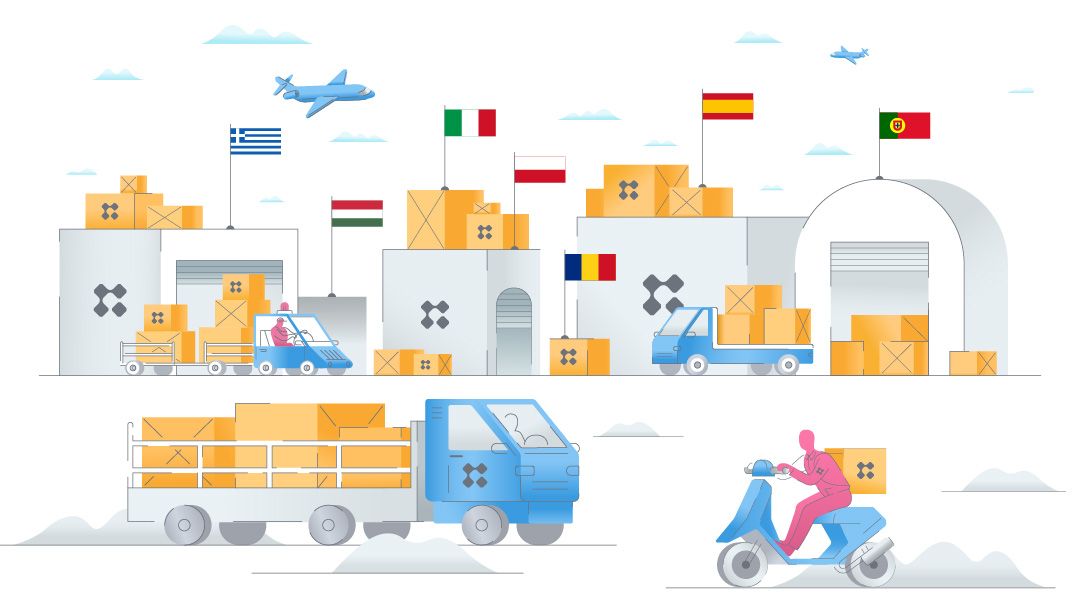 Automation of fulfillment processes with Dropex API
Cooperation with an order fulfillment provider works wonders: it frees up time, saves money, and protects nerves. Optimizing logistics is one of the must-do things for entrepreneurs looking to make their online business successful. With Dropex, this is not a problem. In addition to an impressive list of useful fulfillment services, we have a modern CRM system that perfectly integrates with any platform your e-commerce site was created on.
Benefits of automatic order processing for WooCommerce
WooCommerce is one of the most popular plugins for building an online store. It received such recognition from the public for the ability to practically unlimitedly modify and customize e-commerce sites. By default, WooCommerce gives its users the following options:
flexible management of products, methods of payment and delivery, taxes;
collecting valuable information about traffic sources and customer behavior;
setting up discounts and accruing bonuses after purchase;
formation of a list of promotional products.
As you can see, there are many business benefits. And there may be even more if we supplement this program with the Dropex logistics software. With Dropex online fulfillment, you can manage inventory, control orders and guarantee customers the fastest delivery. This, in turn, will make the business even more profitable and save you from employee mistakes that can hurt the company's profits and reputation.
Fast integration of WooCommerce with Dropex logistics software
The entire integration process takes from 2 to 5 business days. Please note that it is undesirable to conduct promotions or send parcels to customers during this time. After connecting, all delivery and fulfillment services will be optimized and you will be able to view reports on the current status of all your orders, turnover, and financial issues at any time. There is no need to worry about interruptions in work as our API is fast and stable. You can learn more about connections from your Dropex manager.
With Dropex, you get powerful software to optimize order fulfillment
Let us take a closer look at what Dropex online fulfillment is capable of.
Simple integration and easy management
Dropex logistics software is easy to use and intuitive, so you don't have to adapt to the new system for a long time and change the usual business processes.
Automatic order fulfillment
Information about the status is automatically pulled into the system, so you can find out at what stage a particular order is at any time.
Automated returns management
If the customer does not accept the parcel, information about this (and all subsequent steps to solve the problem) will be automatically displayed in the system. At the same time, Dropex will inspect the return for damage and, if all goes well, refund the customer. And then they will repackage the goods and send them back to their warehouse (or return to the online store).
Complete warehouse management
We accept, check and label the products and then register them in the system using Dropex software and send them for safekeeping. Safety comes first: all of our warehouses are equipped with a climate control system as well as security and fire protection systems.
The importance of outsourcing and automation of order fulfillment for WooCommerce
Summing up, let us take another look at the benefits of cooperation with Dropex and the automation of some of the operational processes using our CRM system.
Saving time and resources
The order fulfillment provider takes care of all routine logistics tasks and, thanks to the experience and technical capabilities, manages them quickly and efficiently. You save time, nerves, and money that you can use to develop your business.
Minimizing errors
Reducing the influence of the human factor helps to avoid many mistakes. That is why we have automated all stages of fulfillment that could be automated. To resolve issues that require "live" knowledge and experience, we have selected an experienced and attentive team, where everyone is a professional in their field.
Full control
With the Dropex CRM system, you can easily track every stage of sales – from the moment the order is processed to its delivery to the customer. All data is updated in real-time, so you can always react quickly if something goes wrong.
Increasing customer loyalty
The order fulfillment provider helps to organize the level of service that each client desires. This includes fast delivery, reliable information about the availability of products in stock, the ability to pay by cash on delivery, SMS notifications about the time of arrival of the courier, and much more.
Each business has its own needs and objectives. Whatever challenges you face, Dropex will help you solve them. You can find out more about the conditions and cost of cooperation on our website.