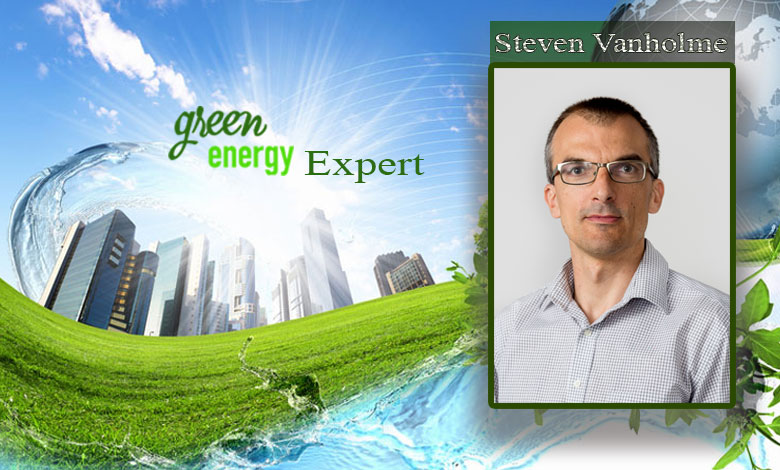 1. Can you tell us more about yourself?
Firstly, I'd like to say thanks for this interview and opportunity. On myself, I originally come from Flanders, Belgium and, in 2011, moved with my family to Helsinki Finland. I´m a jurist, nature conservationist and climate activist and the first thing I did, when moving to Helsinki, was join the Finnish Association for Nature Conservation (FANC); which is where I now work as part of an initiative called EKOenergy. My belief is that everyone can make a difference, yet we are most effective when we act in a structured and organised manner. I strongly believe that we need environmental organisations, and that they are the ´unions´ or 'the voice' of our planet. That is why I became involved with EKOenergy.
2. ЕKOenergy has a long history. What is your present position?
EKOenergy´s roots are in the Norppa label for electricity, a label launched by the Finnish Association for Nature Conservation in the 1990s with the aim of promoting renewable energy. EKOenergy´s own history, however, isn´t as long. We started in 2013, as the ´Pan-European label for renewable electricity´. Together with partner organisations, we initially worked in Italy, Spain and Eastern-Europe, promoting the use of renewable energy in all ways possible.
A lot changed in 2015-2016, when we noticed that large corporate consumers were interested in buying 100% renewable electricity, not only in Europe, but worldwide. We decided to help and support them as a nonprofit, and to regularly remind them of their commitments too. That´s when we started exploring opportunities to launch our label in China, Russia, South-East Asia and Latin America.
Current day, we are a global nonprofit ecolabel for renewable energy, including renewable gas and heat. Our dynamic team organises campaigns targeting specific sectors, such as our recent ´Passion for Green Fashion Campaign´. Our work covers advocating for a rapid transition to 100% renewable energy, communicating with energy companies and their clients, and our experts are regularly invited as speakers at conferences and webinars about sourcing of renewable energy.
3. What do you believe are the reasons for the success of EKOenergy?
I think several factors have led to our success here at EKOenergy. First of all, we are ahead of our time. We were amongst the first to promote a 100% renewable economy, so of course we were ready in 2015 and 2016 when organisations such as the RE100 emerged. We've never had the feeling that we were confronted with a situation we weren't ready for.
Even in light of recent times, with lockdowns and quarantines, we feel prepared. We have always emphasised the importance of avoiding unnecessary travel and focused on the use of digital meetings and working from a distance. When the corona crisis struck, we didn't need a lot of restructuring to continue our efforts.
But, most of all, we focus on pragmatic solutions with a positive attitude. We aren't that big, but all of us believe in what we are doing. Many of our licensees as well as the first users of EKOenergy-labelled energy, are trailblazers in their markets. And at the secretariat, we continuously host 7 to 10 volunteers and trainees who are passionate about the cause and bring forward new ideas; whilst helping us communicate every day in more than 10 languages.
4. What are the main goals for EKOenergy in 2020-2021?
We fully realize that this decade is the 'decade of delivery'. Within this decade our greenhouse gas emissions need to fall by 5 to 7% annually, if we want to avoid climate chaos. That means 2 things: 1) we don't have time to wait for new large-scale solutions but need to work with what we have and, actually, all the solutions we need to tackle climate change exist and are affordable, and 2) we need all hands and minds if we are to overcome this challenge. As Greta Thunberg all the time repeats: 'Everyone is needed'.
EKOenergy will continue our main goal of encouraging as many people and companies as possible to switch to 100% renewable energy as fast as possible.
Apart from continuing our regular work, and getting better every day at what we do, we will focus specifically on 3 aspects.
– We want to shift the focus that's solely on renewable electricity to include other energy carriers too, in particular renewable gas and heat.
– We don't want to focus on traditional renewable energy contracts only, but want to share information about energy cooperatives, PPAs, on-site installations and other types of sourcing of renewable energy too.
– To spread the message, we need the help of consumers too. We hope to encourage more companies to use our ecolabel on their products, to show it has been made with 100% EKOenergy-labelled energy and to encourage others to do the same.
5. Can you pick one idea or project that your city feels proud of and you would like to share it with us?
Everyone can make a difference, we show that in practice. The label didn't exist 8 years ago, but with very few resources and with the help of many dynamic volunteers we made it to the international scene in a short space of time.
At the same time, we make it possible for consumers to make a real difference. With the combined contributions of tens of thousands of EKOenergy consumers we finance renewable energy projects worldwide and set up renewable energy campaigns to speed up the energy transition.
I hope that all the time more households and companies will get inspired by these successes and concrete examples, and will take the decision to switch to EKOenergy-labelled energy too. Together we can make a real difference.