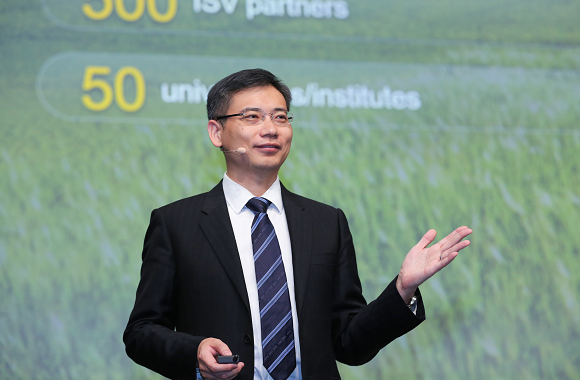 At HUAWEI ECO-CONNECT EUROPE 2019, Huawei officially released the AI Ecosystem Program in Europe and announced an investment of 100 million euros in the next 5 years. This program unlocks a new chapter for the computing industry in Europe.
According to Jiang Tao, VP of Intelligent Computing BU, "Huawei is committed to investing in the AI computing industry in Europe, enabling enterprises and individual developers to leverage the Ascend AI series products for technological and business innovation. Over the next 5 years, Huawei plans to invest 100 million euros in the AI Ecosystem Program in Europe, helping industry organizations, 200,000 developers, 500 ISV partners, and 50 universities and research institutes to boost innovation." The 4 initiatives of the program are as follows:
First, Huawei will work with partners to shape the AI industry in Europe. Specifically, Huawei will collaborate with key organizations in three important areas:
Improve regulations and standards on AI ethics and security together with the European AI Alliance and European Telecommunications Standards Institute (ETSI)
Work with the Big Data Value Association (BDVA) to promote the AI Public-Private Partnership (PPP) across the EU, helping boost AI research and vertical industry development
Nurture the AI university ecosystem in Europe through academic platforms, like the Falling Walls Foundation
Second, Huawei will develop joint solutions with ISV partners. The OpenLabs in Munich and Paris are AI capability centers that support ISV partners in hardware, development and porting, and joint marketing.
Third, based on the Ascend Developer Community, Huawei will organize offline technological salons and developer contests, and provide technological support to enable developers.
Fourth, Huawei will provide partners with AI courses and teaching materials, and establish joint labs in Europe. 3 AI courses designed for universities will cover basic AI theory, Ascend and mainstream framework development, and Ascend software architecture and development guides. 4 teaching materials on Ascend development will be released in 2020. In addition, Huawei will establish joint labs with partner universities and research institutes for algorithm model development and basic applications.