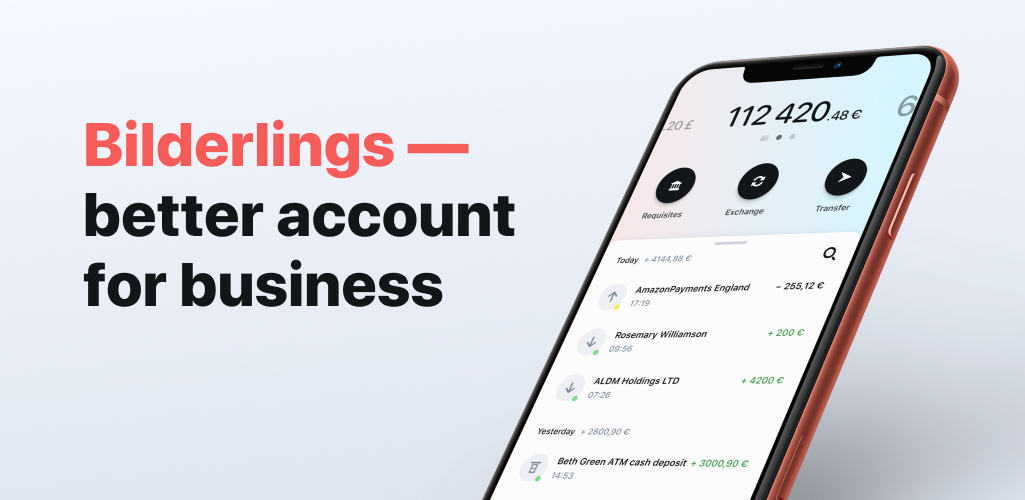 UK's fintech Bilderlings has launched a mobile application for managing current accounts. This app will help businesses and individuals keep track of their funds and perform basic account operations from a mobile device.
The app's main feature is access to payments to over 150 countries worldwide in one of 19 currencies including EUR, GBP and USD. To perform a transfer, all a user has to do is specify the amount, beneficiary data and transaction details. With biometric authentication, quick and secure account access is provided via a fingerprint or facial recognition feature available on most modern smartphones.
Viewing one's account balance on the go is now even easier than it has been with Bilderlings' web interface: the amount available is displayed immediately, alongside amounts held in a variety of currencies. Switching between different accounts takes only two taps of the finger.
The Bilderlings mobile app also enables multiply access to the account– an important feature for the enterprise because it supports several user roles with different sets of access rights available to each. Setting these roles requires a web browser, but once the correct settings are saved, all added users will be able to access the respective accounts using the app as intended.
Other useful features of the app include account statements with filtering and a PDF save option, as well as payment templates, and easy forwarding of one's account details. The app enables management of a Mastercard Bilderlings or Mastercard Bilderlings Business card – blocking, unblocking, PIN reset, or cancellation – with no calls or letters to the company.
Bilderlings is certain, a good service must keep everything close at hand, without making the client think about what they want to do. The interface has been crafted with utmost empathy for the end-user and is available in five languages.
In spite of its technological advancements, Bilderlings keeps the traditions of private banking alive, each client has a dedicated relationship manager who understands the particulars of their business or lifestyle, and is always happy to assist in matters of financial management.
Developing a mobile application is a large step for a payment service provider. It makes banking faster, simpler, more convenient and reflects the vast potential of the fintech industry.
Bilderlings' mobile app is available through the App Store and Google Play.
Bilderlings is a British fintech platform that has been providing financial services since 2015.