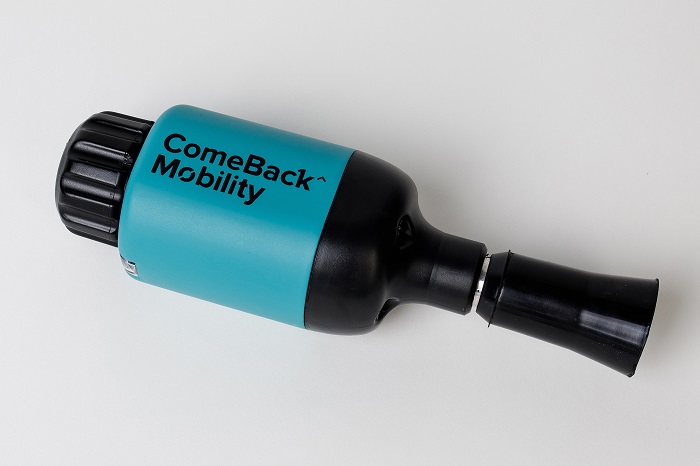 ComeBack Mobility, a medtech startup, raises $1M seed investment for its "Smart Crutch Tip" orthopedic devices that work together with an app, shared by a patient and a doctor. The key investors include the Ukrainian medtech investment fund Fison, Peter Chernyshov, the ex-CEO of the telecom KyivStar, the pharmaceutical giant Farmak, and several angel investors from Ukraine, Belgium and the US.
Smart Crutch Tips are the industry's first offline, wireless devices with a storage capacity recording up to 1 million steps and battery life of 850 hours of active use, to be attached to any universal round crutches. The technology allows electronic communication with the doctor and provides an overview of the patient's walking recovery progress. Patients have crutch tips that work together with a smartphone app, where they have rehabilitation programs set by their doctors. The app helps patients to be regular with exercises and keeping the load on the injured leg under the set program while consistently receiving doctor's recommendations. The medical professional has a web and/or mobile app that contains data about all his or her patients and makes it possible to remotely monitor how the patient loads the injured leg, addressing the patient's concerns, and adapting the program to their needs.
Weight bearing (WB) in rehabilitation is essential for bone healing in patients with fractures and when following orthopedic surgery. Low-intensity weight bearing exercise has shown to be beneficial in bone healing over non-weight bearing exercises. Yet, according to studies, 6 out of 10 patients don't follow their doctor's advice during rehabilitation after their lower limb injury. To completely transform this reality, ComeBack Mobility invented the industry's first Smart Crutch Tips – a reusable, dynamic feedback device that works together with an application shared by a patient and their doctor.
Smart Crutch Tips Key Benefits:
Offline, wireless – the device can track and store patient gait data for up to 10 days without a smartphone
Storage capacity recording up to 1M steps (the equivalent of 760 km/470 miles)
Battery life – 850 hours of active use; simple and cheap to install
The doctor can set an individual weight bearing (WB) program in less than 2 minutes, and can modify the patient's WB status per presentation of signs and symptoms
Smart Crutch Tips track, record, and provide real time feedback (light, vibration, sound) for every step taken during crutch gait
The patient quickly learns how to apply the smart crutch tips instant feedback to their prescribed WB status – on average, from the 10th step if have prior experience walking on crutches
Once connected to the smartphone, Smart Crutch Tips instantly sync the patient's gait data (daily steps and WB load) with the Patient app and doctor's digital dashboard
The doctor can view the patient's gait data and compliance to the WB program in real time. The
Digital dashboard displays gait data in daily, weekly, and monthly formats.
The patient can communicate concerns and changes in symptoms with the doctor, or medical care provider, via the SOS button. Telehealth capability.
Smart tips automatically calculate the patient's current weight bearing on the injured or surgically operated leg while the patient is walking, analyze it and immediately provide feedback to the patient and the doctor on whether any adjustments need to be done — all in real-time. Fitting all popular round crutch brands, the tips are set by the patient on crutches and synced via Bluetooth to smartphones. The patient starts receiving instant feedback on their mobile device, consisting per choice of voice, sound or vibration and from the attached crutch devices per choice of light and/or sound, whether too little or too much load on the leg when they exceed or subceed their medical professional's prescribed weight bearing status. The device communicates each patient's rehabilitation results to their physiotherapist and lets them monitor a patient's daily activity level through the app.
Michael J. Chin, DPM, the medical director of the Running Institute and Windy City Foot and Ankle Physicians LLC, evaluated Smart Crutch Tips and said: "A lot of people don't know how much pressure they're putting through their feet when they're trying to rehabilitate. You can use scales, you can use the weight of their body minus how much pressure they're putting through it. But this device gives you a kind of instantaneous feedback, which I think for rehabilitation purposes can be very helpful. I like the concept, I like the idea of being able to give feedback – obviously to the patient, but also to the clinician. You take a few steps and already it is logging the steps being taken, the pressure, the feedback. I could hear the actual vibrations so it's impressive as to how quick that response is."
It's not only the physical but also the psychological factor that often hinders patients in properly adhering to the correct rehabilitation process. After surgery, nurses and physiotherapists have the responsibility to encourage the patient to participate in early ambulation. According to the latest clinical study, "nurses are challenged by patients who are not confident enough to mobilize following a lower extremity joint surgery or fracture stabilization. This situation leads to decreased weight bearing, which can hinder the recovery process and future mobility of the patient. If the patient does not comply, the nurse can communicate that to the physician who could provide re-education to the patient on the need to mobilize to improve recovery. The nurse could also communicate ambulation issues to the physical therapy team, who could then work with the patient to increase knowledge and confidence." The entire process leads not only to an inferior rehabilitation process for the patient, but also to immense medical expenses, along with a greater healing time factor for both the clinician and patient.
Even those patients who feel confident to start with early ambulation, often do not succeed in doing it properly because many use home scales for WB distribution. "The static method of instruction of PWBPs (Partial Weight Bearing Protocol), using bathroom scales, does not seem to translate accurately to dynamic motion, and therefore affects adherence to medical instruction. Practitioners should be aware of the potential errors in reproducing these loads and the potential effect on rehabilitation. These results suggest that practitioners should be cautious when using bathroom scales to teach PWBPs and not rely on them to assess reproduction accuracy during gait," according to the latest study by Physiotherapy and Sport Rehabilitation School of Health Studies at University of Bradford. ComeBack Mobility has run a similar experiment proving that such a technique does not work. It is not possible to take even 5 steps in a row in the recommended load of +/- 10% of the patient's weight. For example, if the patient weighs 80 kg (175 lbs) and the recommended 50% of his weight equals 40 kg (88 lbs), then 10% of his weight would be 8 kg (17 lbs), correspondingly the range is 40 kg +/- 8 kg = from 32x to 48 kg (105 lbs).
ComeBack Mobility was co-founded by CEO Ilya Popov, following his own injury that inspired him to create such a tool. Popov raised a $1M seed round through his own efforts during the lockdown by inventing a unique health technology that helps doctors rehabilitate patients remotely. Ilya Popov is one of the leaders in the MBA space and a true entrepreneur, demonstrating a remarkable ability to turn life experiences into startups. For example, being a professional fighter, Popov launched his previous startup SmartSport for sports teams – and now, it's an international business operating in 36 countries. In September 2017, this project became one of the best among Ukrainian start-ups and represented the Ukrainian pavilion at TechCrunch Disrupt in San Francisco.
More info:
With over 65 million people suffering leg injuries each year, controlling the rehabilitation process has traditionally been a hit-and-miss affair. The problem is simple – patients are wary of placing too much pressure on their affected limb, while doctors and nurses can't accurately measure how much weight the patient is placing on their legs – until now.
The right amount of pressure is important, as it can help bone growth, but too much or too little weight on a fracture or surgical implant can do more harm than good. Without any way to inexpensively, instantly and accurately measure the patient, beyond what a patient feels, the rehabilitation process can set up a patient to fail at healing quickly, and correctly.
A bigger problem emerges when you realise that the correct amount of pressure a patient should apply changes during the healing process, further hindering optimal healing. How does a patient quantify putting 30% of their weight on an affected limb? How much attentiveness can a patient truly place on their feelings when dealing with the realities of life, such as children, pets, stairs, work, home or busy city streets?
While a clinical setting may feature equipment to measure how a patient feels and how much pressure they are applying when in that setting, such equipment doesn't help in the real world.
Until now, existing technologies to deal with these situations have each had their own drawbacks and complications, ranging from high costs, multiple sensors, shoes, soles, wristbands, cables and more.
Finally, a simple solution has emerged, providing both real-time and highly accurate data while at a very affordable low cost. Smart Crutch Tips by ComeBack Mobility (CBM) simply attach to existing crutches and share their data with patients and clinicians, and it's an absolute game changer.
Smart Crutch Tips provide immediate feedback and not only help improve compliance but also give more meaningful feedback to patients and medical practitioners so they can better determine how much weight to place on the injured site.
ComeBack Mobility is a Ukrainian medtech startup, and raised $1M seed investment for its "Smart Crutch Tip" orthopedic devices that work together with an app, shared by a patient and a doctor, bringing the rehabilitation industry to a whole new level.
Smart Crutch Tips are the industry's first offline, wireless devices with a storage capacity recording up to 1M steps and battery life of 850 hours of active use, to be attached to any universal round crutches and that come with an accompanying app for both the patient and the medical professional to help with the rehabilitation following lower limb injury or surgery.
The technology improves the quality and efficacy of doctor-patient interaction. It allows electronic communication with the doctor and provides an overview of the patient's walking recovery progress. This innovative technology is your 'insurance' against unwanted lawsuits and gives peace of mind to both – the treating doctor/ PT/ATC/rehabilitation professional and the patient.
ComeBack Mobility brings doctors and patients together for a more transparent, efficient, and measured rehabilitation process.
Previously, patients have relied only on their feelings when the doctor says to load the injured leg with 30% of the patient's weight. Now, the availability of detailed information about weight bearing allows healthcare professionals to provide better guidance and make recovery faster, while avoiding complications and even do so at a distance. Aside from the necessity to properly adjust and control weight bearing on the injured or surgically operated leg, there is also a psychological aspect to consider, as many patients do not trust themselves when on their own, and without the guidance of their doctor. The device and app provide instant feedback, giving patients the confidence and information they need as and when required, at all times.