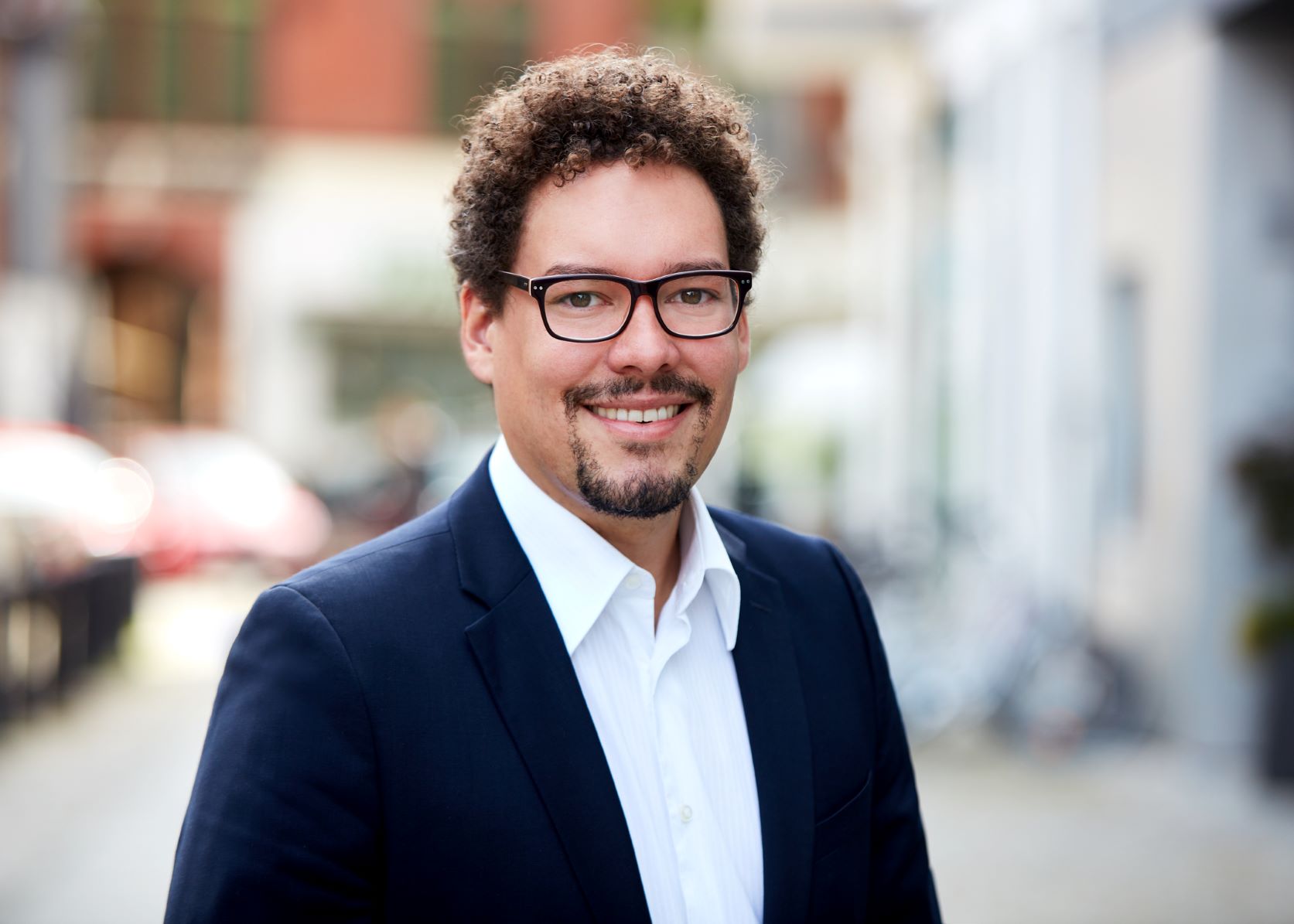 1. Please can you give us a little background about yourself and your current role?
As Manager Strategy and Technology Scouting I work for Curalie, a spin-off of the Helios Hospital Group, Europe's largest hospital provider and part of Fresenius. I seek innovative partners to support Curalie in their software as a drug approach and the Helios hospitals in implementing innovation pilots with startups. I have a deep insight into the German healthcare market from payors, providers, pharmaceutical companies and young startups. I evaluate companies according to their business case, GDPR, MDR and their prospects of success. 
Another field of action at Curalie is business development and market intelligence. In Curalie's therapy approach, I point out reimbursement possibilities and approach pharma and medtech companies to join forces.
2. What comes to mind when you think of Digital Health?
Digital health is just a new way to serve patients with innovative tools, novel software, and smart devices. Healthcare managers often make the mistakes to see in digitization a universal cure for economic, marketing, or quality problems. If you add new technology and software to an unstructured and 'old' organization, without adapting the processes, you are going to waste a lot of money in a disimproved process. Do not just digitize a highly effective analogue process. You will end up in a mass. Integrating best in class digital solutions in your clinical processes, i.e. close medication loop, will save lives in the end, improve outcomes and decrease readmissions. Therefore, do not just add digitization on top of your processes. Digital tools should more be the basic of running hospitals, clinics, or other medical organizations similar to water, heating and electricity.
During the Covid-19 pandemic telemedicine has experienced a major boost. Most of Europe is under a lockdown. Some doctors closed their clinics or have been open for emergencies only. Many patients are just too afraid to go to a clinic fearing to be infected in a waiting room or on the public transport system. 
However, patients with chronic diseases will benefit the most from digital health. They are going to deal with their diseases mainly until end of life. Digital companions; often called digital therapeutics (DTx) or software-as-a-drug-solutions; educate patients about their disease, help them cope mentally with their disease, and foster longtime behavior change. Chronically ill patients often have to lose weight through physical exercises and have to maintain a special / healthy diet. In addition, they need to stick to their medication. Although they have experienced a life threatening incident like a heart attack or have been diagnosed with cancer, patients often do not fully comply with their prescribed treatment. Depending on the disease, medication adherence is often not more than 50%. Many do not understand the crucial importance of their medication, and the consequences of their non-compliance. Another big step is to totally change one's lifestyle. To quit smoking or alcohol, to stop eating convenience or fast food, and to start walking at least 6000 steps a day brings people on their limits. The weaker self is often stronger. Digital therapeutics can help the patients in this situation. In diabetes care, where patients regularly have to measure their glucose level, estimate future levels, and adapt their diet and lifestyle, apps like mySugr, Onduo, Glooko, or Livongo can be of major help. One Drop can even predict the glucose level fairly well in a 30-minute time frame in combination of a continuous glucose monitor. So from my point of view, digital therapeutics and software-as-a-drug-solutions will become the navigation system in healthcare for patients. In the near future, it will guide them flawlessly through their chronic disease and help them in critical situations. Moreover, a "bundling" of algorithms, SaaD and classical drugs will have the power to close gaps in healthcare, provide cross-sectoral transparency for HCPs and patients, improve quality in care and outcome, and foster patient autonomy.
3. What do you think have been the most significant digital health achievements in last year?
As many B2C companies in the digital health ecosystem hardly find their way into reimbursement, the newly established Digital Care Act is something very novel. All over the world, digital health companies have to agree on special contracts with each insurance company or health plan. Now Germany opens up its track. Digital health companies, which could already prove positive care effects or improved health outcomes in a small population based pilot studies, will be able to enter a so-called fast track. In a 12 month period, digital health solutions could be prescribed by every listed HCP. In this period, the companies have to confirm hypothesis, if their solution has an overall healthcare effect for the healthcare system. After the 12 months, the companies have to prove improved health outcomes, economic outcomes, adherence, health literacy, access to healthcare, and longtime behavior change. This includes morbidity, mortality, quality of life mainly proven by patient reported outcomes and improvement of degree of illness. I believe the biggest achievements do not lie in the field of innovation, than in the field of regulation and reimbursement. Innovation will follow automatically.
4. What do you believe is the role of artificial intelligence (AI) in healthcare?
AI or even machine learning supports HCPs to better treat their patients. It helps to provide flawless services, decreases routine work for HCPs, and increases ubiquity of healthcare. Machine Learning provides information for tele-robotic and HCP decision support systems. It is more or less involved in the holistic patient pathway starting with data collection, data interpretation and diagnosing. A major transformation in healthcare will be the shift from 'one-fits-all' to individual/precision medicine. Furthermore, it will help clinicians to monitor patients and to give them feedback on treatment outcomes. Flatiron Health provides information for the participating clinicians, how successful the treatment is. Clinicians are eager to improve themselves, which is beneficial for patients. In the future, AI will not only give diagnosis but also provide an optimal therapy. These decision support systems will not only be restricted to the latest scientific reports, entered symptoms, and medication. It will include all available data of patients from wearables, genes, and pollution data. From that point on, AI will develop a virtual twin. It will simulate every optional treatment path and will re-do it after each incident. HCPs will analyze and interpret the results for patients and will adapt the data regarding the patients' wishes. In the future, we will see a major shift from treating ill patients to healthcare prevention and maintaining well-being. "Predictive Medicine" will keep us active, healthy and fit into old age. 
One example is the collaboration between Fred Hutch Cancer Research and Amazon Web Services (AWS). AWS provided Fred Hutch with specialized algorithms and AWS' own computing power. Fred Hutch Microbiome Researchers used AWS to perform seven years of computing time in seven days. Beside the computing power, AWS buys and sells algorithms. There is a total new, but unknown market. Of course, this market is just like a convenience store. However, specialized algorithms will be more secured as the Coca Cola recipe and will be protected with patents. Algorithms will become the most expensive medicine, which will be monetized by specialized companies. In the near future, life science companies could shift a major part of their RnD budget from medication to algorithm development or new joint ventures between pharma companies and BigTech could evolve. 
5. Can you tell me some of your favorite examples of "invisible" digital health innovations?
DiaMonTech developed a non-invasive blood glucose measurement, using infrared light to count blood sugar molecules. Today, their shoebox-sized device is yet not very convenient, but useful enough to conduct human trials with MVP technology. In preclinical tests, DiaMonTech achieved the same accuracy as tests strips. In three to four years DiaMonTech plans to integrate their fluid measurement in a wearable device, which can measure most body fluids as accurately as invasive methods.
One Brave Idea follows the strategy that the combination of money and smart minds will come up with something revolutionary. American Heart Association, Verily, and AstraZeneca founded the project 'One Brave Idea' and funded it with $ 75m all together. Calum A. MacRae, Vice Chair, Scientific Innovation, and chief cardiovascular medicine at Brigham and Women's Hospital received the money, research capabilities, and the companies' networks to find novel ideas to beat coronary heart disease. One goal is to collect every biomarker, analyze mimics, deep phenotyping, and pollution to diagnose patient at risk for chronic heart disease. The project is funded until 2021.
PhenoMx uses rapid MRI imaging and AI to screen major vital organs & tissues of the whole body. While this procedure is totally non-invasive, it gives the possibility to track pathology progression over time, target social determinants, and personalized healthcare, wellness, and longevity. Especially in not yet fully industrialized countries, it helps to leapfrog MRI technology and provide population health. Screening of vital organs helps to find early stages of chronic organ failure and to track dangerous visceral fat. To address the Covid-19 pandemic, PhenoMx launched the PhenoCHEST rapid CT screening protocol. This new tool leverages non-invasive CT scanning, digital chest X-Rays and AI algorithms to rapidly score findings and characteristics associated with the presence of COVID-19. It has been developed using real-world data sets from patients infected with COVID-19 in both China and South Korea. PhenoMx technology can be used with every certified MRI.
Thryve is not only known since the Covid-19 pandemic, when they developed a GDPR compliant app for the Robert Koch Institute in Germany, The Federal Institute for Hygiene and Prevention of Infectious Diseases. The app enables wearable users to contribute their data for Covid-19 traction. Users have to agree via opt-in. Wearables track more and more health data, e.g. body temperature, ECG, heart rate, and geo location and send this data to an app. 
Thryve developed easy to integrate APIs to every wearable, smart devices, and healthcare tool, which you can integrate in your own app. Thryve helps you to interpret wearable data in a smart way. You do not need to ask patients cumbersome questions, if you can measure vital signs and behavior accurately and automatically. 
SHL Telemedicine provides telemonitoring and telemedicine solution for COPD, heart failure, immediate heart attack, diabetes, and prevention of relapses in heart attack treatment Europe-wide. SHL uses self-deployed smart devices as blood pressure monitors, weights, oximeters, exhaled breath device, BGM, CGM, several clinical grade ECGs. They monitor and review every patient via an encrypted communication module, evaluate the data, and suggest treatments via telephone or a SHL communication device. SHL provides own health coaches and doctors to treat patients holistically, excluding independent physicians. 
Active also in Germany, SHL provides the first value-based contract, I know of. They get paid for saving payors expenditures, while monitoring their patients and preventing critical incidents and relapses. Tele-coaches help patients to stick to their treatment at home, foster longtime behavior change, and connect them with patients with similar healthcare challenges. 
Health coaching will be an effective approach to keep patients on track. They close gaps in healthcare and might be a cost-saving method for the system.
6. What's the most interesting thing you've discovered working in the digital health space?
Very successful startups in the healthcare system have one thing in common. They often align the best qualities of every industry. In contrast to e-Commerce, where the credos are 'Move fast and break things' or 'Fake it till you make it', healthcare is a highly regulated market. HCPs decide about patients' treatment and payors reimburse the treatment. Although we argue for more patient-centricity, patients have often the weakest position in this process. With this in mind, the most successful startups in healthcare consist of HCPs, people with experiences in regulatory and reimbursement, and someone who already started a scalable business idea outside healthcare. This combination often sets a focus on evidence-based digital health with the commitment to scale the business within the system.
7. What's your favorite digital health resource/tool/app (etc.)? 
Usually, I use Doctolib for appointment booking. Having displayed available doctors in my neighborhood is very convenient for me. Otherwise, I am personally a big of Infermedica, which is an European-based symptom checker. Infermedica's pre-diagnosis often matches with my symptoms and the diagnosis of real doctors. In many hospitals, Recare is a big help for the discharge management. The platform supports the staff to manage the follow-up treatment and the referral to specialized hospitals, rehabilitation centers, and care facilities. In addition, I see big potential in the organization of patient transportation. When it comes to allocation and ubiquity, we do not see the same advantages of private transportation in the ambulance market. In Germany for instance, 36 million transportations take place. From that, 30 million transportations will be carried out by specialized taxis. QraGo is a young startup, which develops a booking platform for patient transportation.
To get informed about the latest trends, my favorite resource is my network, which I cultivate on LinkedIn. 
8. If there were some key pieces of advice you would give to a client before they embark on a major digital transformation project, what would it be?
As I work closely with startups and innovation companies, I always ask them three questions: "Which specific problem do you solve? How high are the cost savings or additional profits for providers/payors? Can you prove the efficacy and the effectiveness of your results?"
In my perspective, software must be dedicated to, solve specific problems and be intuitive to use. If appointment booking systems for instance display free appointments that can be booked immediately, it creates immediate added value. If a patient does not have to wait in the emergency room for six hours, telemedicine is a success. Likewise, physicians, who need to spend as little time as needed on documentation, will have more time for actual treatment of their patients.