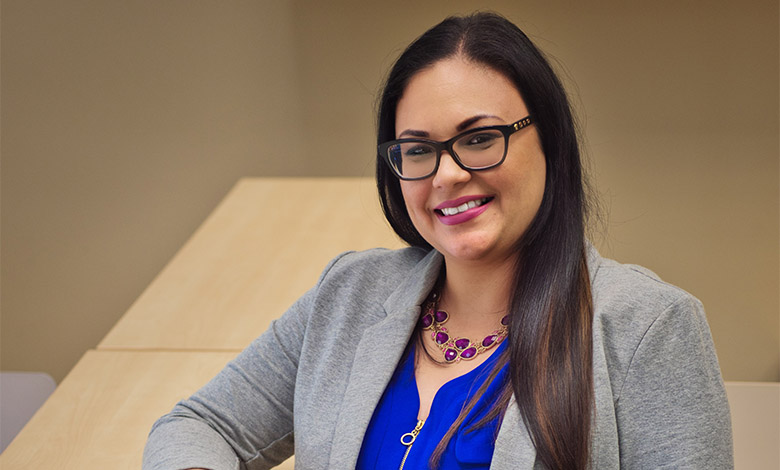 Dr. Yahaira Torres Rivera currently serves as  Professor and director of the Online Education Unit, University of Puerto Rico, Río Piedras Campus. In the past, she had the opportunity to occupy various positions at the University of Puerto Rico, among them, Associate Dean of Academic Affairs, Academic Coordinator of Distance Education, instructor of Educational Technology courses, among others. She has a Doctorate in Education with a specialty in Curriculum and Teaching and a subspecialty in Learning Technologies (Distance Education), from the University of Puerto Rico, Río Piedras Campus. In addition, a Master in Digital Graphic Design, a Professional Certification in Teaching Distance Courses, among others.
She has had the opportunity to publish a book entitled: Theory and Practice of Distance Education in Puerto Rico, together with Dr. Juan Meléndez. With whom, in addition, he wrote the first chapter of the book entitled: Distance and virtual education in Central America and the Caribbean. Together with other colleagues, I published the article: Hybrid courses, from another perspective. He also published an investigative article entitled: Transforming educational environments through distance projects, which was published in the e-educators magazine of Argentina.
1. Tell me something about you and your work?
The Rector of the University of Puerto Rico, Río Piedras Campus, is Dr. Luis A. Ferrao Delgado, who appointed me in January 2019, as director of the Online Education Unit (UEL), which is attached to the Division of Continuing Education and Professional Studies (DECEP). The main mission of our unit is to collaborate and support campus teachers in the development of academic programs and courses in the online modality. We collaborate with teachers in everything related to the development of courses in terms of curricular design, instructional, graphic, multimedia production, among others.
The University of Puerto Rico (UPR) is the main educational center in the country and is among the first 45 institutions with the lowest tuition costs in the United States and Puerto Rico. It has an academic offer of 453 programs leading to degrees, of which about 90 are unique in Puerto Rico. The UPR has 8 units and three venues. However, the Río Piedras Campus is the only higher education institution in Puerto Rico to achieve the "High Level Doctoral / Research University" classification by the Carnegie Foundation for the Advancement of Teaching and is one of the 335 universities in the United States that it holds this classification. 87% of its programs susceptible to accreditation are recognized by international agencies, which guarantee a competitive preparation of a world order. The Río Piedras Campus has an approximate enrollment of 14,000 students (about 11 at the undergraduate level and 3,000 at the graduate level) and a staff of around 2,000 teachers.
2. Where does this interest in educational technology come from?
I have worked for more than 16 years at the University of Puerto Rico, working in various areas, from administrative to teaching. I have always been passionate about technology and sharing my knowledge with others. Having the opportunity to work directly with students and seeing the need they had to develop technological skills, made my interest in teaching grow more and more every day. So, I decided to do my Ed.D. in the field of Educational Technology; In this way I could train myself to be able to help others.
3. How to make e-Learning effective?
For e-Learning to be effective, many factors must be considered, from planning, development, and execution. Based on my experience as director of the online education unit of the largest university in the country, I consider that one of the main keys for e-Learning to be effective is that it has a good curricular and instructional design. In my opinion, that is the start for online learning to be successful. Of course, this is accompanied by a few other elements or factors such as good practices by the online teacher or facilitator. It is useless to have an excellent design of a course if the teacher does not do his job correctly. Therefore, it is important for teachers to develop good practices in their courses, promote and encourage interaction among their students, and provide constant and rapid feedback to their students.
4. What are the common challenges facing online teachers and how to overcome them?
Some of the most common challenges that online teachers face is the lack of technological skills and knowledge in the branch of education. In most cases, we have teachers who are experts in engineering, physics, chemistry, mathematics, among others. But they do not necessarily have the knowledge in the educational area or mastery of technological tools necessary for e-Learning such as the Learning Management System (LMS). Therefore, it is necessary that educational institutions offer continuous training to their teachers on the use and management of technological tools and on best practices in the field of e-Learning.
5. What skills are essential for the teacher of the future?
The teacher of the 21st century must not only have extensive knowledge of the subject taught but must also have good skills and abilities in the use and management of the different information and communication technologies (ICTs). It is necessary to adjust to the current reality of the new generation of students and use the emerging digital tools in their favor, to awaken the attention and motivation of the students.
6. Share with us the trend in digital education to follow in 2020 that excites you the most.
We live in a society of constant change, which is why citizens are required to develop new skills, which directly impact education. As teachers we must appreciate a special interest in technological innovations, in the personalization of content and in the development of new educational models. Similarly, flexibility and the development of practical and real projects that prepare students for the changing work environment they will be facing must be a fundamental part of our educational contexts. As learning facilitators, we need to have a holistic view of education so that our students can acquire skills that enable them to succeed not only for the workplace, but for life.
7. What is the future of education?
The global pandemic caused by COVID-19, made that almost all the universities and schools in the world consider e-Learning as an option to give continuity to classes. I believe that this will make teachers and institutions reflect on the way they teach. Starting in 2020, I have no doubt that more and more, educational institutions will be designing virtual courses and programs.
8. Is there anything else you would like to tell us about what we have not asked?
In the Continuing Education and Professional Studies Division (DECEP) of the University of Puerto Rico, Río Piedras Campus, we have adopted a new educational model that is currently giving excellent results. It is a self-directed online model of short courses without credits or virtual workshops, which serve participants as professional improvement. The courses are available on a 24/7 educational platform, giving participants much more flexibility to study at their own pace and from wherever they are. Some of the offerings are available for free and others require payment, but all are accessible to the general public. This new modality has allowed us to educate not only the university community, but also the Puerto Rican citizens in a massive way on topics of general interest. Due to the national emergency, we developed a COVID-19 course for adults and another for children, which at the moment have been taken by more than 10,000 people. In addition, we have developed courses on gender violence, emotion management and other topics of relevance and highly necessary for the current reality that the country is going through. The courses are available through the following link: decepenlinea.uprrp.edu.