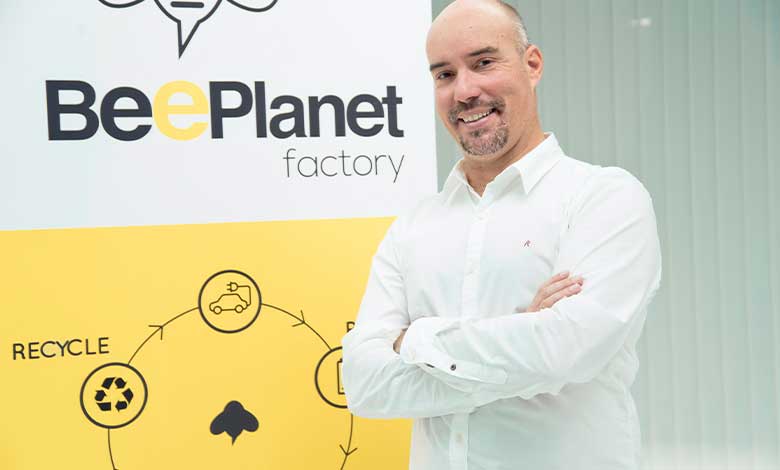 Please can you give us a little background about yourself and your current role?
I am the CEO and co-founder of the startup BeePlanet Factory SL. I hold a Msc. in Telecom Engineering and 20 years of experience in the fields of automotive, renewable energies and electric mobility. At my past position I became the President of the Spanish Association for Electric Mobility.
Can you tell us more about "BeePlanet" and what it does?
BeePlanet Factory SL is a startup company created with the goal to reuse Li-Ion batteries from electric vehicles after their first life in the vehicles is finished.
We founded BeePlanet in 2018 and since them we have developed the technology and services to be able to recover used batteries from electric vehicles from the workshops and dealers and give them a second life.
The main applications for these second life units are for PV energy storage or as an energy buffer for fast charging EV infrastructure. We have a commercial offer of energy storage systems from 4 to 12 kWh at the moment, but we are developing higher capacity systems.
What do you consider the most important milestones for "BeePlanet" in the future?
The most important milestone for BeePlanet is to be able to deliver larger systems, up to 200 kWh energy storage systems for the Commercial & Industrial sector.
The second most important milestone is to be able to monitor all installed batteries and to adapt their performance dynamically using artificial intelligence.
Jon, when we're looking at the growing share of renewables in power grids, where can we expect them to be in 10 years?
The forecast is to reach a minimum of 35% of renewables worldwide in 10 years. In order to reach this share of renewables in the systems, the key enabling technology for it is the storage of energy.
The forecast for stationary energy storage systems is to grow from 9GW/17 GWh in 2018 to 1,095 HW/28,850 GWh by 2040 (Source: BloombergNEF), a 122-fold boom which will require $662 billion of investment.
Can you pick one idea or project that your city feels proud of and you would like to share it with us?
Our city, Pamplona in Navarra, is proud to be one of the first cities in Spain to have full electric buses who are fast charged via pantograph. Many more will come in the next years!