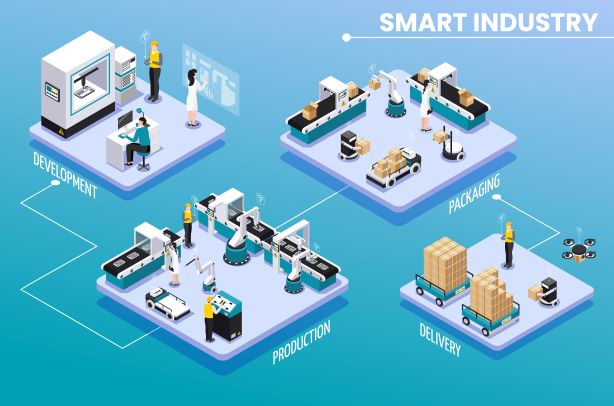 The Digital Factory has been established in the industry for many years. However, in order to be able to process the increasing complexity and multitude of information in the digital factory, new solutions have to be found. Read here what industry 4.0 has to offer in this context.
Digital factory as basis for industry 4.0 and Smart Factory
With Industry 4.0, production can be raised to a new level of development through the complete digitization and integration of the industrial value chain. The result of Industry 4.0 is ultimately the smart factory, in which all components – machines, people, tools and resources – are networked and communicate with each other in real time via the Internet. For the implementation of Industry 4.0, however, a digital data basis is required. The digital factory is the supplier of this data basis.
So while the Digital Factory provides tools for planning factories in virtual reality and models, the Smart Factory is also about operating and optimizing the factory in real time. The digital factory must therefore be further developed into a smart factory. In concrete terms, this means that the digital models can also be made real-time and adaptive and can adapt themselves to reality.
With the digital twin, this link between digital models and reality can be achieved. Siemens, for example, is currently developing the "Connected Digital Twin", which takes information from the operating data and the plants, compares it with its status, and then brings the digital model back up to date in the event of deviations in reality. Synchronization on both sides offers great potential for optimization, since the configurations obtained through simulation can be directly implemented on the real product.
Continue Reading: https://www.lead-innovation.com/english-blog/digital-factory
Original Source: https://www.lead-innovation.com