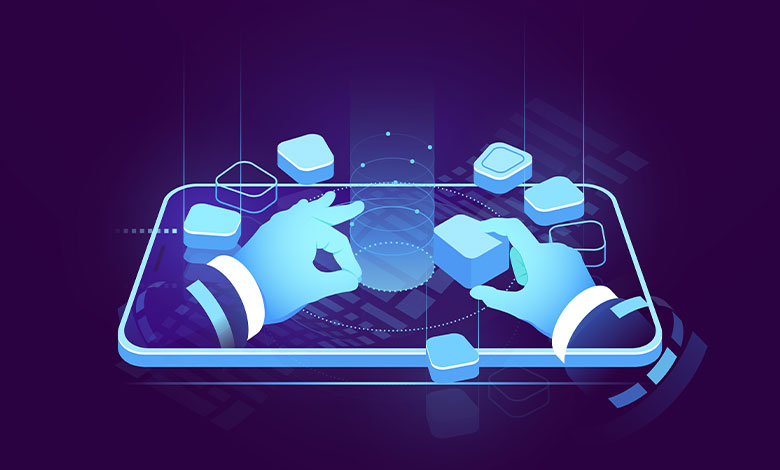 Everybody knows about the Ford Model-T. Over a hundred years ago, Henry Ford was sure to have a product market fit. Nowadays it could sound very flashy, but those times were different. Throughout the 20th century, manufacturers held the authority on deciding what to place on the market, without having to actually cater really for the customer's whims and wishes. The tables have turned now and the industry has grown to become customer centric from mass production to mass customization. A new manufacturing philosophy with many surnames, Industry 4.0, Factory of the Future, or Digitalization has evolved. Today's customers, demand individual, custom-made, high-quality products. The suppliers, strive to provide unique value to their customers in a cost-effective and fast way, so they can be more efficient.
In order to understand the concept of Industry 4.0 and Digitalization, one needs to understand the automation pyramid. Since the beginning of industry, the automation of manufacturing and production processes has constantly been evolving. This evolution is made possible due to the integration of classic technologies like mechanical and electrical with other more modern ones such as electronics, computer science, communications, etc. playing a greater part day by day. Integration of these technologies is illustrated beautifully by using a "Pyramid of Automation", which includes the five technological levels which can be considered in any industrial scenario. The technologies interrelate, both within each level and between the different levels by using industrial communications.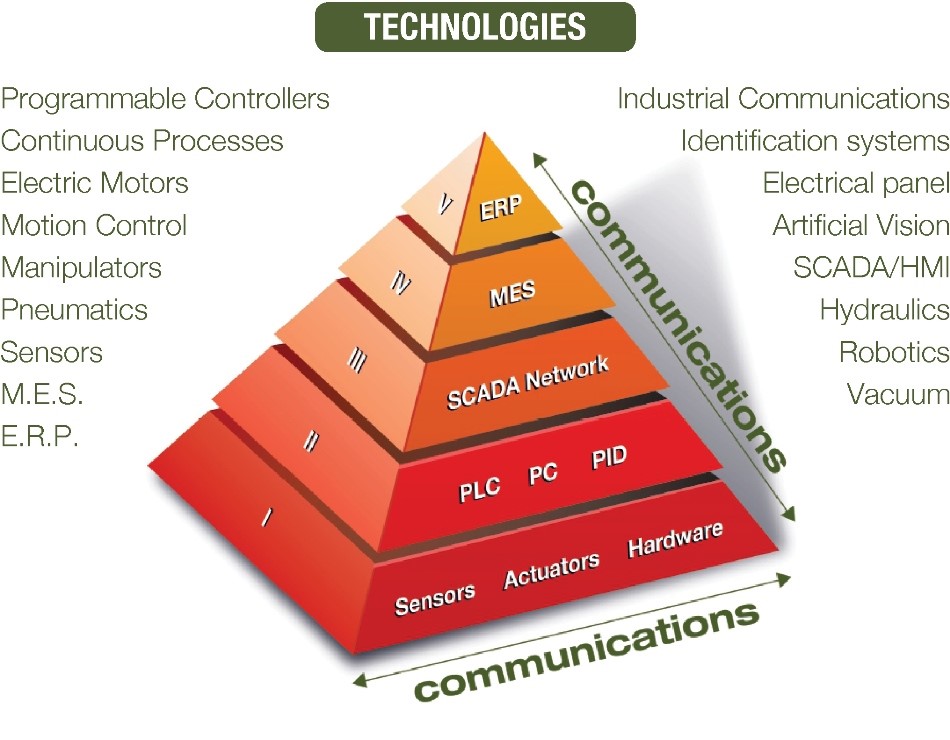 The first level is the "field level" which comprises the physical devices that are used in the industry such as actuators and sensors.
The second level is called the "control level" which includes logical devices such as PCs, Programmable Logic Controllers, Proportional Integral Derivatives, etc.
The "supervisory level" is the third level which corresponds to control and data acquisition systems (SCADA). The Human Machine Interface which enable monitoring and issuing of process commands, like changing the set point of a controller, are managed through the SCADA system.
The manufacturing execution systems or MES is the "planning level". A manufacturing execution system (MES) is an information system that monitors, connects and controls complex manufacturing systems and flow of data on the factory floor. The main aim of MES is to ensure that manufacturing operations are executed effectively and production output is improved.
The top of the pyramid ("management level") is comprised of the company's integrated management system (ERP).
Everybody is talking about Industry 4.0 these days. But what do we understand by this and how do we bring about the change? The term Industry 4.0 was coined initially by the German government in 2011. There is no clear definition of this and it is just a buzz word or concept. It basically refers to the intelligent and permanent linking and networking of machines and machine-operated processes in an industry. With the use of modern solutions from the field of digitization, Information Communication Technology can be used to network people, machines and the resulting products with each other to achieve greater productivity. But, Industry 4.0 is not an item that can be simply ordered from a catalogue. It requires competent industrial automation manufacturers and solution providers, who are working together with customers in order to fulfill the current customer-centric markets. For SMC Corporation (India) Pvt Ltd, it is about helping our customers building the flexible machines that will bring about adaptability, speed and customization. SMC's smart flexibility means flexibility in industrial networking for communicating with machines and devices, smart maintenance with predictive maintenance and condition monitoring, flexibility in machine adjustment for a quick reaction to an ever-changing market demand, smart energy efficiency as our commitment to the environment and smart training with an all rounded blended learning style of pedagogy.
Flexibility in industrial networking. In smart factories everything will be connected wirelessly. Everything would be on the cloud. This is the vision of tomorrow's manufacturing. Products will find their way independently through the production process. In smart factories, machines, devices and raw materials will communicate and control each other cooperatively, through sensors and communication technologies.
Smart Maintenance. In the modern industry it is not enough to just maintain, but to do it smartly, making more efficient use of resources and engineering assets. Being able to analyze status data and its changes, allows us to make predictions about the possibility of failing in the future, thus dramatically improving the production process from being merely preventive to being predictive. Monitoring, detection, diagnosis or in two words Smart Maintenance is the ability to intelligently support the complete life cycle of a product and substantially enhance quality to the maximum. Flexibility in sensing and monitoring can be achieved using analogue or digital, pressure or flow sensors and switches that provide you with information about what is happening in your production line and its surroundings. Flexibility in diagnosing through proper and agile detection of failures makes it possible to act without delay, thus increasing efficiency and improving quality. And finally, it is no use investing time in a detailed and in-depth maintenance if its implementation requires great investment in time or disassembly of a machine, for example. Therefore, it is vital that the design of a component facilitates its replacement, parametrization and adjustment.
Flexibility in Machine Adjustment. The increase in individualized products requires flexible, effective and intelligent manufacturing. Confining machines to closed and unmodifiable designs are not the way forward: machines must combine flexible and quick format changes with high cycle rates and low life cycle costs. A number of SMC's products like electrical actuators and digital gap checkers assist in achieving this goal.
Smart Energy Efficiency. SMC approaches energy efficiency with two commitments: commitment to the customer and their efficiency, and commitment to sustainability. We work towards sustainable development based on our five cornerstones: generate just what you need, recover what you generate, monitor your consumption, use only the essential and think efficiently. Many of our products like air saving vacuum generator, booster regulators, air saving speed controllers etc help in realizing these aims.
Smart Training. A very important, but neglected area, is the training. SMC has incorporated the SMC Program for Internship and Competence Enhancement (SPICE) model for transforming students into smart industry professionals. SPICE has been thoughtfully designed using the vast knowledge and experience of SMC trainers, applications engineers, R&D specialists and academicians in the field of automation technology. The duration of the internship is for 4 weeks and the selection of the students is done through an entrance test. With a blended learning style of pedagogy, the intern is not only given theoretical understanding of the concepts of technologies of mechatronics and futuristic technologies of Industry 4.0 like Cloud computing, cybersecurity, additive manufacturing, IIoT, Augmented reality etc. but a hands-on experience on our state-of-the-art training equipment is also provided. When it comes to training on Industry 4.0, the Smart Innovative Factory training system simulates a highly automated smart factory, including Industry 4.0 technologies, advanced manufacturing concepts and the reality of the connected enterprises
With digitization of the manufacturing operations, one can imagine a factory to be running something like this. Machines used in the plants will be highly automated and interconnected on a base network. Data will be collected and analyzed on continuous basis. Machine parameters will be adjusted based on quality requirements and historical data. Condition based monitoring will be important part of maintenance activity. Predictive maintenance will dominate over preventive and reactive maintenance. So, just before the break down of the machine, maintenance personnel will be informed about the maintenance job. Supply chain will be more effective and efficient. From the time the raw material comes to the store to the time the final product is dispatched, production and product will continuously be tracked. Production plans will be developed based on customer demand and inventory levels at distribution centres and retail stores. Organization Structure will become more flat, flexible, decentralized and changeable.  Production areas will be interconnected. Workers capable of handling data and using IT will not necessarily be bound to a certain area like paint shop or weld shop but will be able to move from once shop to the other. Job rotation and Job enrichment will be there due to increase focus on using IT.
Industry 4.0 is poised to revolutionize the manufacturing around the world as did the first three Industrial revolutions. This emphasizes the need for a highly skilled and flexible workforce and production capacity that can answer the industry needs of today as well as those of tomorrow.
"In times of change, learners inherit the earth, while the learned find themselves beautifully equipped to deal with a world that no longer exists"

-Eric Hoffer