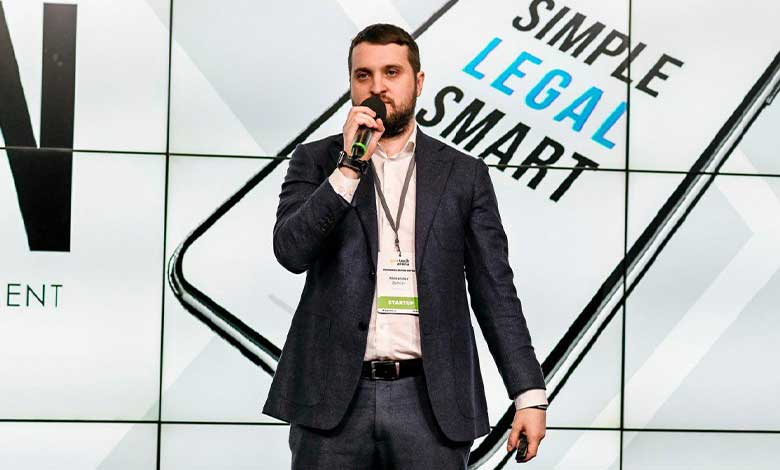 Usually, 3 minutes are given to present at a startup summit — less than the wait for an order at McDonald's. However, if you prepare well, 180 seconds is more than enough. I want to share my recommendations on how to organize a "Winners' Pitch" — from the presentation to the answering juries questions.
Startup summits that I pitched at
First, I'll tell about myself a little, so that it's clear why I give tips about pitches.
In March of this year, together with our RAISON team, we won the Unicorn Battle in Moscow. This is an international competition for startups with regional stages in a dozen countries. In April, we were supposed to go to the Unicorn Battle finals in Silicon Valley — but the event was postponed due to the coronavirus pandemic.
A few days ago, we won two categories for fintech startups at Fintech Week Lithuania.
Before that, I pitched at various startup conferences: Web Summit in Lisbon, TechChill in Riga, GoTech Arena in Moscow (where 700 startups competed, and we became finalists).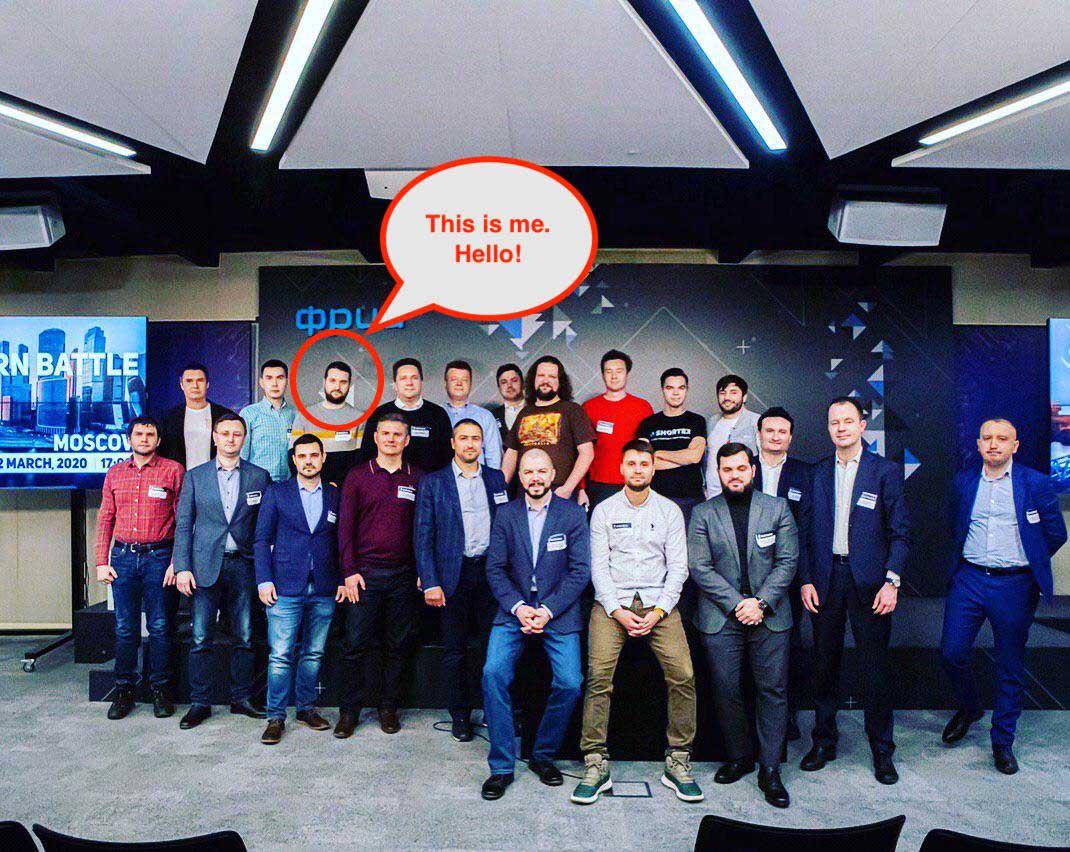 What I pitched
A little about our product:
RAISON AI is an app for managing investments. Our users can buy/hold/sell cryptocurrencies and invest in stocks of non-public international companies. Presently users have access to tokens for shares of SpaceX and Airbnb, we will add Reddit and Revolut soon. To date, we have raised 700 K euros from private investors and plan to gain another 3 M euros.
Presentation: slide content
In ideal, the presentation should have no more than 10 slides. Although the number of slides is not the most important thing, it is crucial that the presentation contains all what the jury and potential investors like to hear. There are some components that you need to talk about (market potential, competitors, plans for the future etc.), but  the priority is to reflect the strengths of your startup among the others.
Let's go through the content of the slides using our pitch deck as an example.
 1. Introduce yourself first
Everything is clear here — the product name, slogan, logo and image. We added references to the media that wrote about us: articles in reputable publications increase the level of trust in a startup. If they can read about you in TechCrunch or Forbes, it's worth trusting it.
 2. Reflect on the problems in the market
The second slide shows problems that your product will solve. In our case, we described the difficulties users face with financial services: massive amount of different offers on the market, a high threshold for entering investments, an overwhelming amount of informational noise and gaps in the legislation.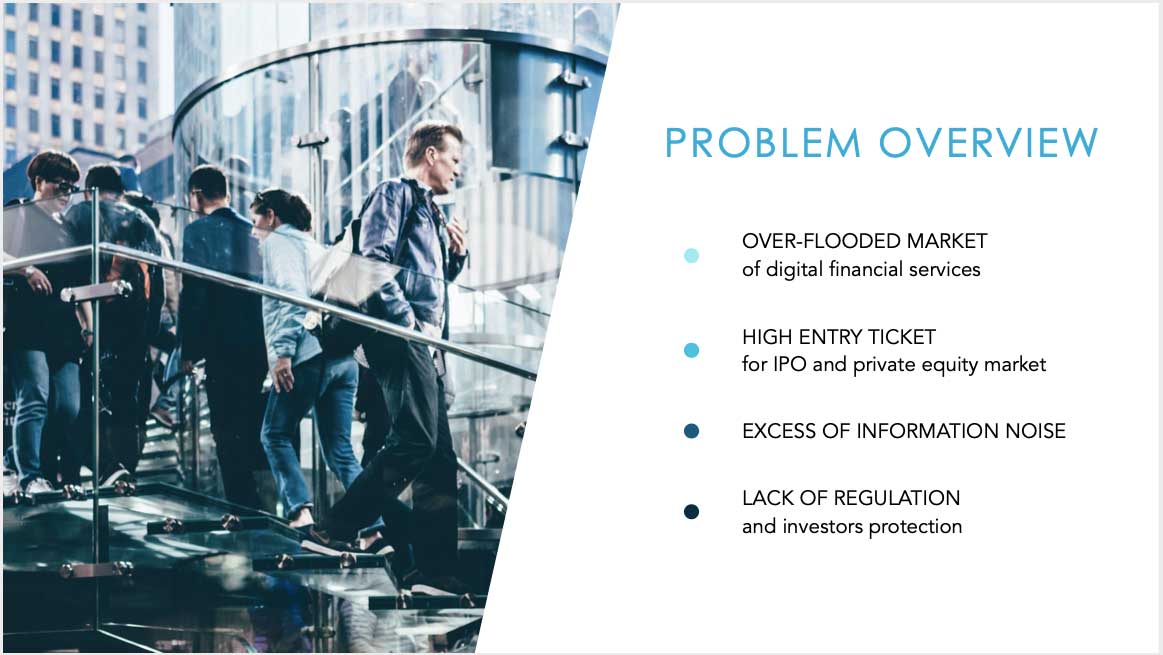 3. Explain how your product solves these issues
As you might guess, slide # 3 is a description of the «medication» for the client's «pains» mentioned above. In this case, each problem from slide # 2 must correspond to the solution that your product offers.
Slide #2

Slide #3

Too many different services on

the market

Unified app for fiat and crypto

High investment entry threshold

Investments from €100

Excess of information noise

AI-personal advisory

Gaps in legislation

Licensed activity
4. Present the market overview
The jury and investors want to find out which market your product enters into — both in the geographical sense and in the sense of its investment potential. Here we need numbers: how many consumers in your segment are now, how much they are already spending on products like yours, what are the forecasts for audience growth, and so on. Do not forget to specify data sources — they must be reliable.
5. Prove that you can earn and profit
Clearly describe your business model: how you are going to make a profit.
On the same slide — or on the next — present data on marketing activities: methods and cost of attracting customers and potential for audience growth. If you have CAC (Customer Acquisition Cost) and LTV (Life-time Value) metrics it's better to reveal them, many investors pay attention to these point.
6. Highlight your competitive advantages
The goal of this slide is not just to pare your project with successful competitors, but to emphasize your advantages. It will also be useful to indicate the data on the capitalization of each of the competitors, so that investors have an idea of what potential returns are in question.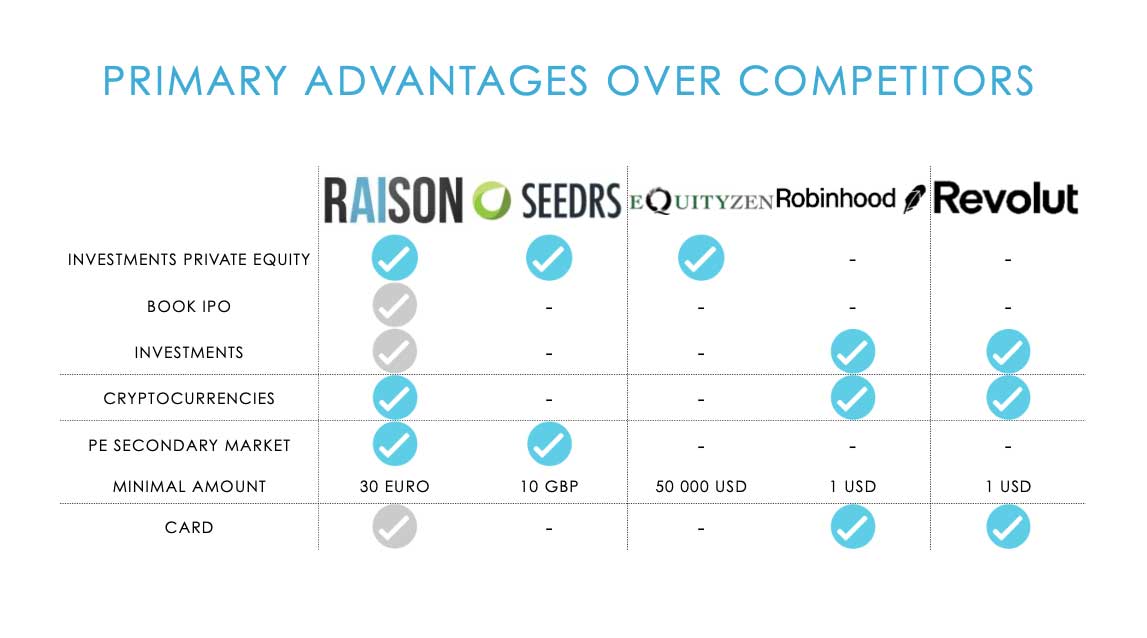 7. Speak about your achievements
 Once again, the pitch deck should emphasize the strengths of your startup. You can not embellish the data, but you can submit them in a favorable light. For example, if you still have few users in absolute numbers, but in percentage terms the audience growth is impressive, this should be shown.
Present other achievements, if any, — positions in industry ratings, partnership with well-known organizations, participation in conferences, references to reputable media. For example, we do not miss a chance to tell that we were in the top 5 fintech startups according to the jury of TechCrunch Disrupt.
8. «Sell» the team
The next slide is one of the most important. Investors want to know who they trust their money with. Tell us about the experience of each team member – where they worked before, what they specialized in.
Education is not necessary to mention — unless someone graduated from Harvard.
9. Address the investors
At the end of the speech, name the amount of investment that you need. Naturally, detailed calculations of what this money will be spent on should be behind it. Cost items in the presentation do not need to be indicated, but be prepared to name them if asked.
10. Tell how to contact you
And the last slide — contacts for communication.
Q&A
It is worth mentioning the question-answer block after the speech. The content of the presentation should be such as to bring the jury to questions. For example, we are often asked about licensing and how our activities are regulated by law. I mention this at the beginning of the presentation (I even focus on it), but without details – specifically to interest the jury to learn more.
The wording of the possible answers must be thought out in advance.
Presentation: design
The main mistake most startups have is overloading their pitch decks with information. Remember that you will be performing in a hall where many people are sitting, and only a few of them are in the forefront. Focus on the visual component — charts, images, graphs, and leave the text to a minimum. In any case, all the necessary information you will say our loud. In general, all that can be reduced — reduce. Our presentation, I must say, is not perfect either — some slides can be improved. For example, slide #3 about the problems that our product solves: it's not necessary to describe each solution on the slide, no one will read the fine print anyway.
I also advise you to remove zeros from numbers wherever possible in the entire presentation. That is, instead of "200,000 users" write "200 K users", etc.
Pitch
Preparing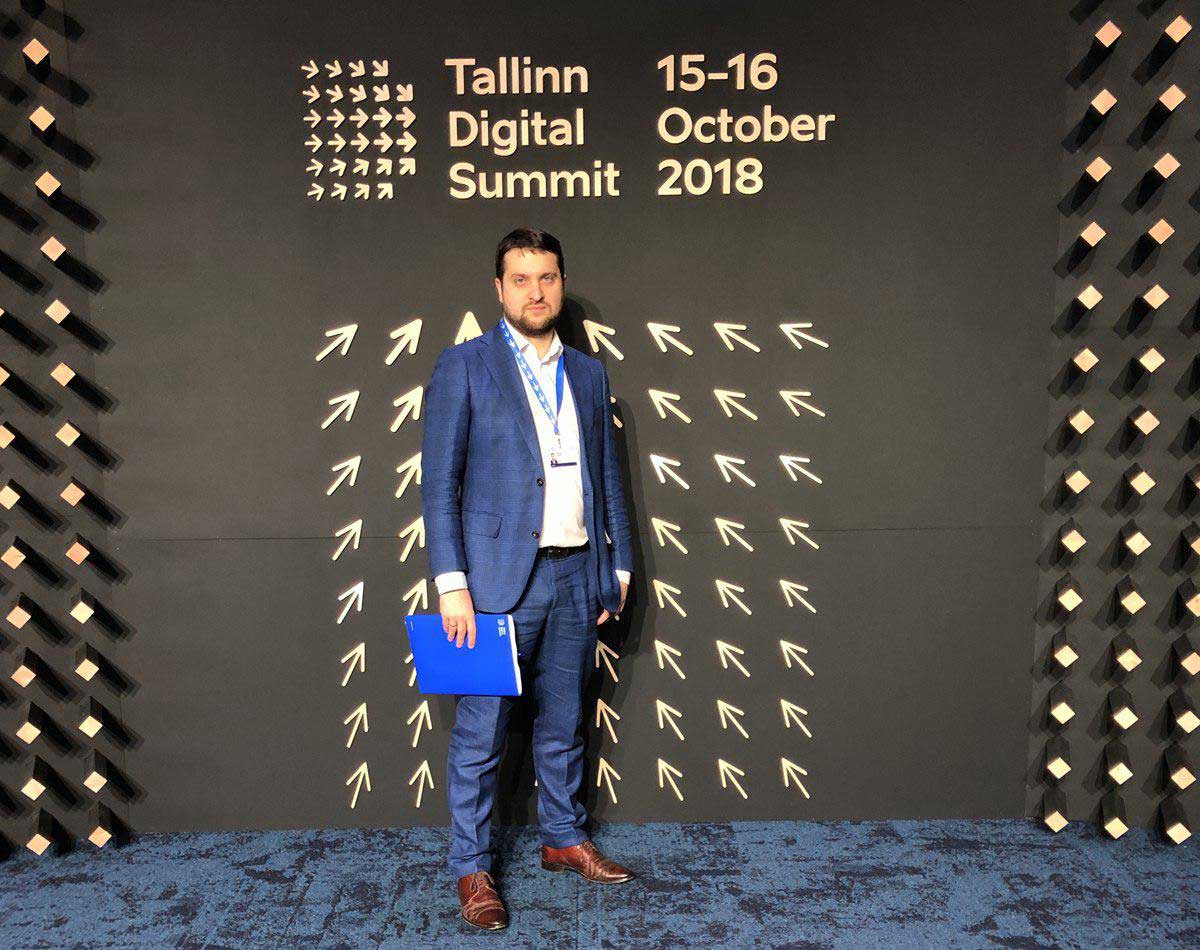 Pitch must be rehearsed several times — you can even start in front of your cat), and then of course in front of real human public. And it would be nice if the audience is unprepared and understands little about your business. If you can explain in 3 minutes what you are doing, relatively speaking, to the bar counterpart, the jury of the startup summit will definitely understand you. This is especially important for complex products like fintech service.
You need to rehearse the same way you will perform: speak loudly (you can even get a microphone), gesticulate. Just reading the text of the speech to yourself a few times will not work. Some venues the day before the event provide an opportunity to conduct a rehearsal directly on the stage. It helps a lot: get comfortable with the clicker, understand how best to get up to see the monitor with the presentation, and so on.
 The speech
A trifle, but important: keep a bottle of water with you — you will probably need to "wet your throat" before going on stage. As for the performance itself, try to contact both the jury and the audience at the same time — your future investors, partners or clients can sit in it. A good welcome is to start with a "message" to the back rows: this way you are more likely to capture the attention of the entire audience.
Speak quickly, but not too much — pause in the right places. Try to sound emotional and inspiring: the founder must demonstrate confidence in success, otherwise how can investors trust him?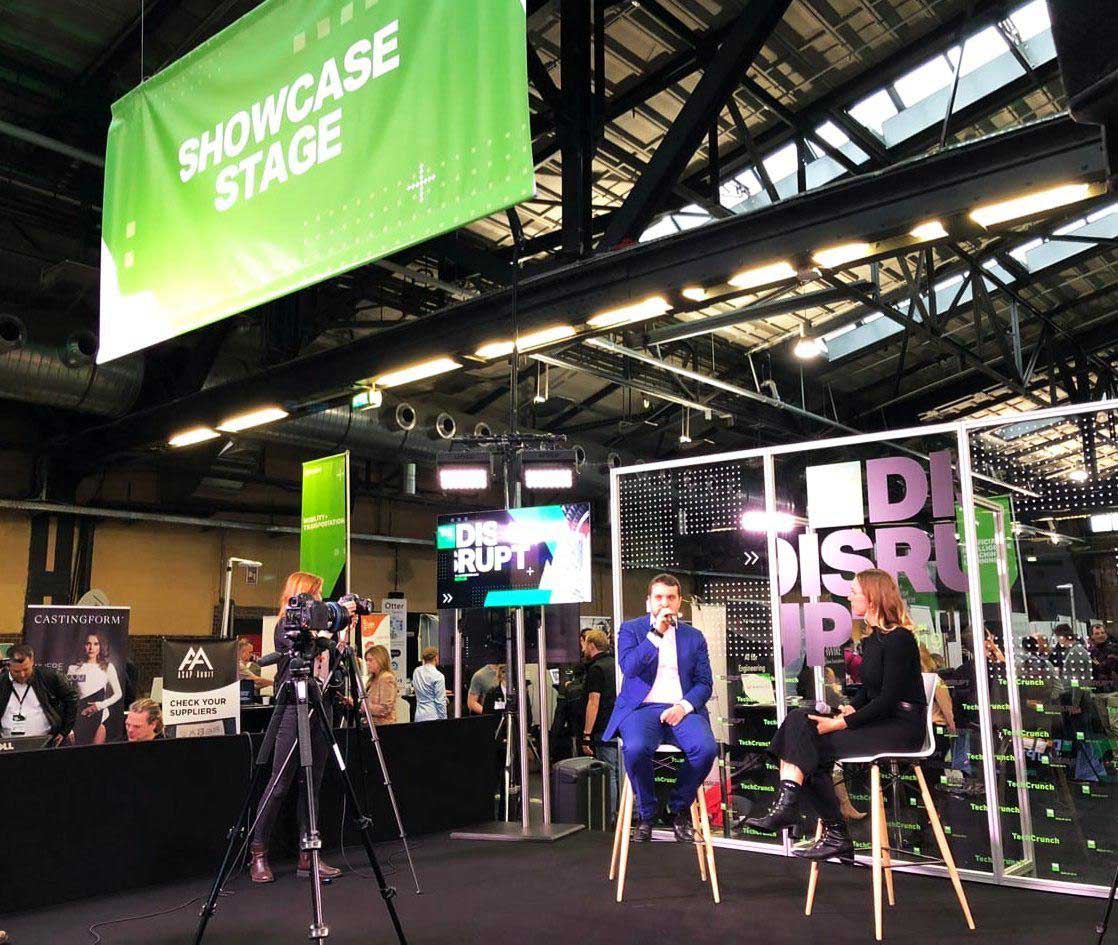 Pitch 2.0
Pitch deck is not something that can be done once and used constantly. It is important to collect feedback from the jury and visitors of the conferences at which you will speak. It may turn out that the side your product does not look exactly the way you want. Ask the audience what they remembered from your performance? How would they briefly describe your product? For example, we wanted to be perceived first of all as an application for smart investments. But something else happened: we were remembered primarily as a crypto wallet. I had to work to shift the emphasis.
In general, if you have finished making a pitch deck, then it's time to start the second version.