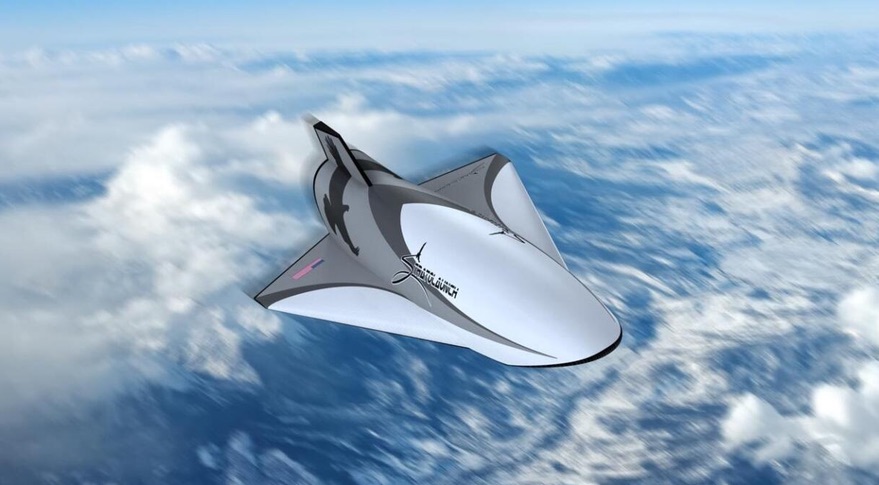 WASHINGTON — Stratolaunch, the company founded by the late billionaire Paul Allen as an air-launch company, announced March 30 it is developing a reusable hypersonic vehicle designed to be launched from the company's giant aircraft.
Stratolaunch said it is pursuing development of a vehicle called Talon-A. That vehicle, powered by a liquid-propellant rocket engine, will launch from the company's aircraft and fly to speeds of Mach 5 to Mach 7 before gliding back to a runway landing. It will also be able to take off on its own from a runway under rocket power.
"The Stratolaunch Talon-A is a flexible, high-speed testbed built for offensive hypersonics, hypersonic defense and hypersonic R&D," the company said in a fact sheet about the program. That document emphasizes the vehicle's ability to provide "here-to-fore unobtainable measurement access to the hypersonic flight environment on a recurring basis."
"Our hypersonic testbeds will serve as a catalyst in sparking a renaissance in hypersonic technologies for our government, the commercial sector and academia," Jean Floyd, chief executive of Stratolaunch, said in a statement on the company's updated website.
The company said it expects an initial operating capability for the Talon-A in 2022. By 2023, Stratolaunch plans to support multiple Talon-A missions on a single flight of its aircraft, with as many as three Talon-A vehicles carried by the plane at once. "This unique capability enables multiple hypersonic flight opportunities on a single day or the near-simultaneous launch of three Talon vehicles, which may support specific operational scenarios," the company said.
Continue Reading: https://spacenews.com/stratolaunch-announces-hypersonic-vehicle-plans/
Original Source: https://spacenews.com