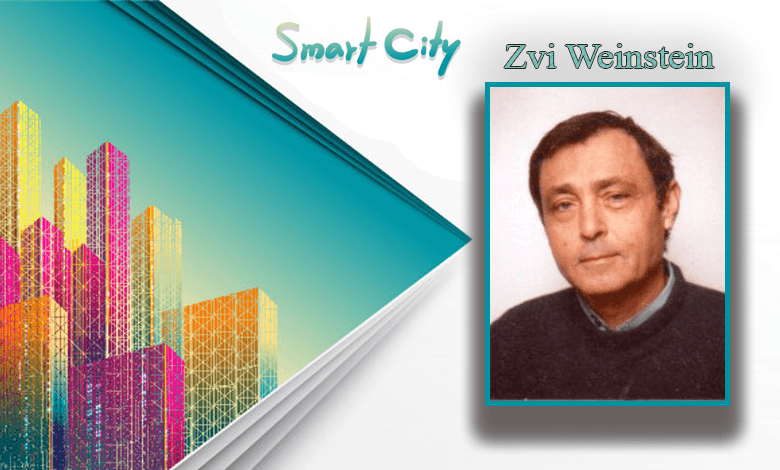 Zvi Weinstein is CO –Founder of the Israeli Institute of Smart Cities. Established May, 2015.
MASHAV- Israel Agency for International Development Cooperation – Teaching
groups of public administration and urban planner guests of Israel Foreign Ministry
from developed countries topics of Urban Renewal Policy and Planning at Weitz
Institute, in Rehovot, Israel.
During the period of 1978-2015 I have been working in the Ministry of Construction &
Housing, Department of Project Renewal. My position was Project Renewal
Coordinator, engaged in policy making, physical and social planning and consulting for
the Project's Headquarter and the Inter-Governmental Com
The World Becomes Smarter – Smart Cities, Smart Factories and Smart Buildings.
WHY?
Technological Development

Significant Saving of Resources

Efficient, Quick and Convenient Management
HUMANITY IS COPING TODAY WITH SIGNIFICANT CHALLENGES STEADILY INFLUENCING THE GLOBAL ECONOMY. THIS ISSUE HAS DECISIVE INFLUENCE ON THE LABOR MARKET FUTURE, ON THE SERVICES INDUSTRY AND THE CONSUMPTION CULTURE.
Processes such as rapid urbanization, pollution and automation produce a real need of establishing green and modern industrial zones in accordance to the fast changes.
Companies of different sizes reveals that businesses hubs who supply amenities together with advanced technology and holistic services, have great influence on the business outcomes, freed management processes and assist them to focus on the heart of their businesses.
Factors that support firm location in smart industrial park
Smart industrial park creates a unique array of ecosystems that serve both the park's clients, the suppliers and their headquarters abroad.
They decide to locate their offices at smart work area that include management services, security and monitoring, internal transportation, access to mobility, central management of services such as advanced water system and garbage collecting, recycling and environmental planning surrounded with green belts.
Location and accessibility
Leading companies prefer to leave the dense populated and traffic jam of central areas and to situate in the periphery.
Cessera Park in located in the middle way between Tel Aviv (economic and cultural center of Israel) and Haifa (sea port); Quick access to main highways and rail station with high frequency.
High standard of planning, building, exact fitting to each client needs, maintenance and complete management of the whole park area.
The fantastic result >>>>>> 99% of occupation
Relative low rent: 15$ – 25$
One Stop Shop: The park has built a unique system of management company that activated in one place regarding the management services to get the different permits and payments such as of water and electricity consumption.
Local Services: There exist variety and ample of services for the workers: transportation services to the rail station and to the work place; bank; post office; taxis; restaurants; coffee shops; conference venue and a chopper landing site.
Smart Security: The biggest challenge of companies is security. Security treats towards businesses concerned commercial and industrial spying in addition to cyber treats.
In Cessera Park there is a professional central security, patrols and complete covering of security cameras.
Security expenses are calculated into the rental payment.
The Business Community: The industrial part keeps close ties with similar businesses around the world and signs agreements with them for sharing knowledge and experiences.
The PARK OFFERS PLENTY OF BUSINESSES ACTIVITIES, AMONG THEM YOU CAN FIND:
A networking club for mutual enrichment, acquaintances, common procurements, sport competitions, local newspaper, running groups, art fair, variety of culinary adventures for the region residents and their guests.