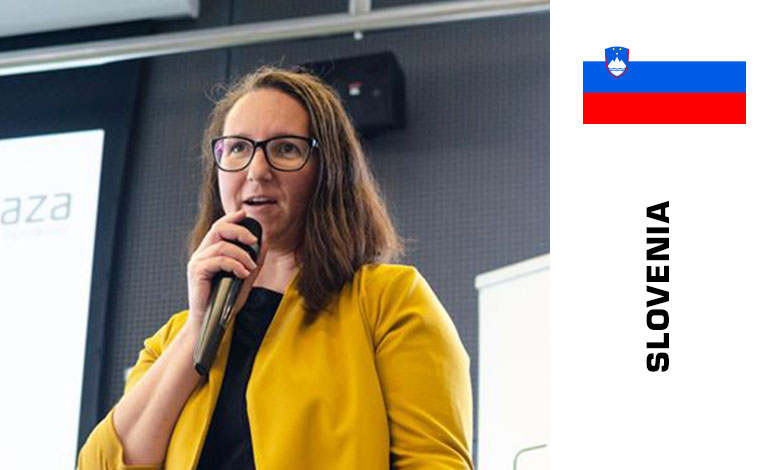 CEO/Founder of EVEGREEN, Slovenia
Eva Štraser is from October 2018 Managing Director at start up Evegreen, specialized in working with EU B2B customers. Before she has been working as quality manager, internal auditor ISO 9001 and a co-owner of a small Slovenian plastic company for13 years. Her question in the last 4 years was, how to change the mindset of traditional injection moulder to test a sample batch of customized biopolymers instead of traditional plastic. Mrs.Štraser holds a Bachelor degree in International trade from Faculty of Economics and Business (FEB), Maribor, Slovenia. In year 2019 Evegreen has ranked as TOP 30 Semi-Finalist European SOCIAL innovation Competition 2019 (CHALLENGING plastic waste). But Evegreen biodegradable flower pot was in year 2019 ranked as TOP 44 slovenain innovations, awarded by national Chamber of Commerce.
Session: Green life out of green waste
Good practice. On the market there are different organic single use plastic items, which are easily compostable without additional processing. How are they made?
– Customer waste can be easily transformed into green, innovative products/ that practice can make business expenses into a green imperative.
– By-products (Circular economy).
– Green technology.
– LCA model.
Learning outcomes:
Found out what kind of food/industrial waste can be transformed to bioplastic?

Found out, which industrial partners want to be trend setters/way?

Found out, why contribution to the green deal is important?

Found out how to reduce CO2 footprint?
Additional information and programme of International Conference on Smart Cities, Smart Infrastructures and Smart Buildings – here