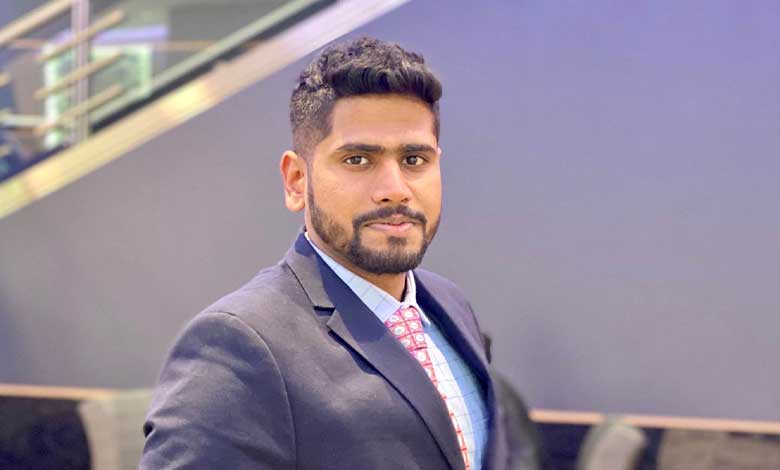 Naren Venkataraman is an Engineer by education and a Supply Chain Analyst by profession. Currently, he is working for Trend Marketing which is a Canadian distribution company in the fashion industry. Apart from the job, he is also partnered with a non-profit organization called Fellow International Students where they connect students with professionals from diverse backgrounds so they learn from others and can get their dream jobs, just like he got his!
Where is your interest for this industry coming from? 
The Global Supply Chain industry is one of the most challenging industries out there. In my opinion, there are always discrepancies existing that need to be dealt with and hence, being solution oriented is essential. Adding to that, the vast scope of supply chain management thoroughly fascinates me. From a famous garment brand to a toothpaste company, all business' require supply chain management. Being cross functional in nature, it also connects all the departments in a company. 
Not only does it require technical skills but a combination of technical as well as management, which I strongly believe, is right up my alley. 
Could you share with us good practices to organize storage area for bulk items?
Categorize– Categorizing is one of the simplest methods to organize storage area as it makes it easy to identify the stock. It also assists by providing an overview of the stock available, leading to a well-informed decision is the products are required again or not. 
Do-It-Yourself Assembly Lowers Packaging Costs– This is a well-known practice by IKEA, a method where bulk items are packed in a way so an individual(customer) can make it himself, i.e self-assembly. This saves a lot of storage space. 
Vendor-managed inventory (VMI)– Storing bulk items results in incurring a considerable amount of storage cost. Alternatively, connecting the inventory data to the vendor creates a direct link and helps organizing better. 
In your own words, explain why forecasting is important. Please describe the forecasting methods with which appeals to you most. 
Forecasting is very important as it assists in reliable planning techniques. 
Readiness-Predicting the result instead of awaiting the conclusion helps us in 'being ready'. This initiates timely action and to reach the company goal as planned. 
Responding vs Reacting– I believe in being responsive, not reactive. Having a plan in place helps us in responding strategically, which otherwise would result in reacting in panic. 
The method that appeals to me the most would include:
Moving Averages – The general method used, is moving average. Focusing on historical data and working on the basis of that. It's simple and can be used anywhere. 
Whereas Exponential smoothing (ETS) is like moving averages, which smooths past data trends. This model is accurate as it considers the seasonality patterns and confidence intervals. 
How would you deal with the situation if you ran out of stock?
Assess the situation

– To deal with a situation effectively, first we need to asses the situation. 
Value vs Demand

– Understanding if the value is high or there exists a greater demand.

Client communication

– Following to understanding the value vs demand, the client communication protocol needs to be followed. This includes knowing the client's needs and demands regarding all the aspects. 
Possible replacement

– In case the value is high and the demand can be fulfilled with substitute products, a plan of possible replacement shall be made. After communication with the client, it should be discussed if the plan has to be implemented or not. 

Replenish the stock as soon as possible

– If the possible replacement cannot be accepted by the client, the stock ordered on primary demand needs to be replenished at the earliest. 

Root cause analysis

– Looking in the situation and studying it so that it is not repeated in the future is vital.  
What is your process for making sure that orders are fulfilled in the holiday season? 
Planning ahead

– Planning helps in effective decision-making and hence is always helpful. 

Forecasting and planning for the demand

– Forecasting is understanding the order trends of the company, with the help of which, effective planning for demand follows. 

Client input

– Sharing/discussing client's forecasting or demand to make sure the orders for the holiday season. This is a great strategy as it requires input from both sides, i.e the company as well as the client. 

Continuous monitoring

– The continuous monitoring of data in addition with recording the trends during the holiday season assist in making quick amends to suit the demand better.  
Does supply chain management benefit the environment and if yes how? 
Basically, any company that has products or services to offer needs supply chain management to deliver the products or services to their clients. It is always a challenge to efficiently design a roadmap for delivering the products. And the operations involved in the process requires a lot of energy consumption which has a huge impact on the environment.
However, many companies are constantly adapting to the changes to deliver an environment-friendly solution. It could be finding the shorter path in logistics or switching to sustainable energy sources.
What was the last supply chain book/article you read? What was it about and what did you take-away from it?
Supply Chain Digital Magazine edition April 2020
CONSULTING COMPANIES DRIVING PROCUREMENT TRANSFORMATION
Review on various aspects of top consulting companies
Services offered

Highlights and Challenges

Key people
Takeaway:
Understanding the top consulting companies for procurement in the supply chain industry along with their unique way of providing their services for the utmost level of satisfaction. It also clearly specifies the different technical resources available and how the companies use it to their competitive advantage. 
Additionally, it assists in knowing how dynamic the supply chain industry is and how companies change in order to keep up with the changing trends. 
After all its said-
It's not the organizations that are competing. It's the supply chains that are competing! – Wael Safwat, SCMAO