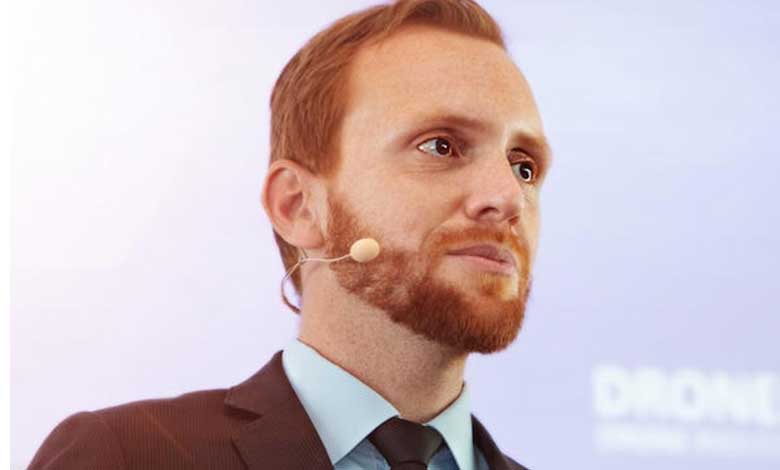 Kay is CEO & Founder of Drone Industry Insights (DRONEII.com) – the leading source for commercial drone market data. Kay is a passionate, proven business leader and entrepreneur with over 20 years of experience in both manned and unmanned aviation.
In 2014, Kay founded DRONEII.com to create transparency and accessibility for the quickly evolving commercial drone market. Over the last years, he and his team gained a deep understanding of business models and technologies in the commercial drone space. This knowledge is used to create drone industry reports, databases, and on-demand market studies for their clients. Today the generated market intelligence is being used as the basis for strategic decision-making around the world.
As a thought leader and notorious lateral thinker, Kay and his hand-picked team helps clients to thoroughly understand the commercial drone market, to create stable business models and to make sustainable investments.
Tell us about your current role and Drone Industry Insights? What projects are you working on?
I'm head and co-founder of Drone Industry Insights, the leading source for drone market intelligence. Over six years back – when DJI was a small Chinese startup – we started to measure the market dynamics of this new and quickly evolving industry. Since everything that can be automated, will be automated – we realized there is a huge chance for society and businesses around the world to benefit from this unmanned technology. So, we started to educate our audience about the commercial drone market with publications and reports. We created a huge professional network and an even bigger audience, making our insights better and reaching more people. So far, we are unmatched in the breadth and depth of our knowledge about the commercial drone market.
Our clients are businesses, big and small, from around the world, evaluating their chances to participate in this market. Also venture capitalists, governments and NGOs are amongst our clients. Next to the on-demand studies for these clients we write industry reports and free publications.
What materials will make flying more light and sustainable?
Four things: 
Lighter structures: pushing the boundaries with CRPs (carbon-reinforced plastics) or light-weight foams will decrease the weight of the structure and makes drones more energy efficient. 

Design: Like in commercial aviation it will become increasingly important to use the latest tools to shape an efficient drone design using CFD-Software (Computational Fluid Dynamics). 

Batteries: The weight of drone batteries (usually Li-Ion or Li-Po batteries) takes a huge part of the overall platform weight. This weight needs to be reduced by either dramatically improving the

energy density

of the batteries or using different energy sources like Hydrogen or supercapacitors 

Motors: Electric motors are already very efficient but if you want to fly faster, all you can do today is make the engines spin faster which leads to draining the battery very quickly. A smart variable propeller pitch system would dramatically improve engine efficiency.
What are the benefits and challenges of electric aviation?
Especially when it comes to urban areas, you don't want to pollute these areas by flying drones burning fossil fuels. Electric aircraft are beautifully uncomplex (only one moving part per engine) and you can "fuel" these platforms with renewable energy from wind parks or PV plants. The main challenges remain to be the high battery weight (mass-specific energy) and the sustainability of battery production (Lithium from Bolivia/Chile, Cobalt from Nigeria, etc.).
How 5G network is related to the new aviation and aerospace technology and what are the pros and cons?
5G is the "infrastructure" that will allow drone operation to scale. This network will unlock the ability to fly drones far away from the operator (BVLOS), to update navigation data, to stream recorded data directly from the drone to the ground and to broadcast drone position data into UTM networks at very low latency. The main challenges to enabling this are industry standards and area-wide 5G networks – without any white-spots.
What is vertical flying? How the new drone technology will beneficial?
Vertical mobility follows the same principals as delivery drones – just bigger. Passenger drones (aka air-taxis, flying cars) will have a big impact in terms of timesaving. Just like urgent medical supplies can be flown by delivery drones in a fraction of time compared to conventional transportation, passenger drones can be a future substitute for expensive rescue helicopters or help people to transit quicker above congested cities.
What is the future of mobility? 
That is a big question. Let me answer it like this – if I could wish for a scenario, it would contain the following elements: eco-efficiency (e.g. energy efficiency, green tech.), socio-environmental factors (e.g. safety and health, environmental justice) and socio-economic factors (e.g. business ethics, fair trade).
Or in short, a truly sustainable way of mobility. Also, I think the future of mobility must not necessarily be airborne. In many aspects it makes perfect sense to use delivery and passenger drones – but not across the board. Public transport in my hometown Hamburg moves 1.2 million people each day. That would be a lot of passenger drones in the sky if you consider them to be the substitute for an already very energy-efficient subway.
Who inspires you?
I'm in the lucky position that I can talk to very bright and visionary people every day. The drone space is extremely innovative and very quick in adopting new technologies from other areas (e.g. autonomous driving, AI, IoT). People in this space embrace change and are pushing the boundaries all day, every day. I love to see things change for the better and to leave the old and inefficient ways behind. Never before has technology such a great impact on our daily lives like today and I consider this as the perfect chance to use this technology to make our life more sustainable.