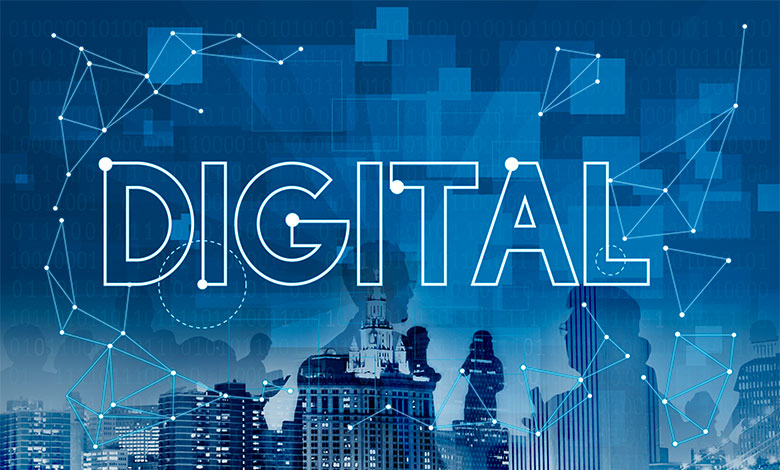 Digital culture is a relatively new term that arose as digitalization became more widespread and digital technologies and processes began to transform organizations. When introducing digital change, the digital culture and corporate environment of an organization can become either a "pitfall" and inhibition to change or a "point of growth". In the latter case, culture openly supports innovation and enables it to further develop and improve. In this article, the author summarizes the main characteristics of a successful digital culture and reveals a systemic mechanism for creating a culture of innovation in an organization.
Corporate culture has a direct impact on the effectiveness and success of organizations. Why is it in some organizations changes take root easily, new ideas are born and take root, improving the processes and adding value to the final product of the organization, while in others everything happens "the old fashioned way" and this "ossification" cannot be overcome by even heroic efforts? How can organizations build a culture that is responsive to change, especially in the digital age, when organizations are being forced to adopt a large number of new digital processes and technologies hurriedly hastily, in many cases completely reshaping their approaches to data and business models?
First of all, a digital culture requires certain competencies both within the team and across the entire ecosystem of the organization. Digital competencies are critical for those stakeholders of the organization who are directly involved in shaping the value chain of the final product or service or processes of the organization. In the current economy, the concept of continuous learning is becoming firmly embedded in our lives and opens up many opportunities for both individuals and organizations. The key factors here are the willingness and ability of employees to learn, a proactive attitude, the ability to quickly and flexibly learn new skills in a constantly changing environment, all of which directly affect the effectiveness of the team and increases the productivity of the organization as a whole.
Digital culture and an environment of innovation help to maintain a customer-centric organization. Successful organizations build their digital transformation on customer service and priority customer requests. It is the anticipation of customer needs that is the main driver for the implementation and optimization of new digital technologies. Successful organizations place great importance on internal customer-centricity. Digital technologies make it possible to integrate systems and departments into a single organism and manage the organization using high-precision data, enabling the implementation of changes in real-time. In a digital culture, all departments must be quick to enact change and support their peers – internal customers.
Due to the enormous number of changes and the rapidity with which they occur, open, timely omnichannel communications play an important role. This is the next essential element of digital culture. Just as organizations strive to find and as quickly as possible "reach out" to their external customers, it is also necessary to maintain diversified communications with their own employees. Often, organizations tend to communicate their achievements and successes, while avoiding news about failures. But in digital culture, timely information and script change are of great importance and the promptness of any communication is critical to the success of digital processes. The ability to perceive mistakes as an experience and move on is of great value and build a culture of innovation.
Flexibility and adaptability in organizational capabilities and models is the next prerequisite for a successful digital culture. Digital transformation requires an organization to be flexible and maximize its organizational capabilities, structure, flexibility, and create new business models. At the same time, it is not enough only to create new models, it is critical to successfully implement them. The environment and "mood" of the organization can either help to create a single network-centric digital space or generate explicit and covert resistance to an unswerving commitment to change.
Reducing employee resistance to digital change requires conscious, attentive multilevel leadership, cross-functional teams, and empowerment. The concept of leadership is changing the new digital reality. Constant change has become our new reality and only a multilevel leadership system facilitates the effective management of an organization in a mode of constant change. In fact, the organization must become a network of teams, and in some teams with mixed intelligence the work takes place in conjunction with artificial intelligence, and here you need to take into account mechanisms for sharing responsibility, setting tasks, monitoring KPIs, and other aspects. People are the backbone of a business, and technology helps them become much more productive. Skills are combined, and collective dynamics, awareness, and intelligence emerge.
Perhaps the key ingredient in digital culture is innovative thinking, which signals an organization's openness to experimentation and enables the team to learn from mistakes. After all, not all experiments and pilot projects lead to success. And only if we consider each scenario as learning, experience which, if successful, leads to a new approach, and if unsuccessful, allows gaining valuable experience, can innovative sprouts emerge and eventually grow into new digital processes in the ecosystem of the organization.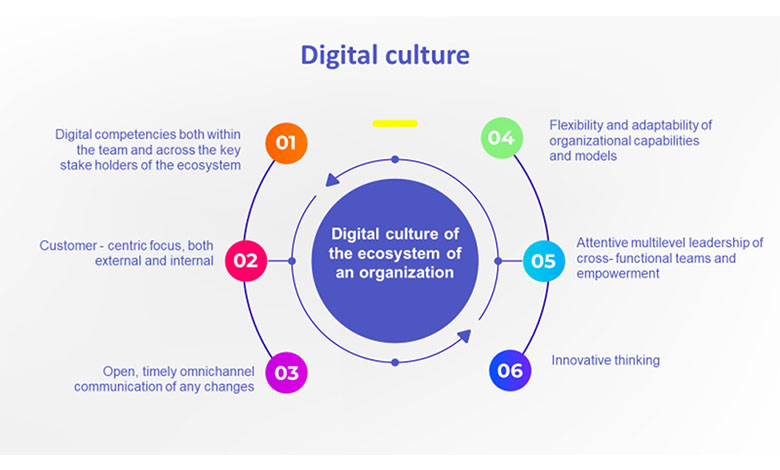 Digital culture can and should be consciously formed. This corporate distinctive can become either a "pitfall" in the implementation of digital innovations, if not given due attention, or a growth point if time and resources are purposefully invested in creating and maintaining such a culture. Purposeful, strategic systematic formation of an open digital environment in the ecosystem of the organization also contributes to maintaining the "degree of trust" of employees and increases loyalty.
The first step in shaping a digital culture is to involve employees and all key stakeholders in shaping digital change, including technology choices and timing for digital projects. This will result in the team becoming more motivated to achieve a successful project completion as they will be involved in the entire process from idea generation to implementation. Top and middle managers are not fully aware of all the operational problems. Although data-driven management raises management awareness, results are impacted more significantly by the timely use of ideas from employees who thoroughly know where processes can be improved. This type of decision-making speed in today's digital world is strategically important to the success of organizations. Engagement is built on the foundation of employee satisfaction, trust, and loyalty to the organization.
The creation of a system of omnichannel communications helps to build engagement to implement and maintain digital change and culture. Having a forum for the exchange of opinions makes it possible to maintain an environment of continuous process improvement. Meanwhile, an open library of case studies within the organization promotes joint development, accumulation, and transfer of successful experience. Also, the human "golden thread of communication" in digital culture is especially important, because during a period of change, people have many questions about their future in the organization and it is important for leaders to provide the necessary support to guide the development of employee skills more effectively in a constantly changing environment.
Creating and maintaining a learning environment within an organization is the next essential element in building a digital culture and a culture of innovation. The launch of a self-learning organization, where knowledge is shared and new ideas are "pollinated", is necessary for employees. As one idea gives birth to another, the opportunity to learn from experts of different viewpoints and generations adds wisdom and balance to the process of introducing digital transformations and digital culture. In such an environment, experience, and knowledge multiply, and new solutions are born at the junction of the new and the proven. At the same time, an important new trend in our new reality is the involvement of external key stakeholders within the organization's ecosystem in the development and formation of joint value for customers. Accordingly, the culture of learning and innovation expands its influence outside the organization, to all key stakeholders of the ecosystem, making it interdependent.
Current trends in digital education use a stimulating format: edutainment = education + entertainment. This format makes it possible to involve adults in training marathons and game presentation of material, including microlearning. Many organizations use elements of games and fun in training, integrating newcomers, or monitoring KPIs. The modern trend is simplicity, convenience, use of visual images, and pleasure in learning a new process. A separate aspect that deserves attention is related to the implementation of KPI monitoring in an open creative format. The competitive gaming effect adds efficiency and incorporates positive excitement and creative energy to achieve goals. Empowering cross-functional teams and openly monitoring their goals significantly contributes to team awareness in an open digital culture.
And, perhaps, the most strategic element of the formation of digital culture is the connection between the personal goals and values of the employee with the values and strategy of the organization. This link creates a team of like-minded people and a culture that not only withstands the turbulence of reality but also forms new approaches in it. It is important to start building such a dialogue during recruitment and integration, openly sharing the organization's strategy and values with its newcomers.
Thus, building clear digital processes in a creative format and integrating the entire organization into a single healthy organism using a digital culture of innovation is a strategic task, and the result, in terms of increasing productivity, will be seen almost immediately. The percentage of increase in team productivity when implementing digital processes varies from 40 to 80%. At the same time, digital culture, on the one hand, promotes the introduction of new technologies and processes, and on the other hand, it helps the organization to remain resilient during a period of turbulent changes through the formation of collective dynamics, awareness, and collective intelligence, which ultimately greatly increases the productivity of the organization as a whole and the sustainability of its ecosystem.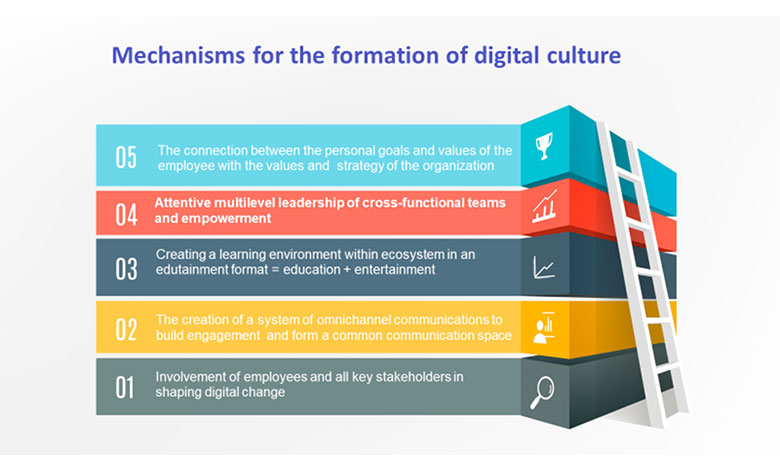 Oxana Nabok
An expert in management and organizational development. Founder and Managing partner of the consulting agency Train your brain and online educational project LeadershipSchool, Head of the Change Management Committee of the Digital Experts Association.
Managing partner of Train your brain
http://nabok.trainyourbrain.eu.com