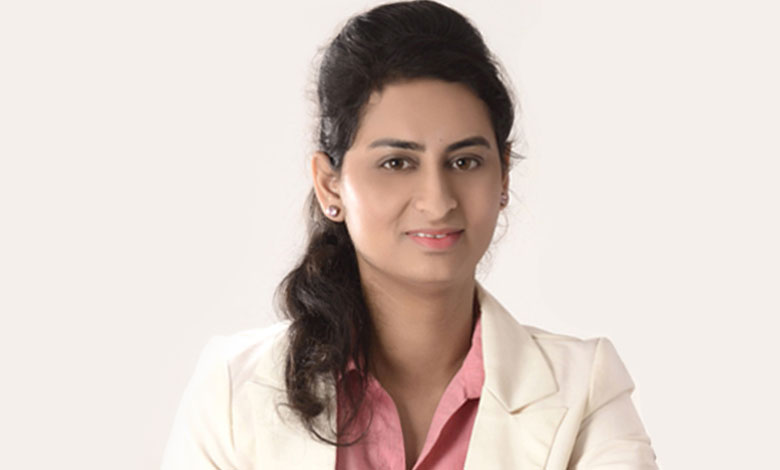 Can you introduce yourself and tell the readers more about your professional background?
Hi, I am Ankita Priyam from India, an entrepreneur turned Digital Business coach helping small & medium business owners to scale-up their business. I am Co-Founder of OGEN Infosystem Pvt Ltd and while working with 100+ brands, making them shift to digital world and scaling their business, I analyzed a unique formula that was directly or indirectly used in all of them. So, I created this "Business Scale-up Blueprint" – a three step formula for scaling-up your business up to 10 times, and it is applicable for any kind of business. In 2021, I started my journey of digital business coach as I found my real passion & really want to help many Business owners who are stuck in their growth journey and know what wonders can digital platforms can do for them. Within 3 months of my journey as coach I have been awarded as "Indian's Leading Digital Business Coach" in National Women Pride Awards 2021.
In your opinion, what are the main perspectives /opportunities/ for digital marketing in 2021?
Digital marketing has endless opportunities in 2021 and coming years. As per my analysis and experience Videos, Artificial Intelligence and Social Media are the future trends of Digital Marketing. Video content attract consumers and build brand for potential conversions as people are much more likely to engage with a video than to other forms of content such as a blog post or written content. Online users are spending their maximum time on social media and get influenced of what's going on in these social platforms. Coming into AI in Digital marketing, Chat bots, Artificial Reality, Virtual Reality, Intelligent advertising & retargeting are a few thing which is going to rule the digital world.
Which are the best ways to humanize your brand in the age of social media and artificial intelligence?
People around respond to stories, which is why brand storytelling is one of the best marketing tools in today's world. With story consumers do connect emotionally get inspire, entertained and a personal level communication takes place. Story telling is the future of content marketing strategy and it can be in form of video, podcast or in written format to engage your audience on a meaningful level. These stories can be shared r promoted via social media to reach maximum audience and create your personal brand which itself is a great lead magnet.
What are the best strategies to fuel the growth of a brand?
As per my business scale-up blueprint, whatever is the type of business you can follow a 3-step formula for the growth of the brand digitally. These are the 3 S formulas: Shift, Sales, System describes as bellow:
Make the online SHIFT: You need to build an ocean with the core or 1st level to have an online identity as your branded website, and then you need to build online reputation with various organic as well as paid activities which as result will give brand visibility online and attract users. When you define your purpose, mission, vision; clear of what problem you solve, know and start selling your USP with your full potential & quality then automatically your brand starts growing.
Generate unlimited SALES: This is again a chain where you need attract strangers via social media, video, story, ads and make them visitors. Now you need to have a strong CTA which can compel visitors to convert as your Lead. With proper follow-ups through email marketing or whatsapp/SMS marketing or remarketing techniques you can close the lead and make them your customer. Do not leave after conversion, but delight them with your product or service and make them your brand promoters by getting reviews and referrals or by upselling & cross-selling.
Automate the SYSTEM: It work fine with few clients, but following above technique can generate you thousands and lacs of clients which cannot be managed manually or people dependent. So you need to make your business system dependent by making an automate system which can capture your leads, create a database so you can prioritize leads and assign them to right sales person and convert the qualified leads. You can work separately and nurture leads that are not sales ready. You can evaluate your lead quality and make decisions accordingly for your next campaigns or CTA's. You can also connect your customers to the system to build a strong community and better support for customers with automated payment reminders and invoicing system. This step is an on-going process and has no end points.
I have personally consulted many brands by using the same strategy and helped them grow much faster.
How does competition is today's crowded digital world help you to grow?
First comers always get benefit; those who entered digital world way back have already stabled and are expanding to every aspect. Now when already there is a lot of competition in digital world, you need to work harder, smarter and with higher budget. Also, you need to remember that in the crowded digital world you have more consumers so even converting 0.001% of this crowded world will give you success. Everything has its pros & cons so as this.
What lessons have you learned from the pandemic? (in terms of digital marketing)
Having just one source of income is not enough, whether you are doing job or business any unfortunate situation can hamper your just a single source. That is the reason we launched various online tools and started my journey as a business coach and all of them has added value to our core business of OGEN Infosystem. Using digital platforms anyone can have their passive income such as becoming youtuber, blogger, working as affiliate marketer or drop shipping, online coach, freelancer, and many more. The opportunity online is endless..