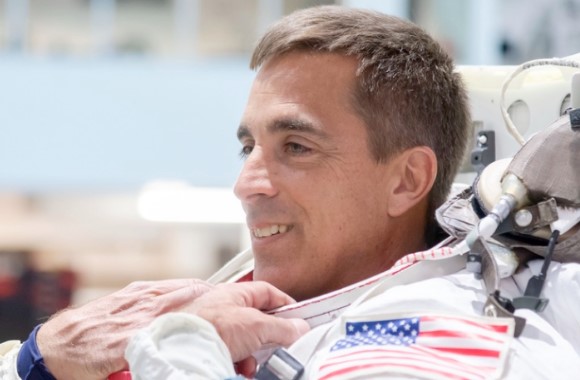 A NASA astronaut flying to the International Space Station next spring could be the only American on the station for an extended period because of uncertainty in the status of commercial crew vehicles.
NASA announced Oct. 30 that Chris Cassidy will fly to the station next April on a Soyuz spacecraft with Russian cosmonauts Nikolai Tikhonov and Andrei Babkin. Cassidy will be making his third spaceflight, and second long-duration mission, while Babkin and Tikhonov will each be making their first flights.
Cassidy said at a Nov. 7 briefing at the Johnson Space Center that there will be an overlap for about a week with the departing crew of Jessica Meir, Drew Morgan and Oleg Skripochka, then he and Babkin and Tikhonov will have the station to themselves, perhaps until the end of their mission in October 2020.
"We're preparing for a six-month duration where it's just the three of us," he said. "We're getting lots of extra training, at specialist levels, for Andrei and Nikolai on all the U.S.-side equipment."
Cassidy said he's hopeful that either a Boeing CST-100 Starliner or SpaceX Crew Dragon spacecraft will visit the station during their time on the station, each carrying two NASA astronauts and, in the case of Starliner, former NASA astronaut and current Boeing employee Chris Ferguson.
A Starliner mission would likely be an extended duration stay, as NASA has been working with Boeing on plans for that for some time. Agency officials said in October the SpaceX Demo-2 mission, the crewed flight test of the Crew Dragon spacecraft, could be extended as well.
However, neither crewed test flight has been scheduled yet, pending the outcome of upcoming tests and other work to certify the spacecraft to carry people. "With luck we'll have commercial crew," Cassidy said. "But we're also ready operationally, mentally, all that, prepared to just be the three of us on the station."
Delays in commercial crew has forced NASA to adjust flight assignments in order to maintain a presence on the station. The Japanese space agency JAXA had hoped to have one of its astronauts on the station next summer to coincide with the Summer Olympics in Tokyo, but the lack of available seats led NASA to fly Cassidy on the only available Soyuz seat.