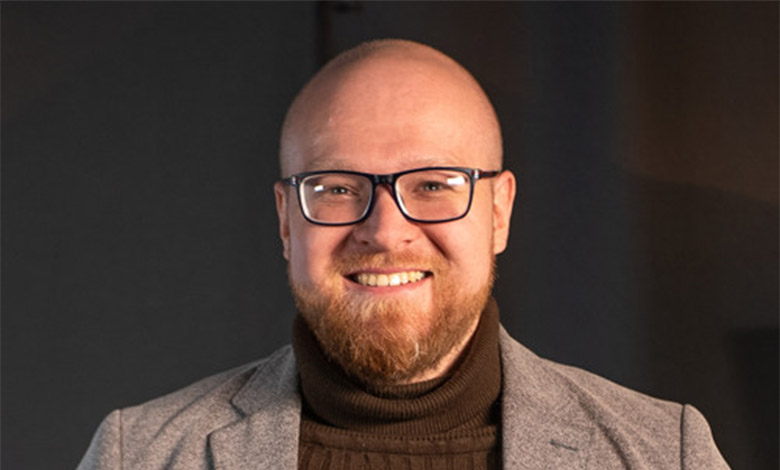 Andrii Pavlenko
CEO Scallium.pro (Ukraine)
IT-solution for e-commerce scaling
Andrii has over 14 years of experience in developing IT products. He worked with the team to develop the marketplace, that Amazon bought.
Marketplace is a business model that helps rapidly increase the diversity of items, goods, suppliers. This is an effective way to react over crisis and in the nearest future as well. This model will help both , offline retail as well as e-commerce become flexible and updated. That means surviving in this dynamic, fast-changing world.
To build marketplace is not enough to be familiar with general business processes. There are too many details. For instance , it's necessary to understand how to plan functional architecture of these flows and join them with IT system. This is extremely important and complicated task.
If you are a large offline retailer you need to update the items from your shops, process data, maintain good content of your platform. You deal with the many-stages retail flow: maintaining orders in your back-office, managing content and goods, accounting, supplying and logistics, supporting call-center, insuring refunds, satisfying customer needs.
The architecture is complicated, though it has very strict functional logic and works according to clear rules. Let's overview the pros of marketplace over the ordinary online shop:
PIM – Product Information Management. The system based not on speed but on quality of incoming content (goods, items, etc.);
MAS – Merchant Administration System. The system for working with suppliers(merchants) that let you maintain large volume of goods;
MMS – Marketplace Management System. The system of administrating marketplace, including configurations, business- analysis, monitoring tools, managing rules.
OMS – Order Management System. System for maintaining orders including managing and controlling their stages.
Reporting and Analytics. The system of accountability, monitoring and general analytics of the inner platform activities. It includes billing process, financial accounting,balancing, adjusting,payments to the members of the system that let it work in both, active and passive models.
These modules are the basis of the back-office of the marketplace, which we implemented in the project for Leroy Merlin Vostok (East Europe). We are the Ukrainian IT-company Scallium specializing in enterprise development of platforms for marketplaces. And we want to share our case with you.
Launch of marketplace case Leroy Merlin Vostok
The biggest European DIY-retail had a big mission, to support double-digit growth of the company and be ahead of market rates with the help of involvement marketplace model to the traditional offline retail.
What was the choice? Despite of Leroy Merlin Vostok was already the major player in DIY area and had a wide chain of 100 hypermarkets all over regions in Russia, the company has set a goal – long-term growth ahead of growing market. This is possible under two conditions, if a retailer can proactively react to dynamic customer needs and offer best house improvements decisions.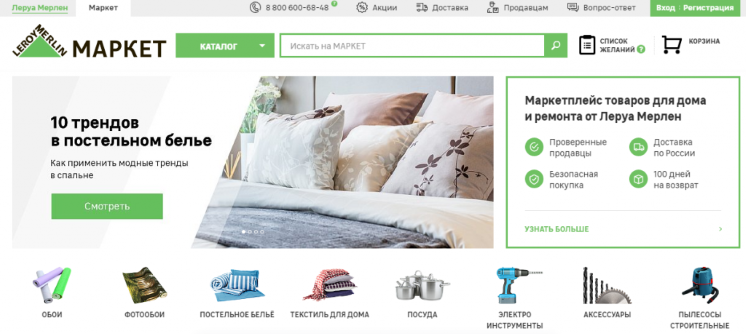 Customers' needs were analyzed in the company and revealed the limits of constant growth that current offline retail concept includes. For instance, customers used to go to different specialized stores, construction markets in their town or buy online surfing diverse web sites of niche shops. Our model Leroy Merlin Market is a unique marketplace with expanded unlimited choice of products. That is, if earlier our customer was able to reach about 17% of renovation project, with the help of this marketplace they will easily get 50.
The new marketplace model has organized price competition between sales representatives and provided customers with the widest range as a result.
After business project approval, Leroy Merlin Vostok collaborated with Scallium team for building IT-platform and launching marketplace. The deep analysis of topic-oriented customers was provided, and three major patterns of home good purchase were revealed:
Urgent purchase
Planned purchase
Spontaneous purchase
Our team's connected those patterns to the factors of omni-channel customer behavior. According to those factors a customer wants
To have broad range of goods
To compare price list of goods
To have comfortable delivery
To have return warranty/guarantee
To be able to buy where it's convenient
Afterwards we have developed a strategy which helped us to widen the limits of goods range and business processes of traditional retail. On the one hand retail set a goal to create a full-cycled marketplace, on the other it was goods range growth of current positions as well as creating new ones for homeware. The main target of launching the marketplace is to increase the number of current customers as well as to involve new clients.
We are going to implement this strategy.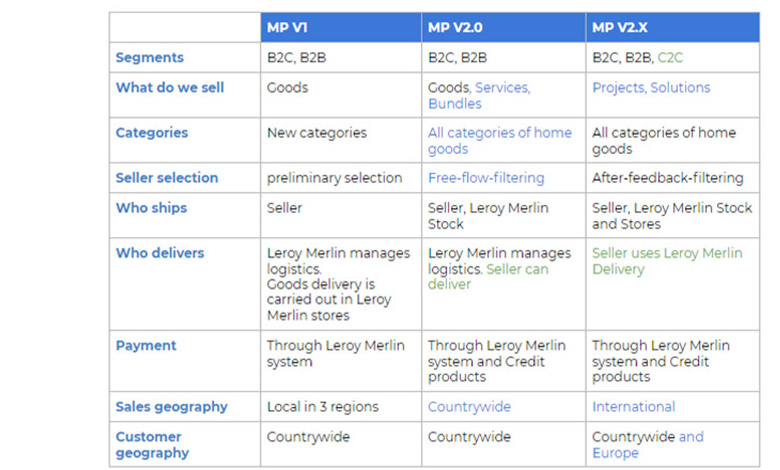 We added complementary goods from outside suppliers to begin with. This made our range more diverse. We explored suppliers' market in Russia and chose the best and most reliable. We focused on keeping product at providers instead of gathering them at central storage. Our team interviewed many suppliers to find out that they are not able to provide us with high quality logistics that Leroy Merlin Vostok required. Therefore, we have decided to manage all the levels of logistics, from provider to customer, by our company. Leroy Merlin Vostok created step by step instructions for packing products and established reporting system which shows all stages of logistics.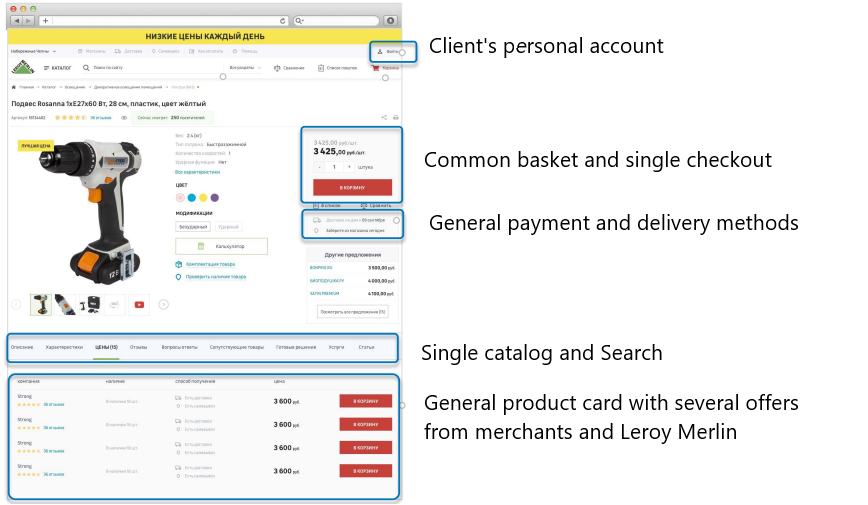 To show high trust of our brand we chose to accept payments on this stage, that means Leroy Merlin Vostok will be legal seller.
Our marketplace is launched from 3 regions at the same time, Novosibirsk, Samara and Moscow.
We plan to grow step by step. It's necessary to test all workflows and technological systems first to achieve the highest service quality feedback from our customers. Afterwards, we will be able to expand according to the number of items and suppliers' locations. We are working hard on improving our service level for both, providers and customers.
We were able to launch Leroy Merlin Market for 3.5 months as a result of high team spirit and mutual efforts. Our first sales started 28th of May, 2018. In 6 months our platform got hundreds of providers and about 80000 new items. According to our set goals our Marketplace will have 12 000 providers and about 500 000 goods inside existed sales groups and new items in 3 years.