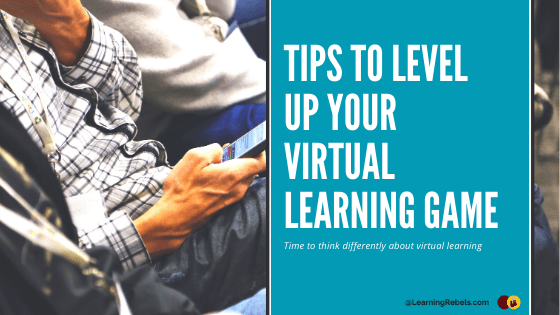 Time to think differently about your virtual learning applications.
COVID-19 has taken over all aspects of our lives and has created a new normal. There is understandable concern about travel and traditional instructor-led training and virtual learning is again a topic of conversation. (This post was originally created for Litmos, and has been updated)
Here's the deal. We all knew virtual and self-directed training were appropriate methods of delivery and could be just as successful as any F2F event, but change can be slow until your hand is forced. So here we are.
Because of the circumstances, some businesses are now turning their heads toward delivering their traditional training in a virtual setting. It's time to dust off the webex and put it better use. The key is helping others understand that as an educational tool, webinars must be created to address the adult learning needs. It's not just getting someone to go on screen and say EXACTLY what is on the PowerPoint slide at the moment. That is the surest way to lose people and create virtual zombies.
Say No to Virtual Zombies
Creating engagement activities for your virtual audience is very different than planning those for the live classroom. We've all participated in webinars that were killers; and those that were buzzing with activity. What was the difference? How do we get from zombies to buzzing?
Planning for engagement is the secret sauce. The key is to develop a space that promotes the exchange of knowledge, and be able to apply that knowledge after they depart the webinar – we all know when a session is engaging and interactive the odds are greater people will learn something.
How to make this happen? Not to worry – I've got you covered! Let's dig into a bag of virtual tricks and tips. I'm sure I'll leave something out and this is where you come in. Do you have a favorite webinar activity that keeps engagement alive? Please share those tips in the comments.
Virtual Learning Tips
Before your virtual learning – plan:
Have a producer! This is key, especially if you are new to the virtual game. One person to handle tech issues allowing the facilitator to do their thing.
Send out information on how to test their system. This is to be sure everyone knows how to access your virtual classroom and their systems are compatible.
In a separate communication piece, send out webinar expectations. If this is the first classroom-based webinar, tell people! This way when bugs happen (and they will) the participants will be more patient.
Send nudge reminders. Telling people when to show, and what the expectations. Telling people once isn't enough.
Plan and practice your interactions. See below.
Continue Reading: https://learningrebels.com/2020/03/13/tips-to-level-up-your-virtual-learning-game/
Original Source: https://learningrebels.com