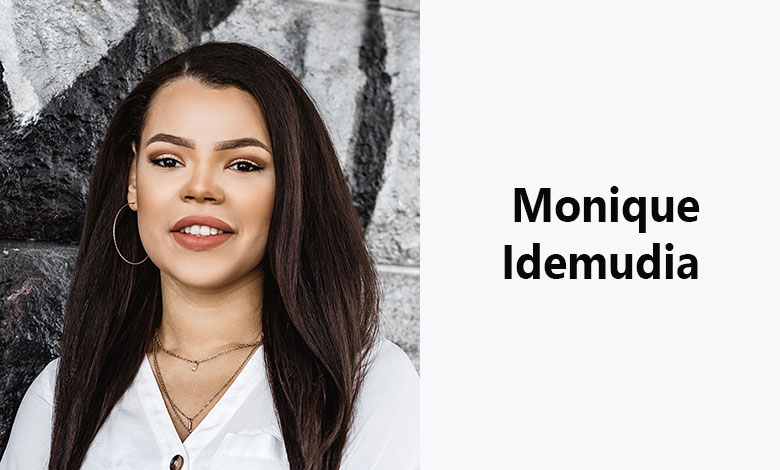 Would you tell our readers more about yourself and your career background? 
Hi, I'm Monique Idemudia. I'm a small business digital marketing consultant and content creator. I help small business owners to build an online presence and grow their business all organically.  
I do this by teaching digital marketing strategies and tactics, i.e. how to map out giving your customers what they need and want and how to make a strategic plan of action to reach your goals. 
I've founded the Dragon Digital Marketing resource center because I could see the power of great digital marketing and how big of an impact it can make. 
You don't have to be a technical genius or trained marketing professional to get on the course for further success. Everybody can implement digital marketing strategies and tactics on a basic level of knowledge – and that includes you. 
Little things can make a big difference. 
I put small business marketing in simple terms and teach how it works and what to do in my videos, podcast episodes, blog posts, email newsletter, social media content, guides, templates, checklists, and a lot of other content.  
What is your personal definition of success?
You are successful when you achieve a goal you have set, meaning when the undertaking of pursuing your goal has resulted in your desired, positive outcome, and you fulfill your purpose. 
What are the top three most favorite parts of your job and why these?
The absolutely most favourite part of doing what I do is the freedom aspect of working for myself. The flexibility of my schedule and the work-life-autonomy are priceless to me. 
I also enjoy the self-esteem boost of doing what fulfils me. I like how what I do and accomplish directly reflects on my effort, knowledge, and skillset, and how I am able to witness how the results I achieve for others directly impact them. 
Since I am a lifelong learner, I also welcome the challenges that come up and enjoy solving problems and overcoming obstacles. It's important to learn how to fail forward, overcome yourself, and grow and develop yourself. I love seeing that improvement process and it motivates me. 
In your opinion, how did the Covid-19 pandemic influence the marketing industry? 
Improvement and transformation plans have been accelerated and many large and small businesses have increased their investments towards it. It has forced a lot of people to digitalize quicker, improve their website, get more active on social media, build an email list, allow online appointment scheduling, curb side pickup or delivery, etc. This acceleration has made many things more convenient for consumers.  
How would you define the role that a professional personal brand can have on a person's overall success?
The role is immense. Just like with business brands, a personal brand can give you instant and positive recognition, it increases trust and the emotional connection to your audience, and ultimately drives more conversions and sales.  
People like to do business with people. So, having a strong personal brand helps with generating and retaining customers, allows you to charge more for your products and services, and it increases the value of your business.  
It allows you to stand out and be in control of what people are saying when you are not in the room because you control the narrative and what you stand for, instead of letting them define you. 
Even if you're not an entrepreneur, you can benefit from being in control, differentiating yourself, creating visibility and presence, having better chances to be picked for a job, and more networking opportunities. 
Building a personal brand starts with learning how to tell your brand story. 
Lastly, how do you think, will social media and video marketing evolve in the next year?
I believe video will play an increasingly important role in the context of social media marketing, especially short videos. That is because it's a rich content format and people like to watch moving pictures with sound to the get information they want, rather than just reading it.  
Attention spans are short and it makes sense to convey one thought or one point per piece of content you share on social media. In the case of video content, the visualization also helps to internalize and retain the message. And social media platforms are pushing video content as they realize the trend too and want to give their users more of what they like.  
The videos are easy to make and do not require any technical or editing skills. It's a great opportunity to increase your reach and brand awareness to make short-form videos and post them on social.